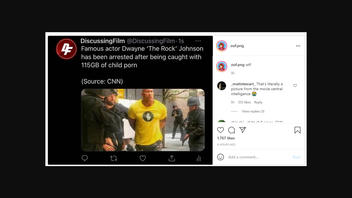 Was actor Dwayne "The Rock" Johnson arrested for possessing child pornography, and did CNN report the arrest? No, neither of those things is true: The "arrest" image originated from a movie, was taken from one of his social media accounts and used in the arrest claim. There is no evidence that CNN or any media organization reported that Johnson was arrested, nor is there evidence of any arrest.
The claim appeared in an Instagram post (archived here) on June 15, 2021. The post included the image of a tweet showing Johnson seemingly in custody with the following text:
Famous actor Dwayne 'The Rock' Johnson has been arrested after being caught with 115GB of child porn


(Source: CNN)
This is how the post looked on June 16, 2021: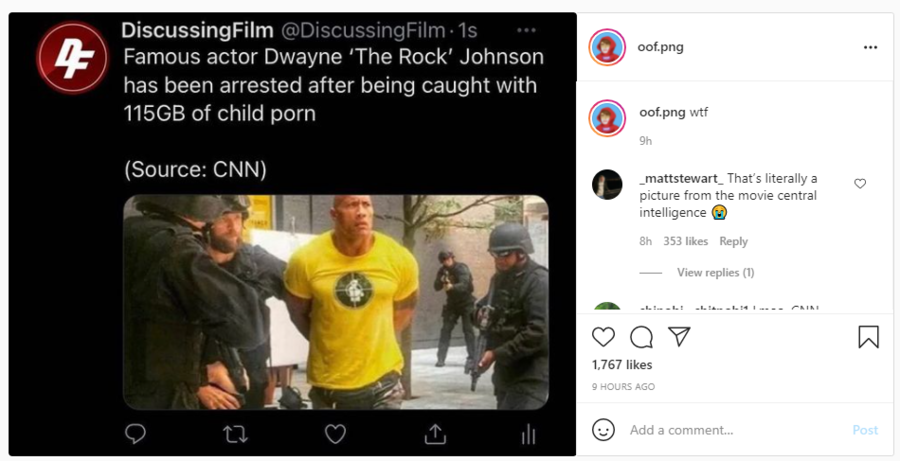 The image was taken while Johnson was filming the movie "Central Intelligence," Johnson uploaded the picture to his public Instagram account on July 18, 2015. The trailer of this movie on YouTube displays Johnson wearing the yellow shirt in the image at various points.
A Twitter and CNN site search reveals nothing about Johnson being arrested recently. A general Google search did not yield recent results regarding any such arrest. Johnson has been active on Instagram as his latest post was uploaded on June 16, 2021, highlighting his placement as the current cover of People Magazine.
Snopes debunked a similar bogus arrest claim in 2016, with that claim using the same image.
Lead Stories reached out to a representative for Johnson regarding this claim on June 17, 2021, and will update this story when his agent replies.