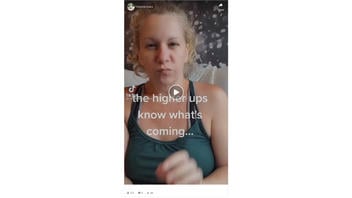 Are gas and oil company HR executives saying their firms are planning to have their vaccinated staff replaced within the next three years? No, that's not true. There is no evidence that the large oil and gas companies are going through their employee lists and taking note of who has received the COVID-19 vaccine and then planning for their replacement in three years. The person who posted the message declined to share any proof of her claim, telling Lead Stories, "I could not provide anything like this. Confidentiality is at the root of all professional relationships, conversations and contracts."
The claim appeared as a video (archived here) where it was published on Facebook on June 13, 2021. It opened:
So about eight years ago I lost my baby during pregnancy.
This is what the post looked like on Facebook at the time of writing:
(Source: Facebook screenshot taken on Tue Jun 15 19:40:13 2021 UTC)
The video was also posted on Bitchute.com and the caption claims:
This lady who runs a global gas and oil recruitment firm talks about "succession planning", a focused process for keeping talent in the pipeline.
Executives are having their HR staff and their managers, superintendents, etc... go through and look at the staff that have received the vaccines and they're planning to have them all replaced within the next 3 years."
The two-minute, 50-second video was posted by a woman named Carol Bird on her TikTok page. Her LinkedIn page says she is an "Experienced Recruiter, Executive Career Consultant, & Resume Writer with an extensive history in the Oil & Mining Sectors." The testimonials on her LinkedIn page attest to her helping clients rewrite their resumes but not actual job placement in the oil and gas industry.
On her website, https://www.quora.com/profile/Carol-Bird-16 she describes herself as:
42 year old Canadian, female Autistic Savant (Asperger's Syndrome, Synesthete), Full Time Vlogger and Autism Advocate (Mindful Divergence), Founder of the Facebook Group & Page ASD-Village , Author of the book, "The Son I Almost Gave Away", former Integrative Medicine Practitioner, and President of the Saskatchewan SIDS Council.
Shares a life long passion in both the study and application of integrative medicine (practice, education and facilitation) in the areas of: pediatrics, ASD and developmental delays, Orthomolecular Psychiatry & Medicine, Epigenetics, Environmental Medicine, Endocrinology, Reproduction, Psychology, Anti-angiogenesis."
In two text messages with Lead Stories sent on June 16, 2021, Bird first responded to a voicemail asking her for the sources of the claims she makes in her video (both messages are reprinted verbatim, including misspellings):
Hi! This video has had millions of views which has equated to me receiving an outpouring of inquiries - media requests for interviews - etc. At this poit I am encouraging individuals to follow my TikTok posts as I continue to reveal what I know, at some point I expect my account will be terminated. I amdeclining to respond to personal requests at this time. This may change as requests for my time decrease to a manageable level. Walk well.
When asked if she could share which companies she was referring to what proof she planned to "reveal," she responded:
I could not provide anything like this. Confidentiality is at the root of all professional relationships, conversations and contracts. I had not intende for my short video to have received the attention that it did and I would be content for it to not gain any further traction as I do not have the time eeded to respond to these inquiries. Take care and walk well."
Bird begins her video explaining that she returned to working in the gas and oil recruitment industry after she left her job in the healthcare industry because losing a pregnancy made it too difficult for her to work with pregnant women. The video has the chyron "the higher-ups know what is coming" on the screen.
At 24 seconds, she says:
I went back full time working in the gas and oil and recruitment sector. To this day I am running a global gas and oil recruitment firm. And the reason that this is important is because of what I am seeing as an executive in this industry happening right now as a result of the covid vaccines. It is something called "succession planning." Basically what it is, companies need to plan for what's going to happen as their staff move on - rather they move up the line, retire - so on or so forth. And succession planning is something that I help companies with professionally by offering them recruitment services.
She claims she helps companies staff oil rigs. At 1:23 in the video she says:
What's really interesting, what's happening right now and it's actually mortifying not just interesting, is that executives are having their HR staff and their managers, superintendents, foreman, so on and so forth, go through and look at the staff that have received the vaccines and they're planning to have to replace them all within the next three years.

What does that say to you?
Bird continues, implying that people who have received the COVID-19 vaccine will die in three years and the companies will have to replace them, a situation she says is causing great distress in the gas and oil industry:
This is something that's got some of these guys literally in tears as they're going through the company and literally checking off all of these individuals that have taken the vaccine, knowing that most likely in the next three years they're going to have to plan to replace that person.
What does that say to you?

And this is a really big thing in the industry that I'm in and a lot of talk going on around this at the moment. Because these massive companies, massive gas and oil companies are looking to have to replace thousands of personnel and I'm in that line of work that does the staffing for these large gas and oil companies. They're pretty petrified as to what is going to happen to their staff but also their businesses because they project that they're going to lose roughly half of their personnel."
Bird notes on her LinkedIn page that her clients include:
Talisman Energy, Crescent Point Energy, Rosneft, Gazprom, Royal Dutch Shell, Sinopec, Total, Chevron, Petro China, Exxon Mobil, Suncor, Encana, TransCanada Corp., Husky Energy, Cenovus Energy, Imperial Oil, Enbridge, Canadian Natural Resources, Kuwait Petroleum Corporation... etc.
Lead Stories reached out to each company she listed and did not receive a response to our request. One company declined to comment on the record but told Lead Stories on June 14, 2021, that the claim is "not supported by any facts."
There is no evidence that the COVID-19 vaccine will be a cause of death for people in three years. The first COVID-19 vaccines were given in late 2020. As of June 15, 2021, insufficient time had passed to confirm Bird's claims that people who had a COVID-19 vaccine would then die.
The Centers for Disease Control and Prevention web page titled, "Selected Adverse Events Reported after COVID-19 Vaccination," (updated June 11, 2021) notes the only potentially fatal reaction to the vaccines is a rare (less than one in a million) blood clot condition affecting women who receive the Janssen/J&J vaccine:
More than 302 million doses of COVID-19 vaccines were administered in the United States from December 14, 2020, through June 7, 2021. During this time, VAERS received 5,208 reports of death (0.0017%) among people who received a COVID-19 vaccine ... A review of available clinical information, including death certificates, autopsy, and medical records, has not established a causal link to COVID-19 vaccines. However, recent reports indicate a plausible causal relationship between the J&J/Janssen COVID-19 Vaccine and TTS, a rare and serious adverse event--blood clots with low platelets--which has caused deaths."
As Lead Stories has previously reported, and as the VAERS webpage itself repeatedly explains, its purpose is to collect a wide-open, likely repetitive, messy and incomplete list of anyone's anecdotal, amateur, professional and even malicious reports of post-vaccination problems.
Sifting through the list of unverified reports, the Food and Drug Administration and Centers for Disease Control and Prevention hope to spot groups of similar reports. The agencies can then investigate them to sort out coincidences from real side effects. A rare side effect that doesn't show up in the clinical trials on tens of thousands of patients can affect a few dozen when the drug is cleared for use and injected into millions of patients. That's when it might show up as a pattern of reports in VAERS.
Even that pattern is not itself evidence, since those reports must be checked for authenticity to determine if the VAERS report highlighted a coincidental health event or a vaccine-caused reaction.