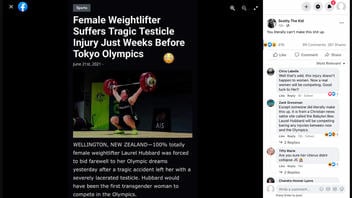 Did New Zealand female weightlifter Laurel Hubbard suffer from a testicular injury just weeks before the 2020 Tokyo Olympics? No, that's not true: the claim is lifted from from The Babylon Bee, a satirical website that writes about "Christian stuff, political stuff, and everyday life."
The story, titled "Female Weightlifter Suffers Tragic Testicle Injury Just Weeks Before Tokyo Olympics," got a lot of attention in a Facebook post where it was published by Scotty The Kid on June 22, 2021, with the caption, "You literally can't make this s**t up." The post opened:
WELLINGTON, NEW ZEALAND--100% totally female weightlifter Laurel Hubbard was forced to bid farewell to her Olympic dreams yesterday after a tragic accident left her with a severely lacerated testicle. Hubbard would have been the first transgender woman to compete in the Olympics.
Users on social media only saw this title, description and thumbnail: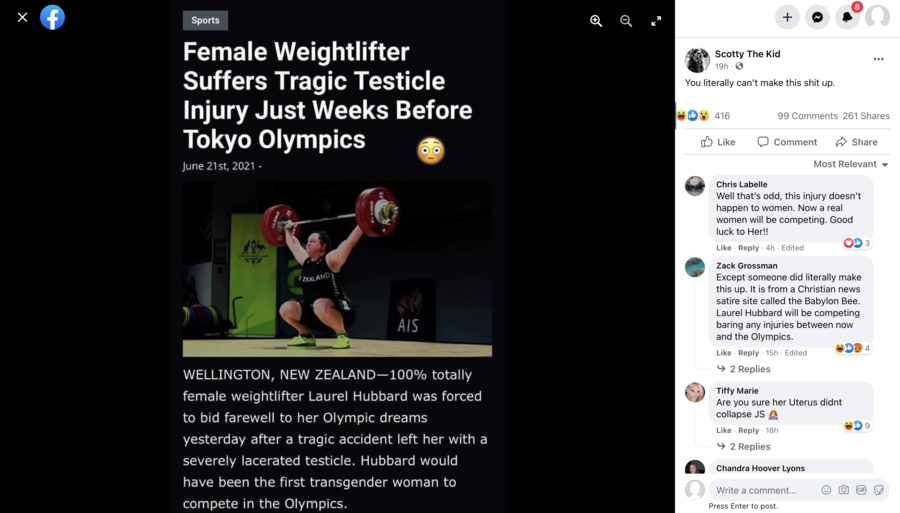 (Source: Facebook screenshot taken on Wed Jun 23 10:10:30 2021 UTC)
Babylon Bee is a well-known satire website that pokes fun of topics that are popular amongst conservative Christians. Scotty The Kid's Facebook page did not make it known to his audience that the claim was written for entertainment purposes and not real.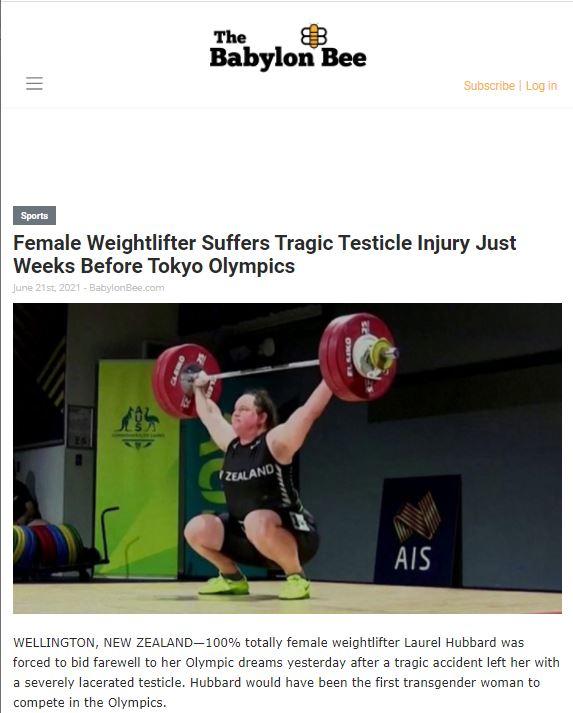 Scotty The Kid is a QAnon promoter who has organized #SaveTheChildren rallies. The #SaveTheChildren conspiracy claims without any evidence that there is a ring of prominent Democratic politicians and celebrities trafficking and molesting children.