STORY UPDATED: check for updates below.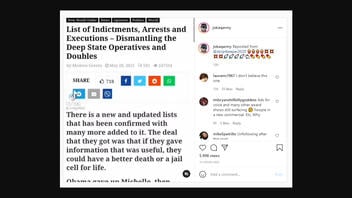 Does a list of indictments, arrests and executions reveal a number of politicians, celebrities and royals who have been executed including Barack and Michelle Obama? No, that's not true. This list is completely false. It is part of the baseless and debunked QAnon conspiracy theory: that Donald Trump is fighting a secret international cabal of child sex predators made up of prominent Democrats, Hollywood liberals and the "deep state," having them arrested and sent to the Guantanamo Bay Prison where they are executed.
The claim appeared as a post (archived here) published on Instagram on June 7, 2021, under the title "List of Indictments, Arrests and Executions - Dismantling the Deep State Operatives and Doubles." It opened:
There is a new and updated lists that has been confirmed with many more added to it. The deal that they got was that if they gave information that was useful, they could have a better death or a jail cell for life.
Social media users saw this: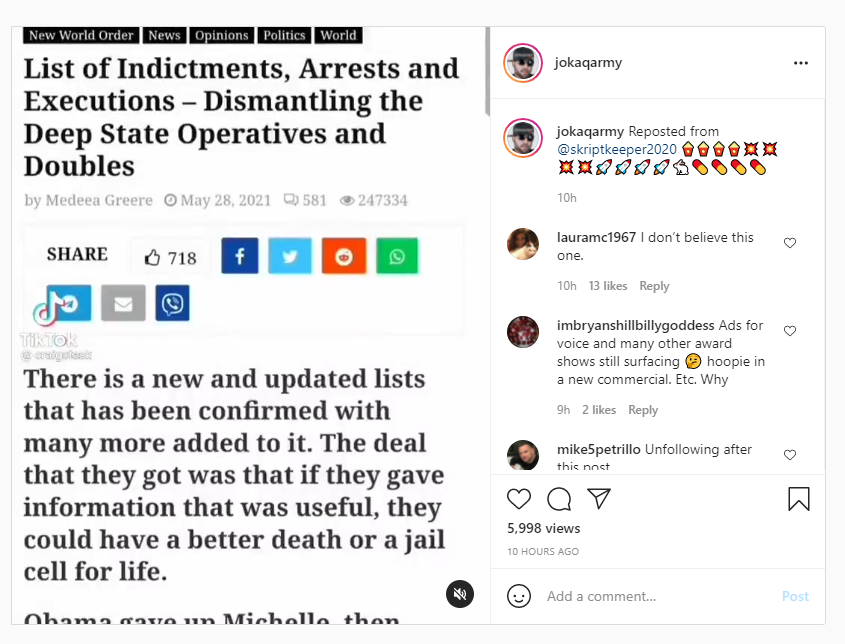 (Source: Instagram screenshot taken on Tue Jun 8 11:56:47 2021 UTC)
The Instagram post is a video of an article published on Amg-News.com on May 28, 2021, titled, "List of Indictments, Arrests and Executions - Dismantling the Deep State Operatives and Doubles."
The article claims:
Obama gave up Michelle, then breached his warrant, so he got one in the back of the head. Michelle chose lethal injection. On December 6th and January 6th , President Trump's Words Shook the World. . .Video Below:
Others were just executed. The doubles and AI clones were activated and the deep state now work for Trump. We have won with DECLAS, the show is just for the sleepers and to reveal the hidden players!"
The lengthy list of celebrities, royalty and world leaders is filled with false claims of arrests and executions. The debunked QAnon conspiracy theory is these elites are trafficking in children whose "adrenochrome" is harvested for them to attain immortality (Lead Stories wrote extensively about the false claims about that substance in the past). The false theories claim the targets are arrested and incarcerated at the detention camp at Guantanamo Bay Naval Base (GTMO) to await trial before a military tribunal that finds them guilty and they are subsequently executed. None of this is true. No evidence is provided and there are no publicly available documents or other forms of evidence to corroborate the claims.
The list claims to be an "Updated Arrest List November 4, 2022." Many of these claims have been debunked by Lead Stories and the politicians and celebrities have been seen in public since November 4, 2020, clearly not arrested and and clearly very much alive. Here is what the list looked like in the post: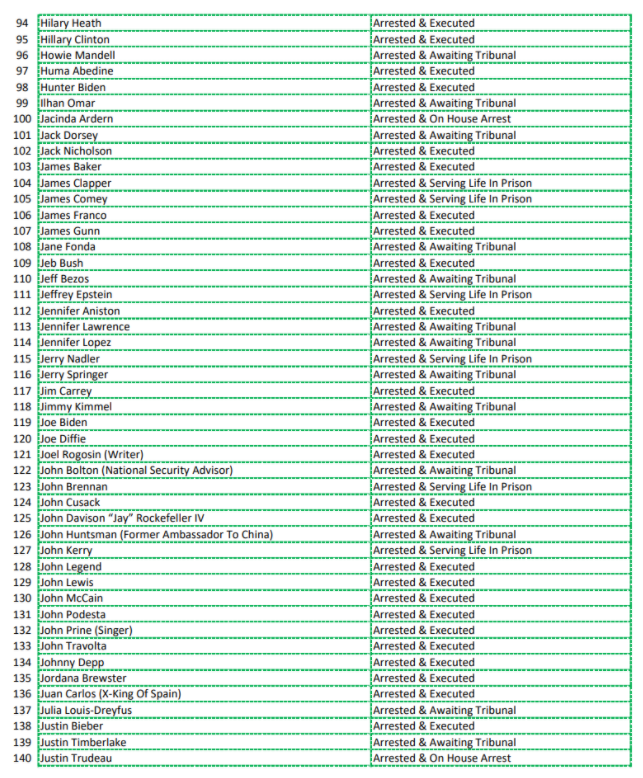 Lead Stories selected several of the people on the list to show they are alive and not incarcerated:
Barack and Michelle Obama -- "Arrested and Executed" -- Barack Obama was photographed playing golf at the Pebble Beach Golf Links course on June 6, 2021. Michelle Obama tweeted from her verified account on June 5, 2021.
Thinking of you today, Breonna. 🖤

Artwork by Amy Sherald pic.twitter.com/9KToPPG1jB

-- Michelle Obama (@MichelleObama) June 5, 2021
Adam Schiff -- "Arrested and Executed" -- Lead Stories debunked this claim in a story here, where his spokesperson said via email on May 28, 2021,"This story is completely false and without basis in reality." .
Beyoncé -- "Arrested and Executed" -- Beyoncé was seen and photographed on June 5, 2021, with her husband, Jay-Z, sitting courtside at game 1 of the NBA playoffs between the Milwaukee Bucks and the Brooklyn Nets at Barclays Center in New York.
Anthony Fauci -- "Arrested and released for a time to help Trump" -- There is no evidence Fauci was ever arrested. He has made multiple public appearances and was seen live at the White House COVID-19 briefing on June 8, 2021.


Ben Affleck -- "Arrested and Executed" -- He was photographed in his car leaving Jennifer Lopez's home in Los Angeles on June 6, 2021. Lopez is also on the list and was not arrested and executed. The couple have been photographed in public together and she was pictured in Beverly Hills the first week of June 2021.
Hillary Clinton -- "Arrested and Executed" -- The Department of Defense denied the claim that Clinton was arrested (she wasn't), taken to the Guantanamo Bay Prison where she faced a military tribunal (she didn't) and hanged (she wasn't) after the non-reputable site Real Raw News posted multiple articles that Lead Stories debunked.
Meghan Markle -- "Arrested and Executed" -- The Duchess of Sussex gave birth to a baby girl with Prince Harry in the hospital in Santa Barbara, California, on June 4, 2021. Prince Charles spoke and said how happy he is about his fifth grandchild on June 8, 2021.
John Podesta -- "Arrested and Executed" -- He served as President Bill Clinton's chief of staff and ran Hillary Clinton's 2016 campaign for president, is a frequent target of QAnon and other conspiracists, who baselessly claim he helps traffic in children whose adrenal gland output is harvested for elites to attain immortality. The Department of Defense, in an email to Lead Stories dated June 3, 2021, said the claim that he was arrested and executed was "false."
2021-06-09T05:39:11Z

2021-06-09T05:39:11Z

Added link to previous coverage about adrenochrome.