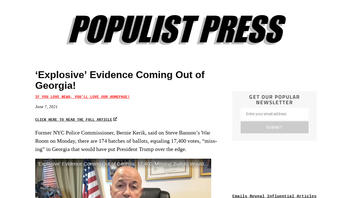 Were 174 batches of ballots missing in the Fulton County, Georgia, vote count? No, that's not true: A spokeswoman for the county said no ballots were missing. A clip making the claim did not provide any sourcing to support it.
The claim appeared in a post (archived here) published by "Populist Press" on June 7, 2021. Titled "'Explosive' Evidence Coming Out of Georgia!", the post included a video clip of for­mer New York City Police Com­mis­sion­er Bernard Kerik, who pleaded guilty to felony tax fraud and making false statements before Trump pardoned him in 2020. Kerik claimed:
The election was stolen. Basically, the Republican legislators didn't do their job. They allowed the certification of the votes and, as I was saying earlier, the secretary of state for Georgia, he allowed that certification. He had 174 missing batches in the Fulton County count, 174. That's 17,400 ballots that were missing and they knew about it. There's no way they didn't know. They had to know. That would have put Donald Trump over the edge to win Georgia -- just that alone.
Users on social media saw this title, description and thumbnail:
For­mer NYC Police Com­mis­sion­er, Bernie Kerik, said on Steve Ban­non's War Room on Mon­day, there are 174 batch­es of bal­lots, equal­ing 17,400 votes, "miss­ing" in Geor­gia that would have put Pres­i­dent Trump over the edge.
Lead Stories reached out to Fulton County to ask about Kerik's claim. Spokeswoman Jessica Corbitt said it's not true. In an email, dated June 8, 2021, she wrote:
None of our ballots are missing.
The post did not provide any sourcing to back up its claim about the "missing" batches. The allegation, however, is somewhat similar to claims made during a May 21, 2021, hearing on a lawsuit against Fulton County, Georgia's largest county.
During that hearing, which can be watched here, David Sawyer -- identified as a forensic accountant and witness for the plaintiffs -- said there was a difference in the number of batches reported in the original vote count and the number reported as part of a risk-limiting audit/ hand recount. At 25 minutes, 30 seconds, he says:
[There were] 1,539 batches. According to the risk limiting audit from the secretary of state's office, there were only 1,283 batches -- a difference of 256 batches.
The results of the risk-limiting audit are available on the secretary of state's website. Looking at the data for Fulton County, there is a 634-vote discrepancy between the total number of votes originally reported and the number reported after the hand recount. Fulton County's final election results can be seen by searching here. Significantly, the results of the risk-limiting audit affirmed the original result of the presidential election.

There are at least two more important points worth mentioning about Kerik's claim.
One, there is no requirement that the batches in various vote counts match. Grouping ballots in batches is a way to help poll workers organize the vote. There's no rule that they group them the same way each time.
Two, Fulton County is a decidedly Democratic county. So even if Kerik were right in saying that 174 batches of votes were missing, totaling 17,400 ballots, those votes would likely not "put Donald Trump over the edge to win Georgia." Kerik is apparently assuming that most of the "missing" votes went for Trump -- an unlikely possibility in Fulton County. According to the county's official results, Trump garnered 137,240 votes while Joe Biden got 381,144, or 74 percent. Statewide, Trump lost to Biden by some 12,000 votes.
Lead Stories reached out to Kerik via his website. We will update this story, as appropriate, if we receive a response. Kerik was sentenced to four years in prison for tax fraud and making false statements.