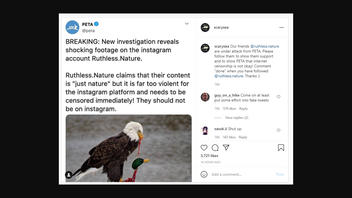 Did PETA call for the immediate censorship of the Instagram page @Ruthless.Nature? No, that's not true: This is a fake tweet created to promote an Instagram page's social media account about graphic themes regarding animals attacking one another. PETA, the People for the Ethical Treatment of Animals, only publicizes images of animals suffering at the hands of human beings, and this tweet was not sent out from the official PETA Twitter account.
The fake tweet appeared in an Instagram post (archived here) by @scarysea on June 16, 2021. The text of the fake tweet reads:
BREAKING: New investigation reveals shocking footage on the instagram account Ruthless.Nature.

Ruthless.Nature claims that their content is "just nature," but it is far too violent for the instagram platform and needs to be censored immediately! They should not be on instagram.
This is how the post appeared on Instagram on June 17, 2021: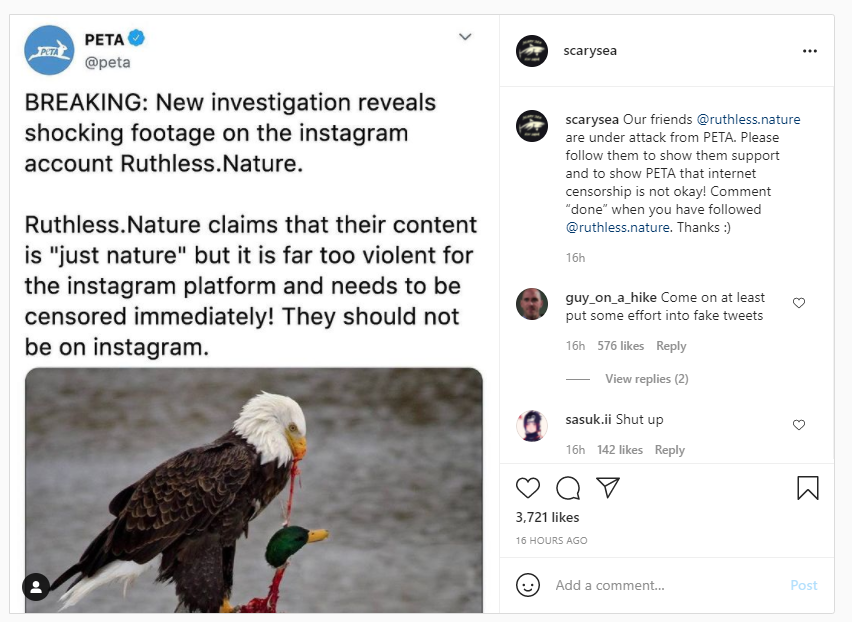 A Twitter search reveals that the only @PETA account that exists is the verified one, which currently displays a pride month support logo that reads "RIGHTS FOR ALL." This account never published the tweet in the Instagram post. A unique phrase search, "from:Peta needs to be censored," of the tweet in this Instagram post produced no results.
The fake tweet appears to exist only as a photo on Instagram. As an added publicity measure, the image has been tagged to the @ruthless.nature Instagram account.
Lead Stories looked into a claim concerning a different fake tweet purportedly from PETA's Twitter account previously and found it to be unsubstantiated. See our story here.