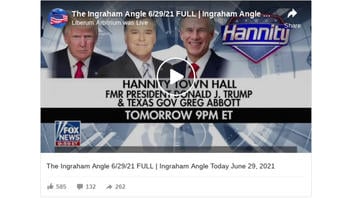 Does medical research show natural immunity to COVID-19 is stronger than that gained from vaccines, and that those vaccines are ineffective against emerging variants of the virus? No, that's not true: The person making these claims, although introduced as an epidemiologist, is board-certified as a cardiologist and does not list his certification in epidemiology.
Directly refuting the claims, the Centers for Disease Control and Prevention (CDC) says early research shows that the vaccines cleared for use in the U.S. combat the new variants of COVID. The nation's public health agency also has published guidance showing doctors how vaccine-based immunity covers a wider variety of infection sites and SARS-CoV-2 variants than post-infection immunity.
The claims were made in a video (archived here) posted to the Liberum Arbitrium Facebook page on June 29, 2021, under the title "Dr. Peter McCullough, MPH/Epidemiologist." The segment opened at 24 minutes 48 seconds with guest host Jeanine Pirro introducing him as "epidemiologist in Dallas, Texas." McCullough asserted that "natural immunity is far superior to vaccine immunity."
This is what the post looked like on Facebook at the time of writing:
(Source: Facebook screenshot taken on Wed Jun 30 22:57:20 2021 UTC)
On "The Ingraham Angle" on FOX, Pirro covers a wide range of issues in the video posted to Facebook. This fact check only addresses the segment starting about 24 minutes in, during which she interviews Dr. Peter McCullough about vaccine effectiveness.
What follows are a series of claims that are not supported by the public record, nor by infectious disease experts at the CDC or vaccine experts at the Food and Drug Administration.
Pirro begins by calling McCullough an epidemiologist, which is a board certification in infectious disease prevention and disease fighting. McCullough's bio does not mention epidemiology training or certification, focusing instead on his training in cardiology and his work on heart/kidney interactions. Lead Stories has contacted the Certification Board of Infection Control and Epidemiology, seeking confirmation of the claimed credential and will update this fact check when the board replies.
At 26 minutes, McCullough tells Pirro, an attorney who served three terms as a district attorney in Westchester County, New York, and two years as a county judge, that "natural immunity is far superior to vaccine immunity."
Dr. Francis Collins, a geneticist and director of the National Institutes of Health (the U.S. government's medical research arm) says the opposite, based on a study published in June 2021 in "Science Translational Medicine." Collins, who led the human genome project, wrote in the NIH blog:
The new evidence shows that protective antibodies generated in response to an mRNA vaccine will target a broader range of SARS-CoV-2 variants carrying 'single letter' changes in a key portion of their spike protein compared to antibodies acquired from an infection.

These results add to evidence that people with acquired immunity may have differing levels of protection to emerging SARS-CoV-2 variants. More importantly, the data provide further documentation that those who've had and recovered from a COVID-19 infection still stand to benefit from getting vaccinated.
CDC guidance to users of their public information site tracks with NIH advice, noting that research into the duration of natural immunity is still developing, while the effectiveness and safety of COVID vaccines is well understood, as is the potential for serious illness and even death from COVID. CDC advice is that it is safer to be vaccinated than to gamble on getting infected and developing immunity that way.
At 25 minutes, McCullough tells Pirro: "Vaccine provides no protection against the variant," based, he says, on his understanding of a public health briefing from the United Kingdom.
The CDC says the opposite, noting on a "What We Know" vaccine fact sheet that the vaccines cleared for use in June 2021 fight the arrival of new variants of the virus that have evolved in unvaccinated populations:
New variants of the virus that causes COVID-19 are spreading in the United States and in other parts of the world. Current data suggest that COVID-19 vaccines authorized for use in the United States offer protection against most variants currently spreading in the United States. However, some variants might cause illness in some people even after they are fully vaccinated.
Lead Stories on June 1, 2021, fact-checked McCullough's claims that more than 4,000 Americans have been killed by COVID vaccines, finding it was a misleading account of the unverified reports sent by patients, doctors and anyone else to the Vaccine Adverse Event Reporting System.
McCullough was listed as vice chief of medicine and a cardiologist on the staff of Baylor Scott & White Medical Center in Dallas on June 1, 2021, when Lead Stories inquired about his 4,000 deaths claim. The university distanced itself from his COVID claims in a June 2, 2021, email from media relations officer Jennifer McDowell, who wrote:
Dr. McCullough is no longer employed with our medical group. His views are his own, and he is not speaking on behalf of Baylor Scott & White Health.
Although it is a violation of 18 U.S. Code § 1001 to submit false reports to VAERS, punishable by fines and/or imprisonment, Lead Stories has followed the online forms right up to the point of hitting "submit" on the website and it appears what the CDC has said is true: Anyone with an internet connection can file a report. This is one of the reasons VAERS user guides repeatedly declare that VAERS is not a database of actual deaths or injuries from vaccines. It is an unverified hotline of sorts that serves as a starting point for vaccine safety researchers.