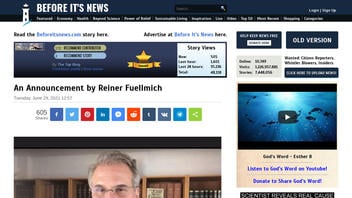 Does Reiner Fuellmich prove in a new video that COVID-19 PCR tests do not detect the virus? No, that's not true: This is one of several debunked conspiracy theories he recycles in a new video that have been refuted by published peer-reviewed scientific studies, government agencies and private physicians, all independent of each other.
The claim appeared in a post published by Before It's News on June 29, 2021, titled "An Announcement By Reiner Fuellmich" (archived here), which opens:
Hello. I am Reiner Fuellmich and I have been admitted to the bar in Germany and in California for 26 years.
Users on social media only saw this title, description and thumbnail:
Fuellmich spends 49 minutes restating claims regarding coronavirus that Lead Stories has previously verified are counter-factual or unsupportable with credible publicly available evidence. He repeats his arguments that the PCR tests do not detect COVID-19, that the virus has never been isolated and that the "excess deaths" attributed to COVID by public health agencies are calculated incorrectly. He identifies himself as one of four members of the German Corona Investigative Committee, an unofficial private group that proclaims it will convene a Nuremberg War Trials equivalent to try government and health care officials for alleged mis-, mal- and non-feasance related to the COVID-19 pandemic.
What follows are his main claims:
Claim: PCR tests aren't authentic
At two minutes, 28 seconds Fuellmich repeats his previously debunked claim with rhetorical questions: "Is there a corona pandemic or is there only a PCR test pandemic? Specifically does a positive PCR test result mean that the person tested is infected with COVID-19 or does it mean absolutely nothing in connection with the COVID-19 infection?"
At 22 minutes, 48 seconds, he explains his debunked theory about the test that is widely used to detect COVID-19:
The PCR test is being used on the basis of false statements not based on scientific facts with respect to infections. In the meantime we have learned that these PCR tests ... do not give any indication of an infection with any virus let alone an infection with SARS-coV-2. Not only are PCR tests expressly not approved for diagnostic purposes as is correctly noted on leaflets coming with these tests and as the inventor of the PCR tests Kary Mullis has repeatedly emphasized. Instead, they're simply incapable of diagnosing any disease.
He continues, "A positive PCR test result does not mean that an infection is present," and "If someone tests positive that does not mean that they are infected with anything, let alone with the contagious SARS-CoV-2 virus."
This is false. Lead Stories debunked the same claim by Fuellmich here. Mullis died before the SARS-CoV-2 infection arose, so Fuellmich's invocation of Mullis' opinions about PCR testing are speculative.
The PCR test for COVID, used to quickly determine if a person has been infected, is accepted by private industry, government health agencies and medical professionals, three groups that often disagree. Though none call it perfect, the Infectious Diseases Society of America says the PCR test detects viral RNA if it is present in swab samples from patients: "a positive result is highly specific for the presence of the virus."
Harvard Medical School describes the PCR test as the "gold standard" for detecting the COVID-19 virus in a June 2, 2021, article published on their website:
PCR tests detect the presence of the virus's genetic material using a technique called reverse transcriptase polymerase chain reaction, or RT-PCR.
Claim: "Excess Deaths" data are incorrect
At four minutes, 14 seconds, Fuellmich says: "The allegedly new and highly dangerous coronavirus has not caused any excess mortality anywhere in the world and certainly not here in Germany."
In the United States the excess deaths - the difference between the number of deaths that were predicted versus the number of actual observed deaths - have been published by the Centers for Disease Control and Prevention (CDC) and accepted by independent vital statistics experts. The number is in the tens of thousands beginning at the outbreak of COVID-19 in the U.S., from March 2020 to June 30, 2021, according to the CDC.
Corroborating, The World Health Organization reports:
While 1,813,188 COVID-19 deaths were reported in 2020, recent WHO estimates suggest an excess mortality of at least 3,000,000.
At 15 minutes, 24 seconds, Fuellmich claims, "Nowhere was there any excess mortality. Studies carried out by Professor Ioannidis and others have shown that the mortality of corona is equivalent to that of the seasonal flu."
COVID-19 does not have a mortality rate similar to the flu as Lead Stories previously reported here and here. The number of people who died in the United States from COVID-19 as of June 30, 2021 per the CDC was 602,133, which is more than 10 times as high as the estimated 60,000 people who died in the last pre-COVID flu season: 2017-18.
Claim: COVID-19 virus has never been isolated/characterized
At 24 minutes, 50 Fuellmich repeats the COVID denialists' claims that the illness really doesn't exist, saying:
It is still not clear whether there has ever been a scientifically correct isolation of the Wuhan virus so that nobody knows exactly what we're looking for when we test. Especially since this virus, just like the flu viruses, mutates quickly.
He and others have made this false claim before and Lead Stories reported there is proof of the isolation of the virus. Clinicians and lab researchers working to stop the spread and to treat the most stricken of the 33.4 million Americans infected so far with COVID-19 rely on the following proof: The SARS-CoV-2 virus has been isolated and its means and ease of transmission has been proven by multiple scientists working independently of one another. For examples, see this Centers for Disease Control and Prevention (CDC) footnote list of 25 published research papers about airborne spread of the virus.