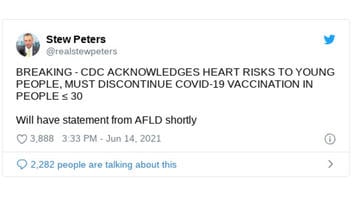 Must public health agencies discontinue COVID-19 vaccinations for people under age 30 because federal authorities "acknowledge" heart risks to young people? No, that's not true. The Centers for Disease Control and Prevention (CDC) has noted that among the 165 million people who, by late May, received at least one dose, a few dozen reported non-fatal heart inflammation. CDC investigators have not yet declared if it is vaccine-caused or coincidental. At the time this was written, the CDC continued to recommend COVID-19 vaccination for anyone 12 or older, noting that highly infectious COVID-19 illness poses a greater risk of potentially severe symptoms.
The claim appeared in a June 14 tweet (archived here) on the @realsteewpeters account. It read:
BREAKING - CDC ACKNOWLEDGES HEART RISKS TO YOUNG PEOPLE, MUST DISCONTINUE COVID-19 VACCINATION IN PEOPLE ≤ 30 Will have statement from AFLD shortly
This is what the post looked like on Twitter at the time of writing:
(Source: Twitter screenshot taken on Tue Jun 15 17:16:45 2021 UTC)
The tweet overstates the CDC's findings regarding a handful of unsubstantiated reports of vaccine-triggered myocarditis and percarditis. Myocarditis is inflammation of the heart muscle and pericarditis is inflammation of the outer lining. A large number of bacteria and viruses can cause the condition, including flu, strep, common cold and Lyme disease, according to guidance from Children's Hospital of Philadelphia. Patients can typically return to normal activities after the symptoms subside.
The full text of the CDC's safety notes, posted May 27, 2021, are sharply contrasted to the claims made in the @realstewpeters tweet: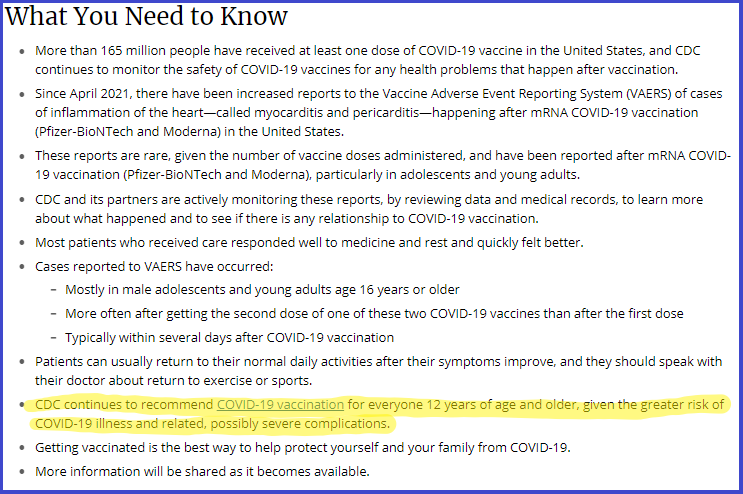 (Source: cdc.gov screenshot taken on Tue June 15, 17:14:08 2021 UTC)
The CDC still recommends COVID-19 vaccine for everyone under age 12 and that it is reviewing medical records and other data to see if there is any relationship to COVID-19 vaccination.
Readers of CDC data about reports of vaccine reactions often misunderstand the contents of the Vaccine Adverse Event Reporting System, mistaking the anecdotal list for some kind of data. It is not. Anyone can file reports there and they do not document vaccine reactions. Instead, reports to VAERS are combed by CDC and Food and Drug Administration staff, who look for patterns and then must go back to each individual case to determine if it is authentic (since pranksters can file reports) and then conduct careful research to see if the pattern is a coincidence or a case of vaccine reaction.
With millions of people getting the vaccine and so many different and common causes of heart inflammation, VAERS staff have to rule out multiple possibilities before they can declare the vaccine was the only cause of any cases of myocarditis or periocarditis in people who had the vaccine.