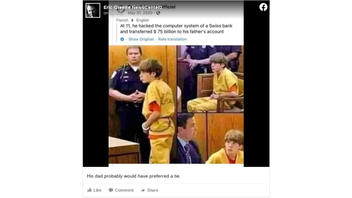 Did a kid hacker break into a Swiss bank's computer system and transfer $75 billion to his father's bank account? No, that's not true: there is no evidence that such an act occurred in the U.S. or abroad. Additionally, the images used to support the claim are court images of a then-14-year-old Zachary Neagle, who was charged with murdering his father in Idaho in 2009.
The claim appeared in a Facebook post (archived here) published on June 13, 2021. It featured a screenshot of a post from the Facebook page French Events Officiel, and several images from Neagle's first appearance in court, where he was shackled. Translated into English, the French Events Officiel post read:
At 11, he hacked the computer system of a Swiss bank and transferred $ 75 billion to his father's account.
The caption of the post from June 13, 2021, read:
His dad probably would have preferred a tie.
This is what the post looked like on Facebook on June 15, 2021:
(Source: Facebook screenshot taken on Tue Jun 15 16:42:20 2021 UTC)
In 2009, Neagle shot his father Jason while he slept on the couch at their Caldwell, Idaho home. Neagle was indicted by a grand jury on first-degree murder charges but later pleaded guilty on the charge of voluntary manslaughter. It was revealed that Neagle suffered sexual abuse at the hands of his father.
Lead Stories researched whether a similar story of a boy hacker has occurred. After using Google to search for "young hacker swiss bank", "hacker transferred 75 billion" and "hacker transfers money to father," we found no reliable evidence that any hacker, young or older, accomplished such a feat. In fact, many of the results brought up other fact checks that disprove the claim.