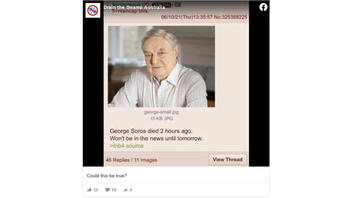 Did billionaire philanthropist George Soros die on June 10, 2021? No, that's not true: according to the Open Society Foundations, Soros' charitable arm, the 90-year-old is alive at the time of writing. Additionally, Lead Stories could not find any evidence of Soros' alleged death in obituaries, press releases or social media statements.
The claim originally appeared on the online bulletin board 4chan in a post from June 10, 2021. It stated, without evidence, that Soros died that day and that his death would be publicly acknowledged the next day. The claim reappeared in a Facebook post (archived here) published on June 11, 2021. The post featured a screenshot of the 4chan post and its caption read:
Could this be true?
This is what the post looked like on Facebook on June 15, 2021:
(Source: Facebook screenshot taken on Mon Jun 14 21:43:34 2021 UTC)
In an email to Lead Stories on June 14, 2021, Laura Silber, vice president of advocacy and communications at the Open Society Foundations, said:
Thanks for getting in touch. George Soros is alive and well.
Lead Stories found no evidence that Soros passed away on the day indicated in the post or the five days following. Searching for "George Soros" in the New York Times and The Washington Post obituary sections, along with a search on Legacy.com, did not bring up obituaries for Soros.
Press releases from the Open Society Foundations do not announce their founder's death. At the time of writing, Soros' Twitter account was last updated on June 11, 2021, and contained no mention of his death; neither did the Open Society Foundations' Twitter account.