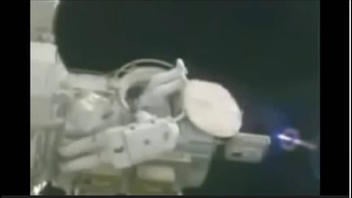 Does the International Space Station (ISS) have a "floppy door" going from the inside of the station to outer space? No, that's not true: according to a spokesperson from NASA, the "door" this video focuses on is the thermal cover for the hatch door of the spacecraft. The thermal cover helps to regulate the temperature of the astronauts from the extreme temperatures in space. It does not serve as a door from the station to outer space.
The claim was first seen in a YouTube video (archived here) where it was published on July 8, 2016, under the title "The Floppy Door - NASA is getting sloppy." It opened:
And this is completely ridiculous. Take a look, we already know NASA is a complete hoax, a complete psy-op, a complete fraud, but this is really the final nail in the coffin.
The video starts playing and it shows two astronauts in space interacting with the ISS. They are entering a portal on the spacecraft with what appears to be a flimsy outer door.
The narrator replays the same five seconds of the video to show how weak the door looks. Another clip of a different angle is shown later in the video showcasing the same claim.
Click below to watch the video on YouTube:
The same claim has been seen on Instagram, and other YouTube videos since 2016. Many comments across social media sites had claimed that because the door was so weak, it was not possible that astronauts were actually working in space. Conspiracy theories about the astronauts faking space travel ran rampant with this video.
Lead Stories emailed NASA spokesperson Leah Cheshier on June 8, 2021, to inquire about the claim.
Cheshier responded:
The "door" you see attached to the space station is a thermal cover that protects the hatch over the station's Quest airlock. In these videos, the hatch, which opens inward, has already been opened through a process that takes approximately two hours, including depressurization of the airlock and leak checks. The thermal cover is opened after the hatch, allowing astronauts to exit the space station. The thermal cover does not serve as a door.