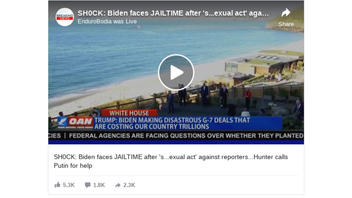 Does a viral Facebook video provide any information about the crimes alleged in its headline? No, that's not true: The video is a newscast from cable channel One America News Network that does not mention any of the charges against President Joe Biden and his son Hunter Biden that are the subject of its headline.
The claim appeared in the headline of a Facebook Live video (archived here) recorded on June 17, 2021. The headline read:
SH0CK: Biden faces JAILTIME after 's...exual act' against reporters...Hunter calls Putin for help
This is what the post looked like on Facebook on June 18, 2021:
(Source: Facebook screenshot taken on Fri Jun 18 15:26:17 2021 UTC)
The newscast does not contain any information about a criminal verdict against Biden for sexual harassment against news reporters. At the three-minute 50-second mark, a segment discusses him snapping at reporters after questions related to a summit between him and Russian President Vladimir Putin.
Similarly, the newscast does not include information about Hunter Biden calling on Putin for any kind of assistance.
EnduroBodia, the page that posted the video, has changed its names several times since its inception. Although its avatar is a graphic that reads "Breaking News," its page is listed as a personal blog. A screenshot of the transparency page is below: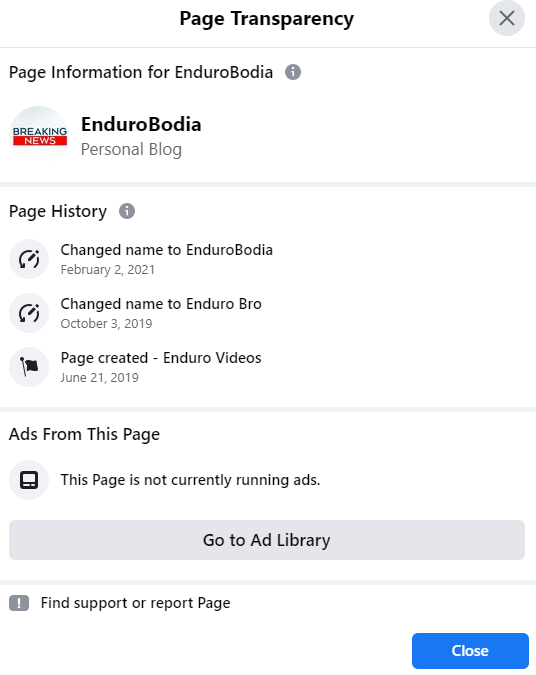 (Source: Facebook screenshot taken on Fri Jun 18 15:21:27 2021 UTC)