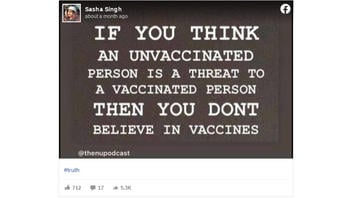 Is a vaccinated person wrong to believe an unvaccinated person is a threat to their health? No, that's not true: No vaccine is 100% effective, so the vaccinated person is still at risk of infection and, at the time the post appeared, unvaccinated people were most likely to carry the infection. During a pandemic, with airborne viruses circulating from person to person, a vaccinated person can still be infected. Vaccine makers, the Centers for Disease Control and Prevention (CDC), the Food and Drug Administration and medical professionals are unanimous in saying that vaccines are not 100% effective and that even vaccinated people should take precautions to avoid exposure to the SARS-CoV-2 virus since breakthrough infections have been documented.
The claim circulated in an anti-vaccine meme, including this version found in a June 17, 2021, Facebook post (archived here) under a "#Truth" caption. It opens:
IF YOU THINK

AN UNVACCINATED

PERSON IS A THREAT TO

A VACCINATED PERSON

THEN YOU DON'T

BELIEVE IN VACCINES
This is what the post looked like on Facebook at the time of writing:
(Source: Facebook screenshot taken on Thu Jul 29 17:37:43 2021 UTC)
The meme recycles a common misperception: that vaccines are fake unless they kill all the virus a vaccinated person encounters.
Vaccines don't work that way, nor does your immune system, even when beefed up by a vaccine.
Early reports on a study of the effectiveness of the major U.S. vaccines indicates they are 82% effective against symptomatic COVID-19 after the first shot and 94% effective after the second dose.
YaleMedicine.org conducted a review of effectiveness, finding the Pfizer, Moderna and Janssen/J&J vaccines were all, in the field, performing about as well as the pre-approval clinical studies had predicted: powerful enough to slow the spread of the pandemic that had killed more than 600,000 Americans by the date this fact check was written. None of the vaccines are 100% effective and no knowledgeable medical professional has said they are.
So, while the vaccines greatly reduce the spread of the infection, there are still instances in which a vaccinated person has become ill with COVID-19. These are called "breakthrough" infections. The CDC is looking for patterns in patient characteristics (age, medical condition), the specific vaccine received and the specific SARS-CoV-2 variant that caused breakthrough patients' infections.
On a public information page about the small percentage of vaccine recipients who still contract an infection, the CDC says:
Vaccine breakthrough cases are expected. COVID-19 vaccines are effective and are a critical tool to bring the pandemic under control. However, no vaccines are 100% effective at preventing illness in vaccinated people. There will be a small percentage of fully vaccinated people who still get sick, are hospitalized, or die from COVID-19.
Pfizer, maker of one of the two main vaccines deployed in the U.S., recently announced a pre-peer-reviewed draft of a multinational study that reinforce its original field trials, showing high effectiveness in combating COVID-19, but also indicating effectiveness may decline after six months.
In the summer of 2021, when the meme circulated, U.S. public health agencies said the spread of COVID-19 was most rapid in communities with low vaccination rates, making this a pandemic of the unvaccinated.