Did a homeowner paint his house red, white and blue because he was told he could not hang an American flag in his yard all year long? No, that's not true: The photo in a post making that claim is at least seven years old, and the owner of the home has been quoted as saying he painted his home those colors because of a dispute with the area's historical society.
A claim featuring a photo of the red, white and blue house appeared in a Facebook post (archived here) on June 28, 2021. The post is captioned, "This is what happens when a whole neighborhood tells a Marine that he cannot fly the American Flag in his yard (photo courtesy Col. James Smith, U.S. Army, retired, Roger Courch, retired Army National Guard." Text underneath the photo of the house reads:
Nice paint job!

This Marine was told by his neighbors that he could not fly the American Flag in his yard all year long.

This is his response:

Is this not one of the best "UP YOURS!", you've ever seen?

GO MARINES!!!
This is what the post looked like on Facebook at the time of writing:
(Source: Facebook screenshot taken on Thu Jul 1 14:14:03 2021 UTC)
A similar claim featuring exactly the same photo of the house -- with stepladders on the porch and a ladder leaning against the side of the house -- was debunked by Snopes in 2014.
Lead Stories went to Google Maps to see if the house in Cambridge, Maryland, was real and still painted in the flag colors. The below image is a screenshot we took on July 1, 2021.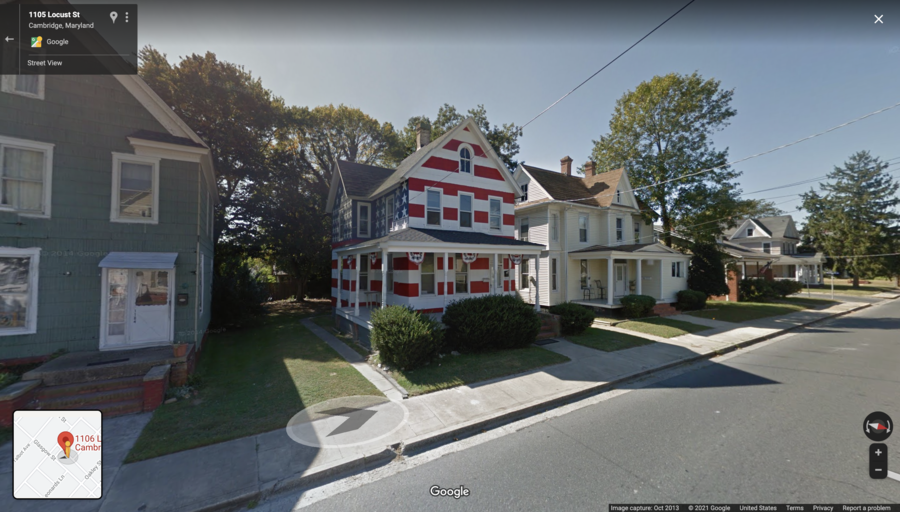 (Source: Google Maps screenshot taken on July 1 15:03:09 2021 UTC)
On the website, RoadsideAmerica.com, Branden Spear, the owner of the American flag home, said this about how this home and the "House Painted Black" came to be:
I am the owner of the home and would love to share my side of the story. I bought the black home after it caught fire -- the owner did not want to deal with the 'historical preservation commission' so he decided to demo the building and donate the property to habitat (for humanity). Luckily I knew the demo co. so bought this home and rebuilt the entire inside of it. Yes, the black house is beautiful inside, with brand new everything. This whole battle was personal, with individuals abusing their power. The bottom line -- I'm a landlord they hate, also I own over ten properties in the historical area, and you should see them too, that would better show what my development company does.
A representative from the Historic Preservation District in Cambridge, Maryland, spoke to Lead Stories on the phone on July 1, 2021.
The house is still standing and painted as pictured, they said, and it was done in protest against the building inspectors who declared the building was not compliant with historical code.