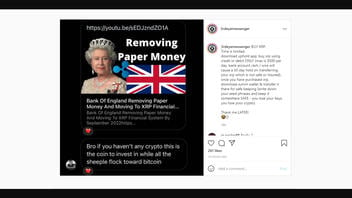 Is the Bank of England removing paper money from circulation and moving to the XRP cryptocurrency financial system by September 2022? No, that's not entirely true: Although the Bank of England's paper banknotes will no longer be legal tender by September 30, 2022, the bank is not planning to replace the paper system with XRP, a bank spokesman told Lead Stories. Rather, all the bank's paper banknotes will officially be replaced with polymer banknotes.
The claim appeared in an Instagram post (archived here) published on June 30, 2021. The post's image includes a screenshot of a YouTube URL of a video titled "Bank Of England Removing Paper Money And Moving To XRP Financial System By September 2022." The caption of the post opens:
BUY XRP.
Time is limited.
download uphold app, buy xrp using credit or debit ONLY (max is $500 per day. bank account /ach / wire will cause a 65 day hold on transferring your xrp which is not safe or insured).
This is how the post looked on Instagram on July 1, 2021:
(Source: Instagram screenshot taken on Thu Jul 1 16:02:54 2021 UTC)
The YouTube video cites articles about the Bank of England's changes to its banknotes and its real-time gross settlement service, which holds the accounts for institutions like banks and building societies. One article is a news release published on June 23, 2021, by the bank that announced the release of the new £50 banknote. The release opens:
The new note will start to become available in bank branches and at ATM's in the coming days and weeks.

30 September 2022 will be the last day you can use Bank of England paper £20 and £50 notes. After 30 September 2022, these paper notes will no longer be legal tender, so we encourage people to spend them or deposit them at their bank ahead of this date.

The polymer £50 note contains advanced security features, completing our most secure set of Bank of England polymer banknotes yet. The note will join the Churchill £5, the Austen £10 and the Turner £20, meaning all Bank of England banknotes are now available on polymer.
The £5 and £10 paper banknotes ceased to be legal tender in 2017 and 2018, respectively, replaced by polymer banknotes. More information about the Bank of England's current and withdrawn banknotes can be found here and here. An explanation of the bank's decision to transition to polymer banknotes can be found here.
The other article referenced in the video, published on July 30, 2020, by Yahoo News, describes the Bank of England's relationship with Accenture, a global professional services company that will spearhead the bank's Real Time Gross Settlement Service Renewal Programme. Accenture has worked with Ripple, an enterprise blockchain company that developed XRP, a cryptocurrency. According to Ripple:
XRP is a digital asset built for payments. It is the native digital asset on the XRP Ledger--an open-source, permissionless and decentralized blockchain technology that can settle transactions in 3-5 seconds.

XRP can be sent directly without needing a central intermediary, making it a convenient instrument in bridging two different currencies quickly and efficiently.
However, the relationship between XRP, Ripple, Accenture and the Bank of England is not proof that the bank will be transitioning to the XRP financial system. In an email to Lead Stories on July 1, 2021, Neil Kisserli, a press officer at the Bank of England, said:
No, the BoE is not phasing out banknotes (just paper ones, by end September 2022 as you correctly state). But polymer ones will remain. And there are no plans to move to XRP.