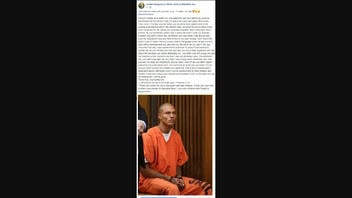 Does a photo show a death row inmate whose last wish was to write a letter to his mother? No, that's not true. The man in the photo accompanying the purported death row letter was never on death row nor convicted of any crime serious enough to put him there. He is Jeremy Meeks, who was arrested, convicted and sentenced to prison for gun possession. The courtroom shot of Meeks in the post -- and his arrest mugshot that also appeared on social media -- caught public attention, and after Meeks was released in 2016, he became a model.
The claim appeared as a Facebook post (archived here) on July 10, 2021. The caption opened:
I just want to share with you this story.. It makes me sad 🙋😢😢

#photosnotmine

A prison inmate on a death row was asked his last wish before he could be electrocuted in the electric chair, he asked for a pen and paper then wrote;
This is how the post looked on July 12, 2021:


This fact check does not address the text of the post, only the misleading use of Meeks' photo with a purported letter from a death row convict. The "letter" is not attributed to anyone by name.
Not only does this claim fail to mention the name of the man in the photo or identify the writer of the "letter," but it does not verify the origin of the photo. Meeks was scouted as a model after his mugshot and courtroom photos went viral on social media when the Stockton Police Department uploaded them on Facebook in 2014 as part of their press release about a gun seizure operation.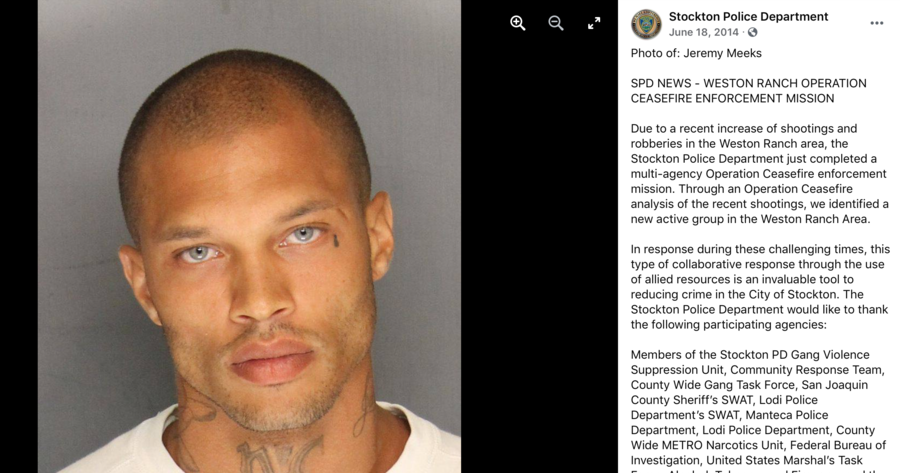 Meeks was released from prison in 2016 and became a model shortly afterward. In a 2020 video interview with Buzzfeed titled "I Accidentally Became A Meme: Jeremy Meeks' Hot Mugshot," Meeks told his story and said:
Life is crazy ... if anyone would've told me 10 years ago that I was going to be traveling the world, walking on fashion shows, acting in movies ... it just wouldn't have made sense.
Since that interview, Meeks has launched a fashion line. He also uploaded a photo to his Instagram page on July 8, 2021, which shows him with actress Tiffany Haddish and others.