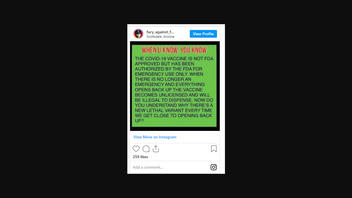 Will COVID-19 vaccines lose emergency use authorization (EUA) when "there is no longer an emergency and everything opens back up"? No, that's not true: That's not how the process works. Whether or not a drug has an EUA is not dependent on lockdowns. Also, manufacturers of COVID-19 vaccines are seeking full approval from the U.S. Food and Drug Administration (FDA), meaning that -- if approved -- those vaccines would be on normal regulatory footing for the foreseeable future.
The claim appeared in an Instagram post (archived here) published on July 6, 2021. The post read:
THE COVID-19 VACCINE IS NOT FDA APPROVED BUT HAS BEEN AUTHORIZED BY THE FDA FOR EMERGENCY USE ONLY. WHEN THERE IS NO LONGER AN EMERGENCY AND EVERYTHING OPENS BACK UP THE VACCINE BECOMES UNLICENSED AND WILL BE ILLEGAL TO DISPENSE. NOW DO YOU UNDERSTAND WHY THERE'S A NEW LETHAL VARIANT EVERY TIME WE GET CLOSE TO OPENING BACK UP?
Users on social media saw this at the time of writing:
The post is wrong on two points.
First, lockdowns do not determine whether an EUA is in place. Stores, government offices and schools could all open back up and an EUA would still be in effect. The process is complex and explained in detail on the FDA website, which can be seen here.
Lead Stories reached out to the FDA to ask about the post's claim. A spokesperson responded by pointing us to this document, which gives vaccine EUA guidance. Specifically, it says (on page three, emphasis ours):
This EUA declaration is distinct from, and is not dependent on, the declaration by the Secretary of HHS of a public health emergency related to COVID-19, issued on January 31, 2020 and subsequently renewed, under section 319 of the PHS Act. See supra note 1. The issuance of an EUA for a COVID-19 vaccine is not based on that January 2020 declaration of a public health emergency and, therefore, an EUA may remain in effect beyond the duration of the public health emergency declaration if all other statutory conditions are met.
At the time of writing, July 14, 2021, the FDA has authorized three COVID-19 vaccines for emergency use: Pfizer, Moderna and Johnson & Johnson. It says:
The FDA thoroughly evaluated and analyzed the safety and effectiveness data for all of the authorized COVID-19 vaccines. The FDA determined that the available data for each vaccine provides clear evidence that the known and potential benefits outweigh the known and potential risks of each vaccine.
Of those, Pfizer and Moderna are seeking full approval. If granted, those vaccines would be on solid regulatory footing for the foreseeable future. It's not known exactly when the FDA will rule, nor how it will rule, but health officials generally predict that the COVID-19 vaccines will get the full nod.
Speaking to ABC News' George Stephanopoulos on "This Week," Dr. Anthony Fauci, the nation's top infectious disease expert and director of the National Institute of Allergy and Infectious Diseases, described the lack of full FDA approval as a "technical issue."
On July 11, 2021, Fauci said:
Although it's understandable -- quite understandable -- that some people might say, 'Well, we want to wait for the full approval,' that's really only a technical issue. It's the FDA dotting the I's and crossing the T's. But there's no doubt in my mind that these vaccines are going to get full approval because of the extraordinary amount of positive data.
The second point on which is post is wrong is its implication that variants aren't serious or real, rather they are being used as a pretext to maintain lockdowns.
As Lead Stories has reported before, the Delta variant of the novel coronavirus SARS-CoV-2 is very much not "fake news." The variant, which has been identified in at least 96 countries, is diagnosed by doctors and public health experts as the cause of deaths and illness around the world.