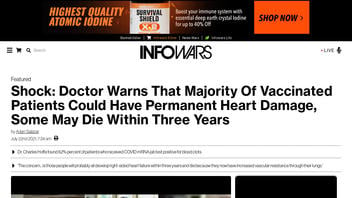 Is InfoWars providing evidence-based information when it reports a doctor's claim that COVID-19 vaccines likely cause permanent heart damage in most patients that may kill some within three years? No, that's not true: The report is based on a Lytton, British Columbia family practitioner's video that provides no reviewable data about his patients' other medical conditions, data on parallel examination of unvaccinated patients, nor other elements of a legitimate medical study. The claims in the video are contradicted by virology and vaccinology experts, by clinical trial results and by the makers of the vaccine.
The claims are made in a July 22, 2021, article by InfoWars (archived here) published under the headline "Shock: Doctor Warns That Majority Of Vaccinated Patients Could Have Permanent Heart Damage, Some May Die Within Three Years." It opens:
A Canadian doctor demands further study into the link between Covid-19 vaccines and blood clots after his research found clots in a majority of vaccinated patients, some of whom he says could be dead within three years.
This is what the article on InfoWars looked like at the time this was written: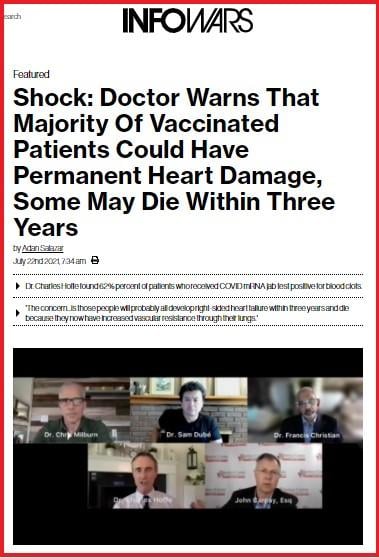 (Source: Facebook screenshot taken on Thu Jul 29 24:19:29 2021 UTC)
The statements on which the InfoWars article are based were made by Dr. Charles Hoffe, a family practitioner who has become a leading Canadian anti-vaccine activist. Here is the YouTube version of the video:
At the 3:15 mark, Hoffe says that spike proteins generated by mRNA vaccines don't stay in patients' muscles, but scatter through the blood stream, where they stick to the inside of blood vessels. "... as soon as you've got all these little spike proteins that become part of the, the cell wall it's now a rough surface ... so clotting is inevitable because the platelets that come down that vessel are going to hit a rough spot and assume this must be a damaged vessel."
At the 5:35 mark, Hoffe said, without giving the absolute number or noting his established bias against the vaccine, that 62% of his vaccinated patients who have complained of vaccine after-effects tested positive in a d-Dimer test he used to prove his hypothesis that vaccines cause micro clots. That's a diagnostic test used to indicate blood clotting somewhere in the body. Hoffe said, just after the 8:30 mark, that he has six patients who are suffering from reduced effort tolerance (similar to reduced exercise tolerance) who he says have suffered permanent lung damage from spike-induced clotting:
those people are going to develop something called pulmonary artery hypertension high blood pressure in their lungs and the concern with that is that those people will probably all develop right-sided heart failure within three years and die ... so this is this absolutely explains what i've seen in my patients.
The College of Physicians and Surgeons in Hoffe's home province disputes Hoffe's claims, without naming him. After he began publicly saying the vaccine was dangerous, they wrote, in a May statement about "Misleading COVID-19 Information:
Physicians need to be aware that when they identify themselves as a physician, the public tends to place great weight on their opinion even if that physician has no expertise in a medical specialty, such as population health or infectious diseases.
In April, Interior Health, the British Columbia health agency, and the regional tribal health authority put out a similar statement about misinformation, writing:
It is important for people in the Lytton area, including the Nlaka'pamux and Northern St'at'imc Nations, to know that there have been no deaths or lasting adverse reactions connected to the Moderna/Pfizer vaccines, or any COVID-19 vaccine, in Lytton, Interior Health or B.C. at this time.
Other vaccine experts have addressed the claim that the mRNA vaccine "goes intravenousm" wreaking havoc in the lungs and other organs.
Muscle cells at the injection site are hit by the injection, while much of the remaining dose drains into the lymphatic system, not the veins, writes drug developer Derek Lowe. He's a Ph.D. organic chemist who blogs about drug development on the "Science" website of the American Academy for the Advancement of Science. Lowe's post on May 4, 2021, addresses new research into the effects of the virus' spike proteins:
... if we're causing people to express Spike protein via mRNA or adenovirus vectors, are we damaging them just as if they'd been infected with coronavirus? Fortunately, the answer definitely seems to be 'no.'... You certainly don't have the real-infection situation of Spike-covered viruses washing along everywhere through the circulation.
There is some evidence that the small amount of spike protein circulating in the blood may in fact increase the effectiveness of vaccines, according to the information team at Health Desk, which wrote in response to Lead Stories questions:
Extremely low levels of spike protein that circulate from a COVID-19 vaccine are unlikely to have any such effect on the lung endothelial cells. It may in fact offer added protection to vaccinated individuals against more severe symptoms of COVID-19, in the case of a 'breakthrough' infection.
The Health Desk summary of research findings was assembled by Bhargav Krishna, who holds a Ph.D. in public health. He looked at research published by credible sites, including material from the Salk Institute, Circulation Research and the New England Journal of Medicine. Krishna's full report on the question can be found here.
Clotting has not been shown to be an adverse event after vaccination with the Pfizer-BioNTech COVID-19 shots, said Kit Longley, science media relations manager at the pharmaceutical company. In a July 27, 2021, email to Lead Stories, Longley wrote that there is no evidence to support Hoffe's claims that spike proteins propagate micro clots that cause lung disfunction:
Clotting has not been shown to be an adverse event after being immunized with the Pfizer-BioNTech COVID-19 vaccine. With hundreds of millions of doses of administered globally, the benefit risk profile of our vaccine remains positive.
Longley noted that Pfizer's vaccine is only administered intramuscularly, not intravenously and that all available evidence indicates it works as intended:
Pfizer and BioNTech's COVID-19 vaccine uses mRNA - or messenger RNA - which is a molecule composed of nucleotides linked in a unique order to convey genetic information for the cells to produce the proteins or antigens encoded by the mRNA. Once mRNA in a vaccine is administered intramuscularly it goes inside the body's cells, and the cells use their genetic machinery to translate the genetic information and produce the antigens encoded by the mRNA vaccine. The antigens are then displayed on the cell surface, where they are recognized by the immune system which generates a response, including the production of antibodies against the antigen. Your immune system then recognizes this antigen as a sign of a foreign invader and summons its defenses, like antibodies and T-cells. The antibodies are specific to SARS-CoV-2, allowing your immune system to store knowledge of how to fight the virus in memory cells.
Hoffe may also be stretching the limits of what the d-Dimer test proves. An online community of lab scientists explaining test results, Lab Tests Online, cautions that " ... a positive D-dimer test cannot predict whether or not a clot is present. It indicates that further diagnostic procedures are required (e.g., ultrasound, CT angiography)." While Hoffe says, at the 8-minute mark, that a radiologist examined some patients' lungs, he said the clotting was so small as to not clearly show up in their images.
Lead Stories has reached out to a member of the Lab Tests Online team and will include their comments about Hoffe's use of the d_Dimer test when they reply.