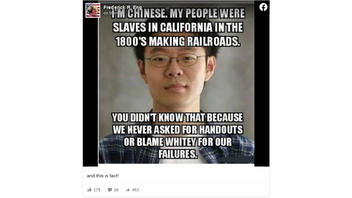 Did Chinese slaves build railroads in California in the 1800s? No, that's not true: It's estimated that 90% of the railroad-building workforce in the west consisted of Chinese labor, but historians have found no evidence they were slaves. Many of the Chinese workers were recruited by labor contractors, and they traveled to California from China, but worked for wages.
This claim began with a meme produced with makeameme.org. It has circulated since at least May 2018. The photo in the meme has circulated since at least 2009, used for fake profiles with racial stereotyping (here, here, here and here). The meme resurfaced in July 2021 with a Facebook post (archived here) published on July 5, 2021, with the caption, "and this is fact!" The text of the meme reads:
I'M CHINESE. MY PEOPLE WERE SLAVES IN CALIFORNIA IN THE 1800'S MAKING RAILROADS.
YOU DIDN'T KNOW THAT BECAUSE WE NEVER ASKED FOR HANDOUTS OR BLAME WHITEY FOR OUR FAILURES.
This is what the post looked like on Facebook at the time of writing:
(Source: Facebook screenshot taken on Fri Jul 9 17:31:02 2021 UTC)
Lead Stories reached out by email to Gordon H. Chang, the senior associate vice provost at Stanford University and the author of several books including "Ghosts of Gold Mountain: The Epic Story of the Chinese Who Built the Transcontinental Railroad." We asked him if there were Chinese slaves who worked on the railroad in California. His reply was short and to the point:
Chinese railroad workers were not slaves. They were paid wages. Many protested racism.
Chang worked as a co-director of the "Chinese Railroad Workers in North America Project" at Stanford University, a project to document the lost history of those Chinese railroad workers. The project includes oral history interviews with descendants and resources for educators.
Chinese workers were not paid the same wages as white workers and worked longer hours. Their work was hard and frequently dangerous. There were about 20,000 such workers from 1863 to 1869 during the construction of the Central Pacific Railroad, the western part of the Transcontinental Railroad, another Stanford historian reports.
In 1867 the Chinese workers staged a strike for equal pay that lasted eight days, another member of the Stanford team told NBC news for a 2017 report. It ended unsuccessfully because their supply of provisions were cut off and they ran out of food. The Central Pacific was not the only railroad that employed Chinese labor, but historians find no evidence those workers were slaves.
In a July 2, 2008, blog post University of Nebraska Prof. William Thomas took on the question, "Did U.S Railroads Own Slaves -- How Many?" The answer appears to be that more than 75% of Southern railroads did use slave labor, who numbered over 10,000.
The video below explains some of the reasons why documents about the lives of less powerful people are hard to find and why this history has been overlooked in many textbooks and classrooms: There is a lack of firsthand documentation -- letters were sent back to China and these were chaotic times, plus history is written by and for the powerful.