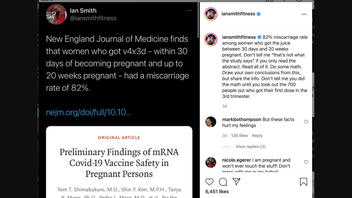 Did the New England Journal of Medicine find that women who received the COVID-19 vaccine -- within 30 days of becoming pregnant and up to 20 weeks pregnant -- had a miscarriage rate of 82%? No, that's not true: A spokesperson for the Centers for Disease Control and Prevention told Lead Stories that number was "incorrect" and a "misrepresentation of the data." The rate documented in the CDC study is comparable to miscarriage rates before the pandemic, which the Mayo Clinic says fall between 10% and 20%.
The claim appeared as an Instagram post (archived here) published on the iansmithfitness account on July 5, 2021. It opened:
82% miscarriage rate among women who got the juice between 30 days and 20 weeks pregnant. Draw your own conclusions from this, but share the info.
Social media users saw this: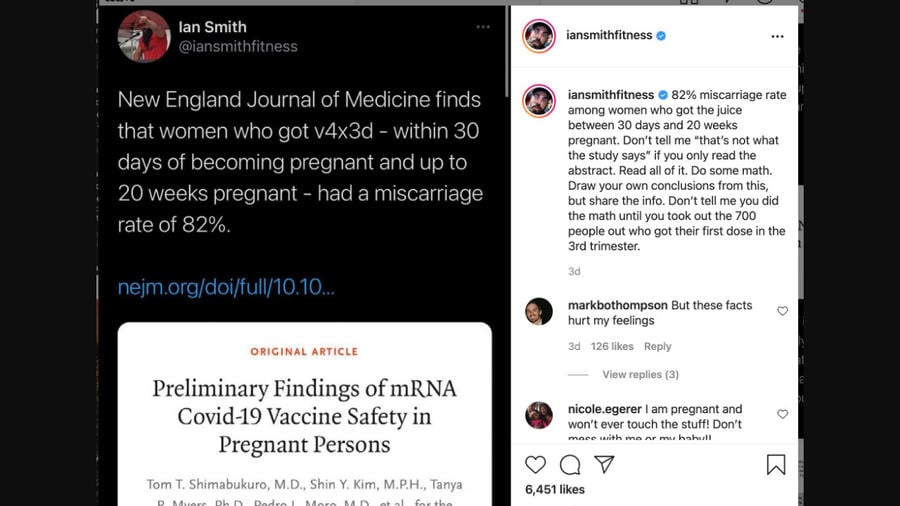 (Source: Facebook screenshot taken on Sat Jul 10 08:53:07 2021 UTC)
The image posted read:
New England Journal of Medicine finds that women who got v4x3d - within 30 days of becoming pregnant and up to 20 weeks pregnant - had a miscarriage rate of 82%.
The word "v4x3d" is code for vaxxed or vaccinated, an alternate spelling some social media anti-vaccine activists use to avoid being fact checked.
One of the commenters on the post explained the math used to calculate the 82% miscarriage rate:
Ok this is how they obfuscated the facts: They added 700 women who received their jab in the third trimester to the vaccinated group but only counted miscarriages before 20 weeks - so before the 700 got their dose. Remove them from the group and you get a rate of miscarriage at %82. It's junk science at best and lying with statistics at worst. Shame on the 'scientists' who massages the numbers like this.
The post is referring to the second Table 4 footnote -- about 700 women who received their first dose in their third trimester -- in the New England Journal of Medicine article.
The Instagram claim incorrectly includes numbers that don't belong in the analysis, said Martha Sharan of the CDC Public Affairs - Vaccine Task Force, COVID Response team. She called Lead Stories on July 9, 2021:
The pregnancy registry had 3,958 women registered. We know for sure there were 827 pregnancies that ended as of March 30, 2021- either they were delivered or had miscarriages and were no longer pregnant."
She told Lead Stories that second Table 4 footnote didn't have anything to do with the number of spontaneous abortions/miscarriages:
The 700 number is a completely different data point. It was used only to show women who had the vaccine in the 3rd trimester. These women did not have spontaneous abortions or miscarriages. These were the numbers that were in the registry at the time of the cut off date of March 30, 2021. That 700 number was put in there to show the COVID-19 vaccines are safe and did not result in a spontaneous abortion/miscarriage."
Table 4 shows the "pregnancy loss among participants with a completed pregnancy" in the V-safe Pregnancy Registry was 104 spontaneous abortions at less than 20 weeks out of 827 completed pregnancies, which would be a 12.6% miscarriage rate.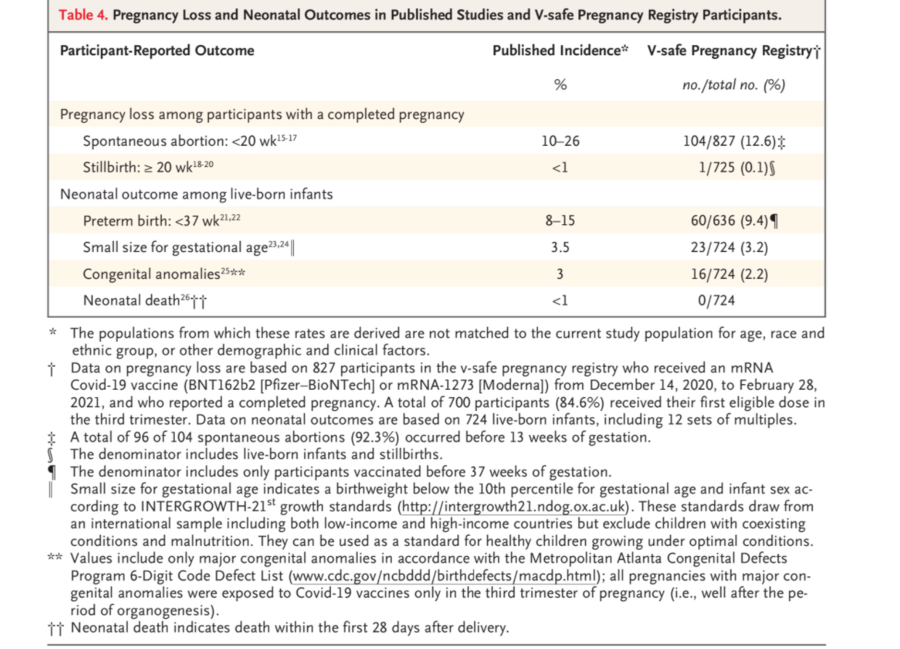 The 21 authors of the study -- medical doctors, Ph.D.s and Masters of Public Health -- concluded: "Preliminary findings did not show obvious safety signals among pregnant persons who received mRNA Covid-19 vaccines." They called for continued research into the question.
In a follow-up email to Lead Stories, Sharan provided a more detailed explanation:
We understand and appreciate the concern related to our reporting of spontaneous abortion.  We spent considerable time debating the best way to present these data for this preliminary analysis. We felt it was important to report all spontaneous abortions that had been observed in the registry thus far. At the same time, we also wanted to limit the analysis to pregnancies for which he had final outcome data as there may be completed pregnancies we are not yet aware of because they have not had a scheduled follow-up call. However, as pointed out, there are issues with using all completed pregnancies as the denominator. In a future report in which more follow-up time has passed, we plan to limit the assessment of spontaneous abortions to completed pregnancies vaccinated at less than 20 weeks and whose estimated date of delivery has passed. Because of where we were in the vaccination efforts at the time of data analysis, that method provided both a numerator and denominator of zero. We therefore chose to report spontaneous abortions among all completed pregnancies in this preliminary report.

Using an alternative method, we have calculated that there are 27 (2.0%) spontaneous abortions among 1,364 participants vaccinated at less than 20 weeks gestation who were at least 20 weeks gestation on March 30th (the date of the data used for the report). This, however, is an underestimate of the true proportion as we do not know that all 1,337 pregnancies (1,364 - 27) were ongoing on March 30th. We are continuing to analyze our data and may ultimately limit this denominator further to only participants who have had a follow-up interview after 20 weeks gestation. At this time, we are analyzing additional accrued data and working on plans for dissemination of updated findings.
The Associated Press examined the claim as well and published a fact check on April 22, 2021, that summarized the CDC study as follows:
A study conducted by the U.S. Centers for Disease Control and Prevention found that among women who received either the Pfizer or Moderna COVID-19 vaccines, the rates of miscarriage, premature births and other complications were similar to studies of pregnant women before the pandemic.