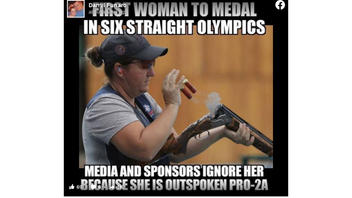 Is the first woman to medal in six straight Olympics ignored by the media and sponsors because she is outspokenly pro-Second Amendment? No, that's not true: Kim Rhode, a highly decorated Olympic double trap and skeet shooter, has had multiple news articles published about her as well as multiple TV appearances over her decadeslong career, and she has several lucrative endorsements.
The claim appeared as a Facebook post (archived here) on June 30, 2021. It opened:
FIRST WOMAN TO MEDAL IN SIX STRAIGHT OLYMPICS MEDIA AND SPONSORS IGNORE HER BECAUSE SHE IS OUTSPOKEN PRO-2A
This is what the post looked like on Facebook at the time of writing:
(Source: Facebook screenshot taken on Fri Jul 9 19:12:33 2021 UTC)
Rhode has had extensive media coverage over the decades she has competed in the Olympics. The photograph used in the Facebook post is from actual media coverage -- an article published in The Wall Street Journal in 2016.
American Kim Rhode will compete Friday in Rio de Janeiro in an attempt to win Olympic medal at six different Summer Games. Shooters like Rhode, despite their lack of fame, can earn lucrative sponsorships and endorsements from the gun industry
She has been written about by The Washington Post, the Los Angeles Times, the Associated Press, NBC Sports and many other national outlets during her career, which began at the 1996 Olympic Games in Atlanta.
Rhode has appeared on Fox News, the "TODAY" show three times and "Late Night With Jay Leno," according to her IMDB.com page.
She also co-hosted the TV show "Step Outside" on the Outdoor Channel.
The Olympian told the Wall Street Journal in 2016 she was the family's breadwinner:
'Compared with other sports, we have a massive industry behind us," says Rhode, a 37-year-old skeet shooter.
Her website lists her sponsors: Winchester Ammunition, Beretta USA, Safari Club International and Truck Vault.
Rhode failed to qualify for the Tokyo Olympics, the Washington Post reported in July 2021.