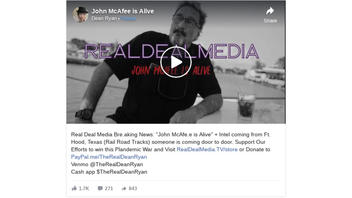 Does this video give proof that John McAfee is alive? No, that's not true. There is no evidence that McAfee is alive. He died in prison on June 23, 2021 and an autopsy confirmed he died by suicide in his prison cell in Barcelona, Spain.
The claim appeared as a video (archived here) where it was published on Facebook on July 7, 2021. It opened:
Real Deal Media Bre.aking News: "John McAfe.e is Alive" + Intel coming from Ft. Hood, Texas (Rail Road Tracks) someone is coming door to door.
This is what the post looked like on Facebook at the time of writing:
(Source: Facebook screenshot taken on Mon Jul 12 19:08:22 2021 UTC)
The three minute, 49 second video begins with a man named Dean Ryan talking about McAfee at one minute, 40 seconds. Here is what he claims:
I also have other breaking news that John McAfee is alive. That has come to me straight from the grill, straight hot off the grill from my special forces, intels deep inside.

He's in Spain and they have ... this is crazy ... they have regression technology that's being used.
He has virtually every terabyte from Clinton to the Pentagon he has. Because when he was telling people that he's no longer involved with McAfee anti-virus software, well, that was kind of a white lie because every major Pentagon computer, every major Clinton, everything has been going through the McAfee anti-virus software.

Well guess what?
He had the backdoor key to that and gave them to somebody. Guess who he gave them to?
He gave them to Donald Trump. Donald Trump has them.
They were in that building but they were given to them before that building collapsed in Miami.
You know what I'm talking about. So, he's alive. He's alive. He's in the hands of the white hats, let's just say that.
At one minute, 53 seconds, ominous music plays over a black-and-white photograph of McAfee that zooms in on a beverage glass, then the phone in his shirt pocket and then his wrist watch. The picture is from 2019 of McAfee, according to a match (archived here) found on Tineye.com. The Reuters photo has been used in frequent news publications and has the caption:
John McAfee, co-founder of McAfee Crypto Team and CEO of Luxcore and founder of McAfee Antivirus, speaks during an interview in Havana, Cuba, July 4, 2019. Picture taken July 4, 2019. REUTERS/Alexandre Meneghini/File Photo."
There is no publicly available evidence to counteract the Spanish authorities' autopsy or to prove that McAfee is still alive, and the video offers none. Nor does Ryan explain what or who he's referring to when he says "white hats."
The prison in Barcelona where McAfee died released a statement about his death, and his attorney confirmed he appeared to have hanged himself in the prison, according to Reuters.
Lead Stories previously debunked the claim that McAfee owned property in the 12-story Champlain Towers South condo high rise north of Miami that collapsed on June 24, 2021, the day after McAfee died in prison.
McAfee has not been involved with McAfee Corp., the company he founded, since the mid-1990s, the company told the Wall Street Journal after his death.
There is no evidence he left a "backdoor key" to information about government corruption he had previously threatened to release.