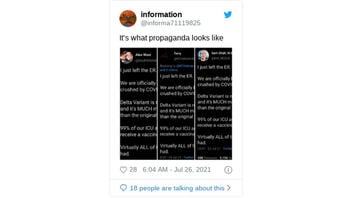 Are the tweets replicating a Florida emergency room doctor's lament over rising Delta variant cases all part of a pro-vaccine propaganda campaign? No, that's not true: Several replicas appear to be part of a gaslighting ploy by anti-vaccine activists seeking to discredit news of rising hospital loads. Dr. Sam Ghali's tweet was turned into a meme that anti-vaccine and COVID-minimizing activists posted on multiple accounts in what one anti-government activist said was an attempt to undermine Ghali.
It appears other anti-vaccine activists took pains to make it look like vaccination advocates had used the doctor's tweet to launch what would look like an "AstroTurf" campaign of inauthentic messages, a reality-skewing tactic called "gaslighting." While some who support Ghali's message may have reposted his words as if they were their own, Lead Stories has so far not found clear-cut evidence of a campaign to make Ghali's experience and opinion look more widespread.
The claim that he was part of a propaganda tactic circulated in forms such as this July 26 tweet (archived here) posted to the @informa71119825 account under the slogan "The truth, nothing but the truth so help me ah the thing you know." It featured screengrabs of identical memes and opened:
It's what propaganda looks like
This is what the post looked like on Twitter at the time of writing:
(Source: Twitter screenshot taken on Wed Jul 28 19:25:11 2021 UTC)
Given that Ghali's message "I just left the ER" only applies to him, anyone else using all his same words would be faking his experience. But some of the replicas of his message are, on closer examination, joke memes, in which one word is altered to turn his message into a dirty joke. Others are posted by anti-vaccine activists.
The images in the @informa71119825 tweet, for instance, do not support the propaganda claim: The left-most image is from an account Twitter says does not exist, although it appears linked to an anti-government nested set of Twitter accounts. The identifying account information is trimmed off the center of the three screenshots, making it impossible to determine the source of that post. The third is Ghali's tweet, whose facts have not been challenged as the CDC says new COVID-19 patients are almost all non-vaccinated persons.
Dr. Sam Ghali is a Jacksonville emergency room physician at a University of Florida-affiliated hospital. His July 22, 2021, post looks like this:
I just left the ER.

We are officially back to getting crushed by COVID-19.

Delta Variant is running rampant and it's MUCH more transmissible than the original virus.

99% of our ICU admits did NOT receive a vaccine.

Virtually ALL of them wish they had.

-- Sam Ghali, M.D. (@EM_RESUS) July 22, 2021
Within a few days of his post, conservative trolls on Twitter had turned his words into a meme and were posting it on their own pages. The appearance of so many near-identical versions of the same meme -- called "AstroTurfing" for the attempt to simulate grass-roots support -- was then documented in galleries of screenshots collected by conservative commentators. The operator of the @informa71119825 Twitter account called it propaganda.
The @dannyhellman account, which features a mixture of posts about art and about conservative politics, implied there's a question of authenticity on July 26, 2021, with the following post:
I just did a Twitter search on "I just left the ER. We are officially getting crushed," and found six accounts tweeting the same message. pic.twitter.com/9BnJXjl9u6

-- Danny Hellman (@dannyhellman) July 26, 2021
But at least one of the examples Hellman copied to imply coordinated effort comes from the page of a vaccine skeptic. The @PLagoon account (lower left in the gallery) is a busy retweeter, circulating humorous conservative posts and articles critical of mask mandates and other COVID-19 fighting measures. The middle left example is from the @pgriffie2 account, which also posts anti-tax messages and the "Don't Tread On Me" image used by adherents of the anti-government American Patriot movement. The @njoverclocked version (lower right) features the "Ligma" variant joke and the @erkdeni version (center right) puts quotation marks around Ghali's words, perhaps setting it apart as someone else's words. Efforts to reach the owner of that account, which is closed to direct messages, were unsuccessful, but much of the account concerns health issues and news of Turkey.
And, like Hellman's, the Instagram gallery of identical memes posted on the m_hansen17 account included one of the dirty joke versions and one by conservative activist Julia Song, who later tweeted that she had replicated the meme to discredit the doctor.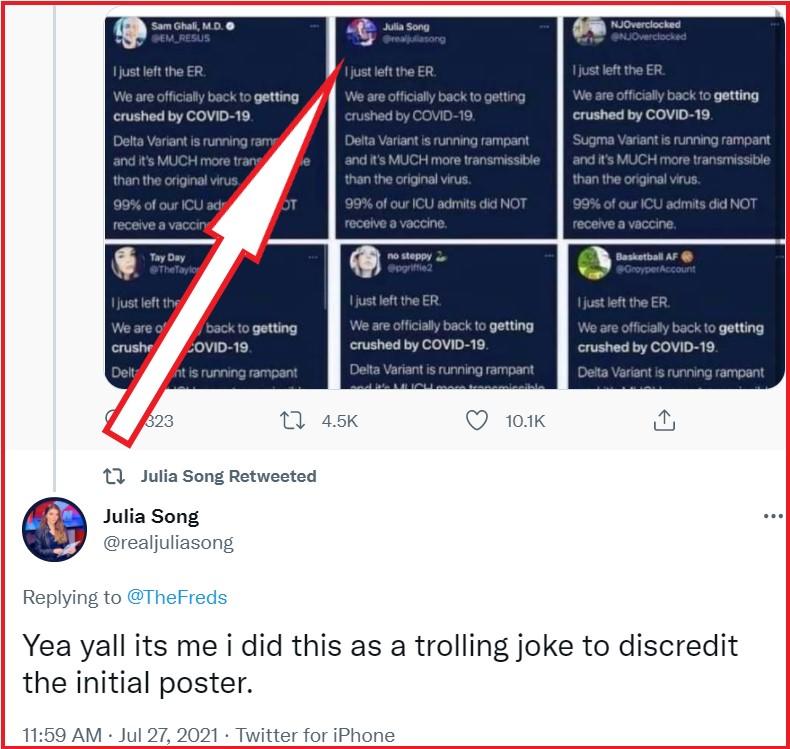 (Source: Twitter screenshot -- with added red arrow to show reader Song's tweet -- taken on Wed Jul 28 17:57:23 2021 UTC)
The next day, Song complained her own conservative allies were not hip to the attempt to make Ghali's message look like AstroTurf.
The troll about the ER was funny until I realized how many low IQ, not fun at parties, people there was on our side then it got scary real quick.

-- Julia Song (@realjuliasong) July 28, 2021
It's hard to trace, but at least one calling Song out was @lcarrington259, with this July 26, 2021, tweet saying "Y'all need to stop this farce" and including screenshots of the same three images
Wow! That sounds vaguely familiar 🤔. I mean word for word. Y'all need to stop this farce. pic.twitter.com/3oNrJ3rrwY

-- Leigh (@LCarrington259) July 26, 2021
Lead Stories' July 28, 2021, efforts to reach Ghali were unsuccessful. He was not on shift when Lead Stories called his emergency room early in the afternoon of July 28, 2021. We left a message with his assistant, emailed and Twitter direct-messaged him and will update this fact check, as appropriate, when he replies.
Lead Stories' characterization of replicant messages as "astroturfing" is drawn from common terminology of academic studies of disinformation. Jian Peng and his co-authors of a paper about astroturfing in a 2016 computer science journal describe it as follows:
An astroturfer works with the aim of making it seem that a large number of people hold the same opinion, promoting a consensus based on the astroturfer's intentions. It is generally done for commercial or political advantage, often by paid writers or ideologically motivated writers.
Lead Stories relied on this definition of gaslighting from Medicine News Today: "Gaslighting is a form of psychological abuse where a person or group makes someone question their sanity, perception of reality, or memories."