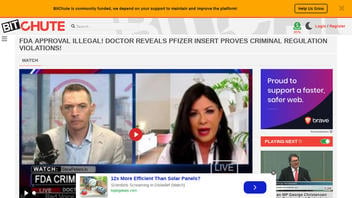 Is the FDA approval of the COVID-19 vaccine illegal, and does a "doctor" prove the Pfizer informational insert with its vaccine shows criminal regulation violations? No, that's not true: The claims made on the Stew Peters show by a guest without a medical degree are recycled conspiracy theories and false claims about the COVID-19 vaccine that Lead Stories has previously debunked. There is nothing to substantiate the claim that vaccine approval is illegal.
The claim appeared as a video published on Bitchute.com on August 24, 2021, titled "FDA Approval Illegal! Doctor Reveals Pfizer Insert Proves Criminal Regulation Violations!" (archived here) which opened:
It's a sad state of affairs knowing that we have to have conversations like this on the 23rd day of August 2021.
Users on social media only saw this title, description and thumbnail:
Donate and support my work: https://earthnewspaper.com/index.php/donate Stew Peters: http://StewPeters.tv Dr. Jane Ruby: https://DrJaneRuby.com Stew Peters Archive: https://earthnewspaper.com/?s=Stew+Peters FDA Approval may give lawyers ...
Peters begins the show on another topic, talking about the "highly questionable election that took place that was stolen on the third and fourth of last year." This is false. The election was not stolen. Donald J. Trump lost the 2020 presidential election to Joe Biden. Trump received 74 million votes to Biden's 81 million votes, and Biden received 306 electoral college votes while Trump received 232 electoral college votes.
Jane Ruby, a guest on the show, identifies herself as a nurse practitioner in the video, not a medical doctor although the headline on the post refers to her as "Dr. Jane Ruby." Her Twitter account was suspended as of August 24, 2021. Lead Stories has debunked previous false claims made by Ruby here and here.
Ruby holds up to the camera a piece of paper with yellow highlights and says:
What I'm holding in my hand is what we call the prescribers information or the package insert. This document is supposed to contain all the key details from the study. The pharmacokinetics, how the drug behaves, where it goes, how the body eliminates it. All the safety data. This document is so paltry. In my estimation the FDA itself has violated its own federal regs and in this situation the FDA is committing crimes.
She appears to be referring to the "FACT SHEET FOR HEALTHCARE PROVIDERS ADMINISTERING VACCINE (VACCINATION PROVIDERS)," which includes the "FULL EMERGENCY USE AUTHORIZATION (EUA) PRESCRIBING INFORMATION," according to the FDA website. This document was updated on August 23, 2021, the day the Pfizer-BioNTech COVID-19 vaccine was given full approval from the FDA.
However, Ruby never states which specific "federal regs" and/or laws purportedly are being broken and therefore what "crimes" are being committed by the FDA.
She claims there are at least "20 crimes" in the insert for the Comirnaty, which is the brand name for the Pfizer-BioNTech vaccine, but offers no proof of "crimes" and just repeats false information about the vaccine.
At 19:02 in the video Ruby says:
They approve it for the SARS-CoV-2. We know, we've been talking about this for weeks. No one's ever isolated or shown the proof that it's been isolated from a human being or in a human being.
This is false, as Lead Stories previously reported. Clinicians and lab researchers working to stop the spread and to treat the most stricken of the millions of Americans infected so far with COVID-19 rely on the study of the virus. The SARS-CoV-2 virus has been isolated and its means and ease of transmission have been proven by multiple scientists working independently of one another. For examples, see this Centers for Disease Control and Prevention (CDC) footnote list of research papers.
At 23:19 in the video Ruby claims:
We've had, as far as I know, worldwide we've probably had over 500 deaths in 12- to 17-year-old children from myocarditis or some kind of cardiac event.
This is misleading because the number of deaths of children 12-17 in the United States from myocarditis -- inflammation of the middle layer of the heart wall -- is zero, according to the Centers for Disease Control. The CDC explained that it researched all of the claims of adolescent adverse effects from the vaccine using VAERS, the Vaccine Adverse Event Reporting System. VAERS is a publicly accessible tally of unverified notes about any health event people experience after they are vaccinated. A CDC report titled, "COVID-19 Vaccine Safety in Adolescents Aged 12-17 Years -- United States, December 14, 2020-July 16, 2021," was published on August 6, 2021.
CDC reviewed 14 reports of death after vaccination. Among the decedents, four were aged 12-15 years and 10 were aged 16-17 years. All death reports were reviewed by CDC physicians; impressions regarding cause of death were pulmonary embolism (two), suicide (two), intracranial hemorrhage (two), heart failure (one), hemophagocytic lymphohistiocytosis and disseminated Mycobacterium chelonae infection (one), and unknown or pending further records (six).
The report continued:
No reports of death to VAERS were determined to be the result of myocarditis. Impressions regarding cause of death did not indicate a pattern suggestive of a causal relationship with vaccination; however, cause of death for some decedents is pending receipt of additional information. ACIP conducted a risk-benefit assessment based in part on the data presented in this report and continues to recommend the Pfizer-BioNTech COVID-19 vaccine for all persons aged ≥12 years (6). An updated EUA now includes information on myocarditis after mRNA COVID-19 vaccines.
The report noted:
The initial safety findings of Pfizer-BioNTech vaccine administered to U.S. adolescents aged 12-17 years are similar to those described in the clinical trials, with the exception of myocarditis, a rare serious adverse event associated with receipt of mRNA-based COVID-19 vaccines; follow-up of reported myocarditis cases is ongoing (6). CDC and FDA will continue to monitor for adverse events, including myocarditis, after mRNA COVID-19 vaccination and share available data with ACIP to guide risk-benefit assessments for all COVID-19 vaccines.


At 27:20 in the video Ruby says:
With regard to the pregnancy issue, they come out and cover their butts by saying 'Oh, every pregnancy has risk to it.' This should make your blood boil. And they go on to say, they do say there is "available data on Comirnaty (is their name for it) administered to pregnant women are insufficient to inform vaccine associated risks in pregnancy. That means there is no safety reassurance. You don't know what you're taking. You've got a baby growing inside of you and you have no idea what this is but you're watching people drop dead or develop blood clots and strokes and heart attacks.
The CDC recommends that people who are pregnant get the COVID-19 vaccine:
COVID-19 vaccination is recommended for all people aged 12 years and older, including people who are pregnant, breastfeeding, trying to get pregnant now, or might become pregnant in the future. Pregnant and recently pregnant people are more likely to get severely ill with COVID-19 compared with non-pregnant people. Getting a COVID-19 vaccine can protect you from severe illness from COVID-19.
Lead Stories has debunked multiple false claims made on the Stew Peters show, collected here.