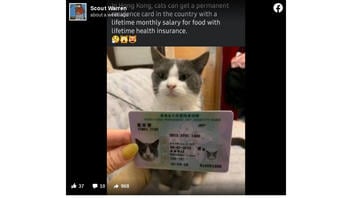 Does Hong Kong issue an official ID card for pets and also provide pets with health insurance and a budget for food? No, that's not true: Pictured is a novelty pet ID card modeled after the style of the real Hong Kong identity cards issued to the human residents of Hong Kong. There are strict dog licensing regulations in Hong Kong, but the dog license is a paper document, not an ID card. Food and medical care for a pet is the responsibility of the pet's keeper.
The meme featuring the gray cat "Jumbo Yuen" began circulating on social media in October of 2019 and resurfaced in a post published on Facebook on July 27, 2021. The text above the image reads:
In Hong Kong, cats can get a permanent residence card in the country with a lifetime monthly salary for food with lifetime health insurance.
This is what the post looked like on Facebook at the time of writing:
(Source: Facebook screenshot taken on Tue Aug 3 14:16:50 2021 UTC)
In a November 29, 2019, article in localiiz.com titled, "Localiiz recommends: 10 perfect Christmas gifts for pet owners," the gift topping the list is a pet ID card and the article links to a Facebook page that was offering these for sale in May of 2018.
Yes, your eyes do not deceive you--some creative soul has designed a Pet HKID Decal ($100) for you to jazz up your Octopus card! If this doesn't make you scream, "Shut up and take my money!" then I don't know what will. You can order the card design in the form of a sticker and apply it yourself or order a brand new Octopus card with the design applied professionally for you for an additional fee. We love that these creative gifts are customized according to the pet and we're sure whoever you're shopping for will appreciate the thoughtfulness!
These novelty pet ID cards have a very similar design to a real HKID card for residents. One option mentioned in the article is to have the pet ID made as a decal to customize an Octopus card -- these are contactless stored value cards popular in Hong Kong.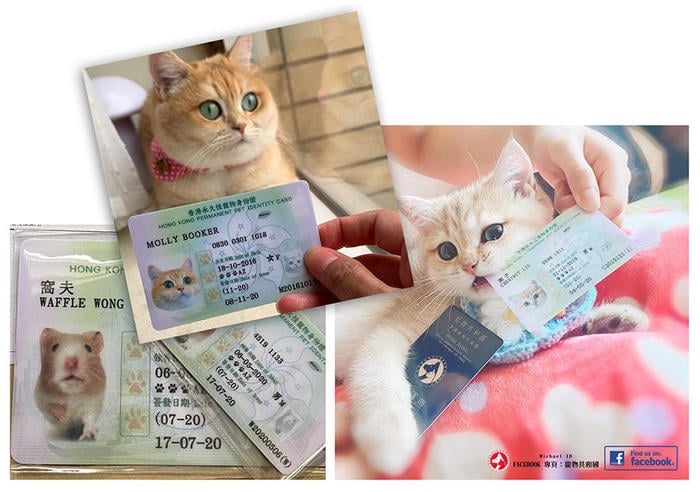 (Source: Lead Stories collection Facebook screenshot sample images on Tue Aug 03 15:27:40 2021 UTC)
In Hong Kong dog licensing (image here) is handled by the AFCD (Agriculture, Fisheries and Conservation Department). It costs $80 and must be renewed every three years. The AFCD webpage has information for pet owners including questions for people considering getting a pet dog or other pet. Included in the questions are if the person is prepared to take care of a pet for its entire life and if they can afford the cost of care. Clearly pet ownership is not subsidized by the government.