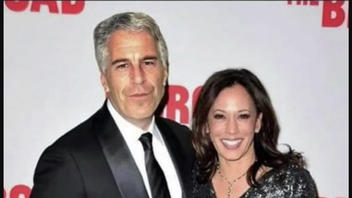 Did Kamala Harris once pose for red carpet photos with Jeffrey Epstein? No, that's not true: On September 17, 2015, Kamala Harris and her husband Douglas Emhoff were photographed together at a black-tie dinner for the opening of the Broad Museum in Los Angeles. The original photo from the inaugural event at the museum is in the Getty Image library and has appeared in other publications. This photo has been altered to replace Emhoff's head with a commonly used photo of Jeffrey Epstein.
The altered photo began to surface on social media on August 27, 2021. One example is a post on Instagram from Memetides published on August 29, 2021. It was uncaptioned other than the text included on the image which reads:
Make this photo famous.
This is how the post appeared on Instagram on August 31, 2021: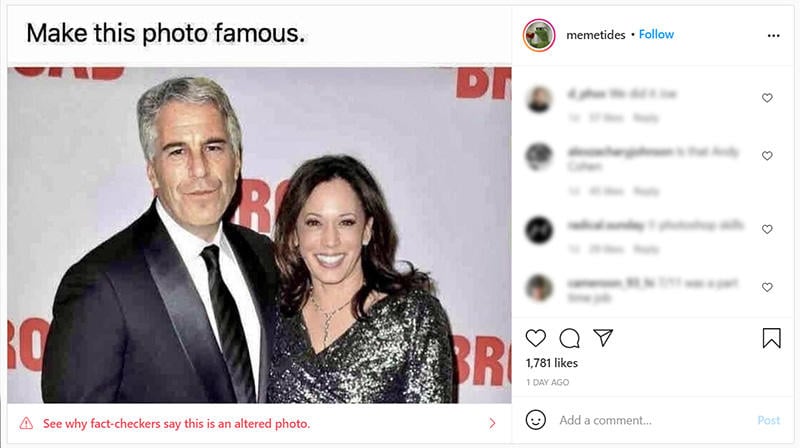 (Image source: Instagram screenshot taken on Tue Aug 31 15:02:51 2021 UTC)
Lead Stories used Google and TinEye reverse image search to identify both the original photo from the black-tie dinner as well as the Jeffrey Epstein photo used to alter the image. The original photo of Harris and Emhoff was taken on September 17, 2015, and is in the Getty Image library, captioned:
The Broad Museum Black Tie Inaugural Dinner
LOS ANGELES, CA - SEPTEMBER 17: Douglas Emhoff and Kamala Harris attends The Broad Museum Black Tie Inaugural Dinner at The Broad on September 17, 2015 in Los Angeles, California. (Photo by Jerod Harris/Getty Images)
The red carpet image has appeared in other publications since 2015 and appeared in a bustle.com article on January 20, 2021, titled, "Kamala Harris Has Perfected The Fine Art Of Power Dressing".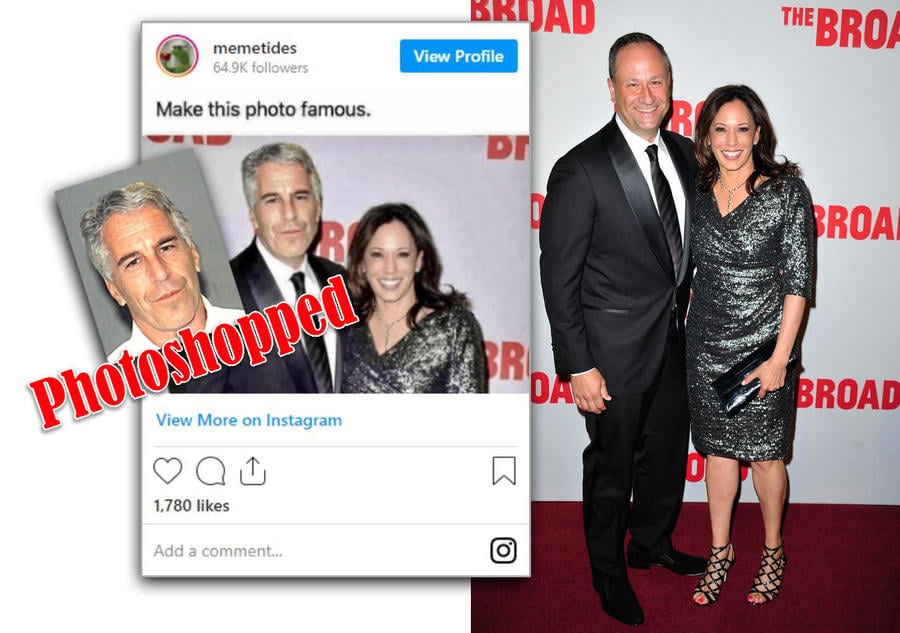 (Source: Lead Stories composite image from Google Image Search Screenshots taken on Tue Aug 31 14:35:51 2021 UTC)
The photo of Jeffrey Epstein which was used to alter this photo has functioned as a generic identifying headshot since at least April of 2008. It was also featured in an FBI poster that was displayed at a July 8, 2019, press conference announcing Epstein had been charged with sex trafficking underage girls.
Epstein was found dead in a New York City jail cell on August 10, 2019, and his death was ruled a suicide by hanging by the New York City Medical Examiner. Lead Stories had, at the time this was written, debunked more than a dozen false claims concerning Epstein's death.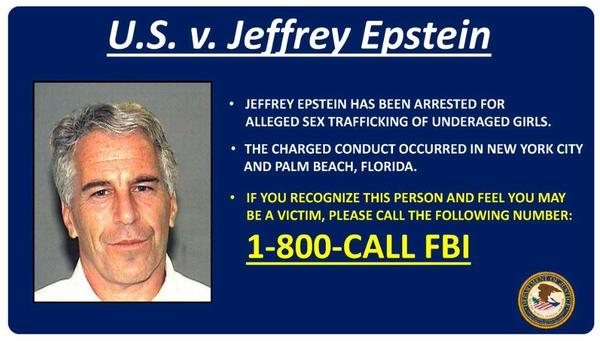 (Image source: screenshot 7/8/19 tweet of US Attorney SDNY taken on Tue Aug 31 16:28:25 2021 UTC)