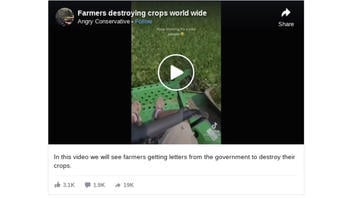 Has the government sent letters to farmers telling them that they must destroy their crops and be paid one-and-a-half times the value of the crop or lose all government farm subsidies? No, that's not true: A collection of hoax TikTok videos has been circulating with baseless claims about a global or U.S. government plot to destroy crops and depopulate the planet or the United States through mass starvation. Several of these videos have been declared a joke or fake news by the person who made them and a U.S. Department of Agriculture spokesman said these rumors are not true.
One of the videos was posted on May 17, 2021, others were made later in the summer. A post featuring a collection of these videos was published on Facebook by Angry Conservative on August 24, 2021, under the title "Farmers destroying crops world wide". It opened:
In this video we will see farmers getting letters from the government to destroy their crops.
This is what the post looked like on Facebook at the time of writing:
(Source: Facebook screenshot taken on Mon Aug 30 18:34:21 2021 UTC)
This fact check will look at some of the videos included in this collection. Lead Stories reached out by email to the U.S. Department of Agriculture on August 30, 2021, and a spokesperson replied:
These rumors are not true.
Nebraska.tv published an article and posted on its Facebook page on August 25, 2021, debunking the claims and focusing on one that originated in Nebraska. The article includes a statement from the Nebraska Department of Agriculture:
A spokeswoman for the Nebraska Department of Agriculture says the agency has received calls about the videos and confirms there is no government program paying farmers to destroy crops.

"Don't believe everything you see on the internet!", the NDA communications director said.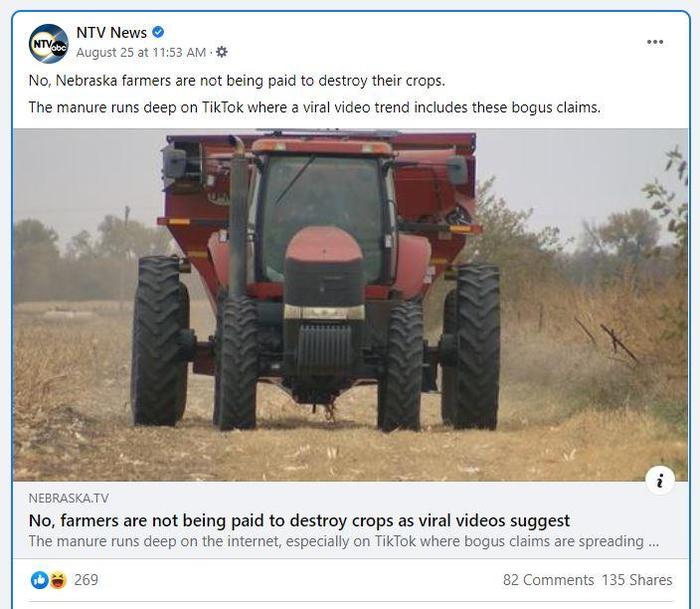 (Source Facebook screenshot taken on Mon Aug 30 20:55:01 2021 UTC)
The TikTok video featured in this nebraska.tv article was made by @neflyinfarmer. It shows a man who purportedly got a letter from the USDA and a package with binders of aerial maps of his farm, telling him to destroy some crops. The letter was not what he said it was, it was actually from 2018, came from Nebraska Department of Environmental Quality and was regarding a course on manure applications. On August 26, 2021 one post from @neflyinfarmer was captioned:
Fake News...But We Made It!! #farmtok #destroying #your #crops #fakenews @KRVN @NebraskaTV @SteveWhite #nebraska
He also posted a screenshot of the Nebraska.tv article with this caption, tags and hashtags:
WOWSERS!!!! #farmtok #nebraska #farmbureau @growincorn2020 @codygayer @bushelsandbarrels @jedolbertson @chesterkeepsitreal
Dang Me (Album Version) - Roger Miller
One of the accounts tagged, @bushelsandbarrels, made one of the other videos included in this collection, showing a man dumping black oil from a tanker in the middle of a gravel road purportedly at the direction of the Department of Hydrocarbons and confirmed by the advice of his local district selectman, Anthony Deloge. Lead Stories has already written a fact check about that video. The account @bushelsandbarrels took the video down and clarified that the claims were not real, and that he had included some inside jokes, mainly that there is no such government agency Department of Hydrocarbons, and district selectman Tony Deloge is a fictional character from the Comedy Central show "Crank Yankers".
The opening video in this collection by @randellburton1 was posted to TikTok on May 17, 2021, and was shared on Facebook alone before it was incorporated into this collection with other videos. Burton introduces the video claiming that his father has worked for 40 years in the agriculture industry and had said something about this to him. He goes on to say:
This year farmers are being offered 1.5 times the value of their crops to destroy them. They are also being told by the federal government that they will not receive subsidies for farming if they refuse to destroy their crops. What does that mean? That means that the farmer can not afford to provide you with food based upon the taxes the government is levying on him if the government doesn't in turn doesn't give him back his tax money to provide you with food. Kind of a F****d up system, but that's how it works.

And well they aren't going to subsidize them if they don't destroy the crops. They'll pay them more than what it's worth and they want them to destroy it and they will still get their subsidies. They are trying to create a food shortage. We have eight months to get our own food supply. We are probably going to be facing mass starvation.
These claims are baseless. There is no government plan to cause mass starvation. There are programs, such as the long-standing Conservation Reserve Program that pays farmers to grow specific plants on their land for a set period of time as a conservation measure for soil and water quality and wildlife habitat. The goal of this program is not to kill Americans by starvation. On January 27, 2021, President Biden signed an executive order outlining what is called the 30x30 plan. This would conserve at least 30% of US land and water by the year 2030. This plan is to "Advance Conservation, Agriculture, and Reforestation" for carbon reduction and sequestration -- it's not about a genocidal plan to starve Americans to death.
Another video features a man with a lawn mower and a large field of soybeans. He claims that he also received a letter from the government:
Lo and behold we received our destruction notice the other day. So basically there was two options on how to destroy the crop, the government could fly on Agent Orange or we could manually destroy the crop ourself. We put too much blood, sweat and tears in it to let them destroy it, so we decided to manually do it ourselves. They said if we used a lawnmower to destroy the crop we could receive an extra $600 an acre -- something about the low carbon footprint or something...
He outlines a paradox between his options of low carbon footprint lawn-mowing and Agent Orange. One of the chemicals used to make Agent Orange, 2,4,5-T, is a toxic dioxin known to cause cancer that has been banned in the United States since 1985. This video, like the others, may have been a sarcastic tongue-in-cheek reaction to the claims put forward by Randell Burton in his viral video. While other farmers may have understood the inherent sarcasm, it seems that many TikTok and Facebook users did not.