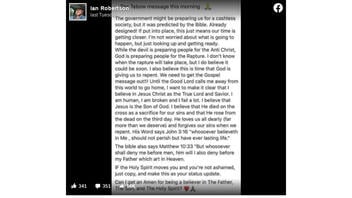 Did former professional athlete Tim Tebow release a public message in August 2021 that mentions a biblical prediction of a cashless society and "Anti Christ"? No, there's no evidence to prove that, and plenty of evidence to show the post is part of a Facebook copy-and-paste challenge that began circulating at least as far back as 2020, from the page of a financial services firm that caters to churches and nonprofit organizations. Also, an extensive online search for this quote did not reveal any evidence that Tebow ever released or recirculated this message.
The claim was implied in a Facebook post (archived here) published on August 24, 2021. The post features what seems to be the cut-off screenshot of another Facebook post. The text opened:
Tim Tebow message this morning.🙏

The government might be preparing us for a cashless society, but it was predicted by the Bible.
This is what the Facebook post looked like on August 30, 2021:
(Source: Facebook screenshot taken on Tue Aug 31 01:37:36 2021 UTC)
A former Denver Broncos quarterback, University of Florida quarterback and outfielder in the New York Mets system, Tebow is a devout Christian. However, an extensive search of his social media pages on Facebook, Instagram, Twitter, Linked-In, YouTube, and his personal website for a recent message matching the above quote attributed to him produced no results.
A Google search using the opening sentences of the quote -- "The government might be preparing us for a cashless society, but it was predicted by the Bible. Already designed!" -- displayed the same post published by the First Baptist Church "Without Walls of Cayey Together We Make a Difference" in Puerto Rico on July 16, 2020.
Facebook search results using keywords with a modification to the year by changing 2021 to 2020 then revealed multiple reposts of the quote now attributed to Tebow. Yet, the Facebook page of Michael Chitwood, the CEO of the largest U.S. financial services firm for churches and nonprofit organizations, was the earliest match to the quote, instead of Tebow's Facebook page.
Chitwood's Facebook platform not only has a viewership of almost 2 million followers, but the post, published July 9, 2020, contained the quote mentioning a biblical prophecy and "Anti Christ." Chitwood also sought for the post to be circulated, with the bottom of the post challenging social media users to share it by stating:
"This is the best challenge I have seen on Facebook; so, if the Holy Spirit moves you and you're not ashamed, just copy, and make this as your status update."
Lead Stories reached out to the Tim Tebow Foundation regarding the post carrying his name, and will update this article as appropriate if we receive a reply.
The promise of a cashless society circulates among QAnon believers, crossing over into Christian circles. Lead Stories has previously debunked a claim that the so-called "Quantum Financial System" is built, has been secretly adopted by governments around the world and is ready to replace credit-and-currency systems.