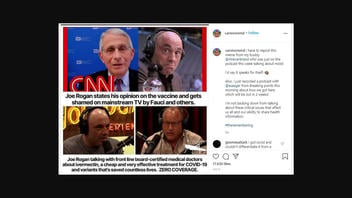 Has ivermectin been proven a safe and life-saving treatment for COVID-19? No, that's not true: The manufacturer of the drug, Merck, says its scientists find no evidence ivermectin works as a COVID-19 treatment and are concerned by the lack of safety data in studies of human use of it. The drug is a dewormer for horses and cows that is used, in much smaller doses, to treat rosacea and some parasites in humans. The Food & Drug Administration counsels doctors not to use it for prevention or treatment and declares ivermectin is not an anti-viral. A reviewer of past ivermectin studies who concluded researchers had shown ivermectin was beneficial has retracted his findings after he and his editors discovered his findings had relied on fraudulent data. Mississippi's Health Department took to the airwaves August 23, 2021, to warn against ivermectin use after the hospitalization of a man who took a dose he bought at an animal feed store.
The claims have circulated widely on social media, including this version found in a July 9, 2021, Instagram post (archived here) published on the carnivoremd account, captioned "Joe Rogan states his opinion on the vaccine". It continued:
Joe Rogan talking with front line board-certified medical doctors about ivermectin, a cheap and very effective treatment for COVID-19 and variants that's saved countless lives.
The post looked like this at the time this fact check was written:
Ivermectin maker says it does not work for COVID and safety data is lacking
Merck's statement about use of Ivermectin to treat COVID-19 is blunt: Don't.
On its website, Merck, which could profit if the drug were proven and demand sored, discouraged use. In an August 23, 2021, email to Lead Stories, a Merck spokesperson wrote:
As our company has already indicated company scientists are carefully examining the findings of available and emerging studies of ivermectin for the treatment of COVID-19 for evidence of efficacy and safety and continue to engage with the external scientific community regarding ongoing research. It is important to note that based on our review of available data, our analysis has identified:

No scientific basis for a potential therapeutic effect against COVID-19 from pre-clinical studies;
Significant limitations in evidence for clinical activity or clinical efficacy in patients with COVID-19 disease, rendering existing data inconclusive, and;
A lack of safety data in the majority of studies.
The spokesperson for Merck pointed out that major public health organizations around the world have concluded the same: "We continue to believe that the evidence available does not support the efficacious and safe use of ivermectin beyond the doses and populations indicated in the regulatory agency-approved prescribing information, including as a treatment for COVID-19. This is aligned with the positions of the U.S. Food and Drug Administration, European Medicines Agency and World Health Organization."
The FDA warns doctors and patients against using ivermectin to treat COVID-19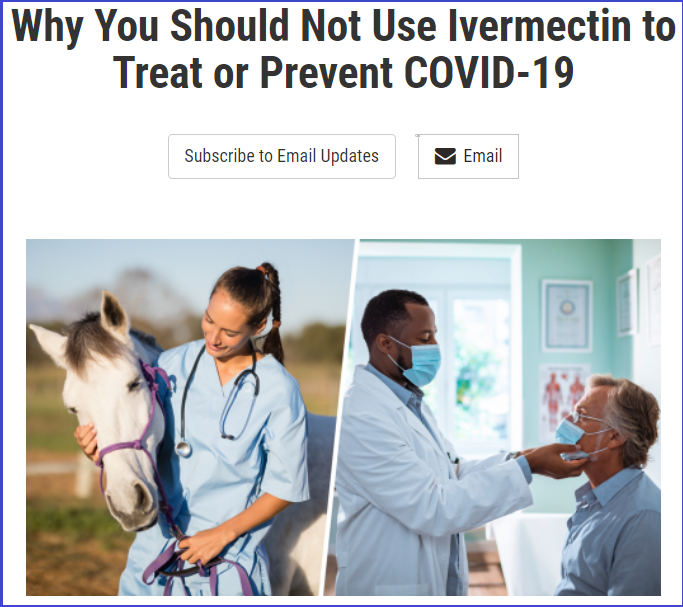 On a webpage featuring a horse and titled Why You Should Not Use Ivermectin to Treat or Prevent COVID-19, the FDA said:
The FDA has received multiple reports of patients who have required medical support and been hospitalized after self-medicating with ivermectin intended for horses ...There's a lot of misinformation around, and you may have heard that it's okay to take large doses of ivermectin. That is wrong. Even the levels of ivermectin for approved uses can interact with other medications, like blood-thinners. You can also overdose on ivermectin, which can cause nausea, vomiting, diarrhea, hypotension (low blood pressure), allergic reactions (itching and hives), dizziness, ataxia (problems with balance), seizures, coma and even death.
A study that "proved" in July 2021 that ivermectin works against COVID-19 was retracted a month later, discredited by fraud
Often cited in conspiracy and vaccine-denying posts is Dr. Andrew Hill, the Ph.D. pharmacist at the University of Liverpool who was lead author of a July 6, 2021, review of recent research into ivermectin. Originally published in manuscript form on Open Forum Infectious Diseases, the paper declared ivermectin cut in half the death rate of hospitalized patients. One month later, Hill and Open Forum Infectious Diseases retracted the paper, announcing:
Subsequently, we and the authors have learned that one of the studies on which this analysis was based has been withdrawn due to fraudulent data.
In Mississippi, ivermectin puts a man in the hospital
The latest of the ivermectin overdose cases the FDA referred to in its warnings about misuse of the horse dewormer, came in mid-August, 2021, when the Mississippi Health Department's vaccination campaign interrupted its standard pro-vaccine message to warn Mississippians not to take the advice of radio hosts and social media influencers who have been saying ivermectin will treat COVID-19. Following is a partial copy of the agency's news release: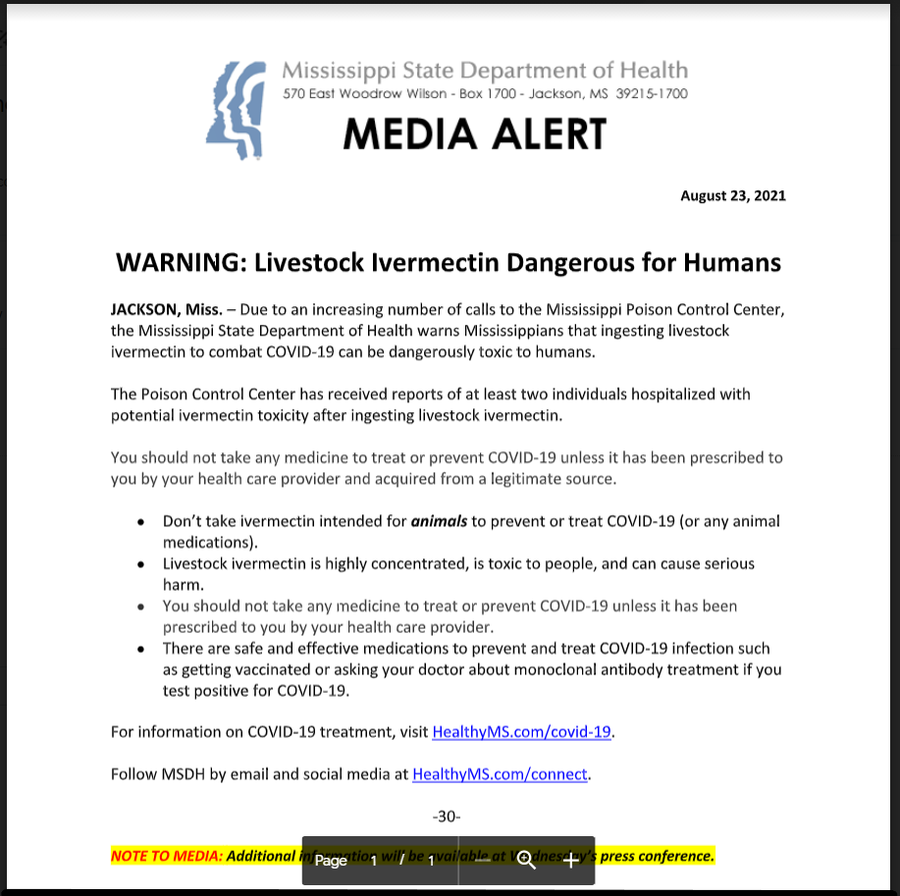 At Yale, a medical doctor who specializes in explaining science says early research results aren't promising
In a July 14, 2021 video and blog post, a Yale University professor of medicine said there are serious problems with ivermectin studies so far and that he discourages use of it to treat COVID-19, although his mind is open while he awaits the results of major professional studies. Dr. F. Perry Wilson said the major problems are that one lab study finding ivermectin is effective against COVID would require dosages far beyond what is allowed for humans.
The transcript of his video presentation says, "Researchers infected a cell culture with SARS-CoV-2 and added various concentrations of ivermectin. They then measured viral replication and found that the drug -- in a petri dish, at least -- could dramatically inhibit the ability of the virus to reproduce. But there's a problem. The inhibitory concentration of the drug, around 2.5 micromolar, is not achievable in real live humans."
Without mentioning the retraction caused by fraudulent data, Wilson said Hill's study, a "meta-analysis" (which is a combination of multiple studies to get the benefit of multiple data sets) is plagued with data from as-yet-unpublished studies in which the methods and math don't appear to work.
I do get why you might want to include preprints in your meta-analysis; peer-review is slow and the pandemic is happening fast. But peer review really does have a purpose. Some of these studies will probably never get published, and not because dark forces are conspiring against ivermectin; they just have some real problems ... All I'm doing is some peer review of a study that has not yet been peer-reviewed. I'm not saying it's wrong, but review would allow the authors to provide an explanation, or maybe even reanalyze their results. Mistakes get made all the time in research; it helps to have a critical eye.