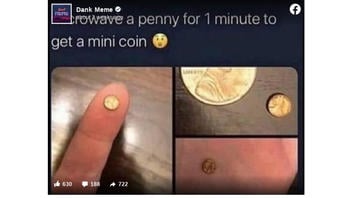 Does microwaving a penny for one minute cause it to shrink into a mini coin? No, that's not true: Metals expand when heated -- not shrink. Also, microwaving any metallic item, such as a coin, is dangerous as it can cause sparks and, ultimately, a fire.
The claim appeared in a July 29, 2021, Facebook post (archived here). Above the photos of a person displaying a miniature penny and a bigger penny, the text of a cut-off screenshot of a tweet reads:
microwave a penny for 1 minute to get a mini coin 😲
This is how the Facebook post looked on August 12, 2021:
(Source: Facebook screenshot taken on Thu Aug 12 21:53:28 2021 UTC)
According to the U.S. Mint, pennies are made of zinc, coated with copper.
This is what happens when you put coins into a microwave: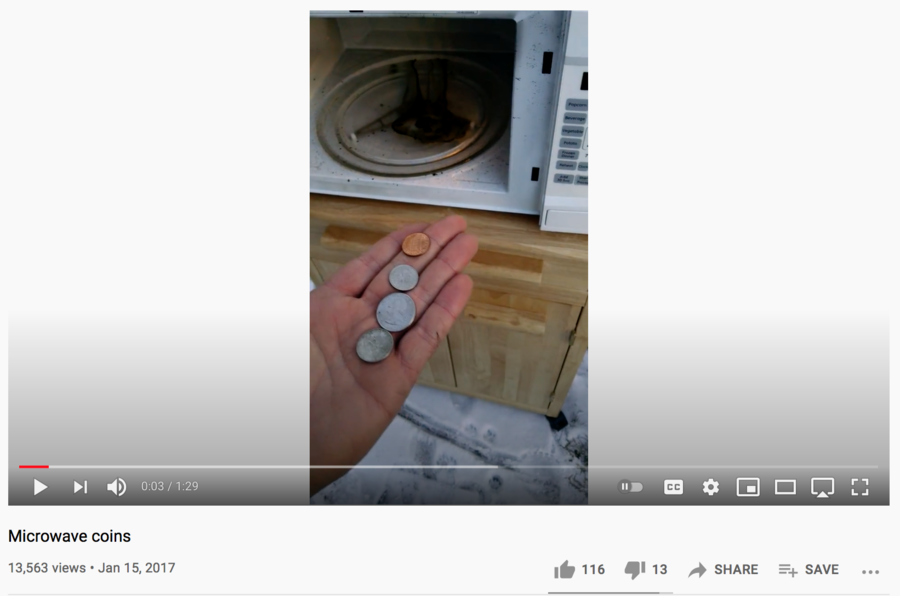 Francis/YouTube.ca
The USDA's Food Safety and Inspection Service describes what is seen in the video as arcing, "sparks inside the microwave oven caused when microwaves react to gold paint on dishes, twist ties, and other metallic materials."
A Google search using the keywords "miniature pennies" revealed that the smaller penny used in the photo was a coin typically seen in magic tricks that websites sell.
Lead Stories also reached out to the Food and Drug Administration about the potential danger of microwaving a penny. James McKinney, a representative for the Center for Devices and Radiological Health, provided this microwave safety information and responded in an August 12, 2021, email:
Under safety tip 2, it says not to use metal pans (this extends to other metal items).
This is not the first time Lead Stories has addressed a claim about items that shouldn't be microwaved. These fact checks can be found here and here.