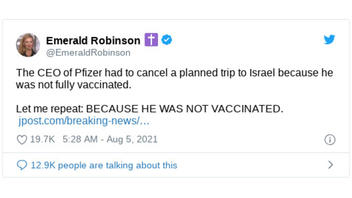 Was a trip to Israel by the CEO of Pfizer canceled "because he was not vaccinated"? No, that's not true: Albert Bourla canceled his trip because while he had had his first shot, he was still waiting for the second shot of the two-step Pfizer BioNTech vaccine, which he received on March 10, 2021. The false claim was made almost five months after the correct information was publicly reported and an "update" did not address or correct the false caption on the post. The false claim was built on an accurate Jerusalem Post report on March 7, 2021, that Bourla canceled a visit to Israel because he had only received the first of his two shots, making him partially protected, but still one shot shy of the maximum protection afforded by Pfizer's vaccine.
The claim appeared in an August 5, 2021, tweet (archived here) on the Emerald Robinson account. The caption opened: "The CEO of Pfizer had to cancel a planned trip to Israel because he was not fully vaccinated." The post continued:
Let me repeat: BECAUSE HE WAS NOT VACCINATED.
This is what the Twitter post looked August 10, 2021:
(Source: Twitter screenshot taken on Tue Aug 10 18:29:49 2021 UTC)
Robinson, a Newsmax reporter known for having posts fact checked, updated her post with a note that Bourla had received the second shot, but did not retract the all-caps claim his trip was canceled because he was not vaccinated. There's no law concerning correction of false information, but the Society of Professional Journalists' code of ethics calls on reporters to come clean about errors: "Acknowledge mistakes and correct them promptly and prominently. Explain corrections and clarifications carefully and clearly." Instead of taking down or removing the prominent all-caps false claim, the original tweet was left intact and the small note was called an "update." An embed of the updated post follows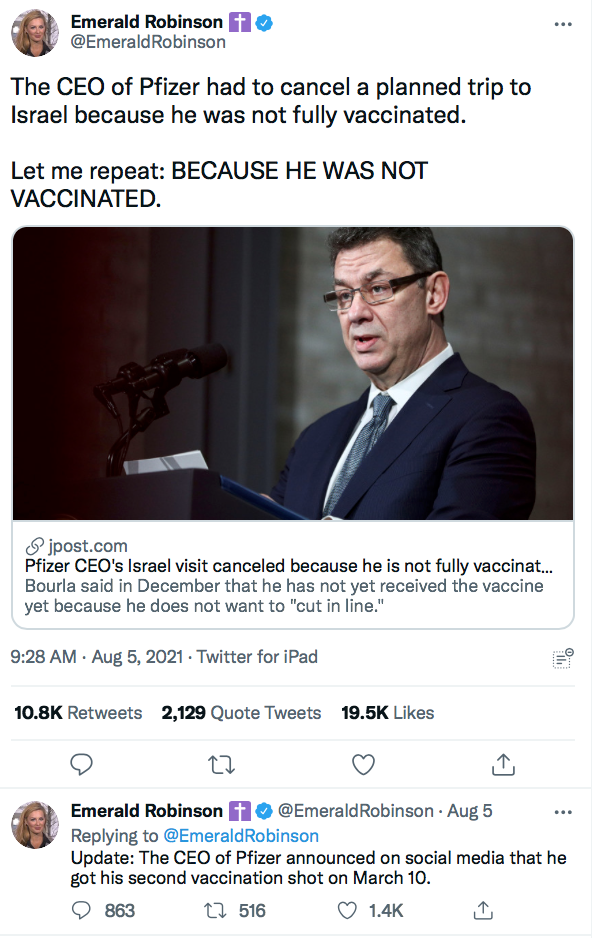 On March 7, 2021, the Jerusalem Post, Israel's most-read English-language news website, published this article saying Bourla canceled his trip to Israel because he was not fully vaccinated. Bourla was in the process of getting the vaccine at the time he was eligible to receive it while also following the three-week protocol to receive the two shots of the Pfizer vaccine. The CDC reports that Pfizer's vaccine was about 64% effective for adults after the first shot, rising to more than 90% after the second shot.
In 2020, Bourla told CNBC in an interview published on December 14, 2020, that he hadn't been vaccinated at all at that time because he didn't want to "to cut in line" to receive his company's vaccine. At that time, the Centers for Disease Control and Prevention (CDC) and other public health agencies were prioritizing health care professionals and other frontline workers. He did not fit the criteria to receive the vaccine at the time.
Lead Stories sought background on the situation from Pfizer. Faith Salamon, a senior manager representing Pfizer Global Relations, wrote in an August 9, 2021, email:
I can confirm Albert Bourla is fully vaccinated.
Here is an embedded copy of the tweet in which Bourla announced his second shot, just days after the announcement his trip had been cancelled: