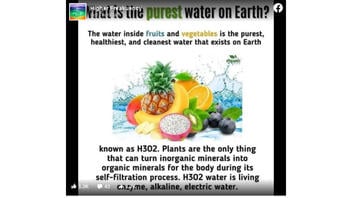 Is H3O2 a purified version of water? No, that's not true: H3O2 is a temporary, fraction-of-a-second association in water. This short-term association has no effect on the properties of water, the director of McGill's Office for Science and Society told Lead Stories. Joe Schwarcz also noted that, "Any claim that any sort of 'structured water' has health benefits is pure quackery," an assessment made by several academic organizations.
The claim appeared in a Facebook post (archived here) on September 2, 2021. The post read:
What is the purest water on Earth? The water inside fruits and vegetables is the purest, healthiest, and cleanest water that exists on Earth known as H3O2. Plants are the only thing that can turn inorganic minerals into organic minerals for the body during its self-filtration process. H3O2 water is living enzyme, alkaline, electric water.
This is what the post looked like on Facebook at the time of writing:
(Source: Facebook screenshot taken on Tue Sep 7 17:04:28 2021 UTC)
Schwarcz, of McGill University in Montreal, replied on September 7, 2021, to our email asking about the claim's accuracy. He wrote:
The claim that this species is an extra pure form of water is absolute nonsense. Water always has a tiny concentration of H+ and OH- ions from the dissociation of H2O, but the concentrations are 10-7.

This essentially insignificant. Since water is polar, meaning that in the O-H bond the electrons are displaced towards the oxygen atom, the H is left with a partial positive charge that attracts the negatively charged OH- ion, to form a temporary association. That is very temporary, tiny fractions of a second and has absolutely no effect on the properties of water. Any claim that any sort of "structured water" has health benefits is pure quackery.
The Alabama Cooperative Extension Service, based at Auburn University, lumps structured water with a number of water purity and dynamic water scams in a 2003 report on water scams. Among the sources that the report suggests that consumers consult is retired University of British Columbia chemistry Professor Stephen K. Lower's web page: "Water Cluster Pseudoscience." Lower earned his Ph.D. in physical chemistry from the University of California, Berkeley.