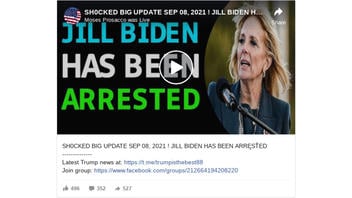 Was Jill Biden arrested at Tyler Perry's house in Atlanta on charges of elder abuse? No, that's not true: A video does not show President Joe Biden's wife being arrested. Claims that Jill Biden was arrested are completely made up. The first lady has been seen in public multiple times since the date when it was claimed she was arrested. The claim appears based on a satire article that was published in 2020 making the unfounded claims that she was arrested for "elderly abuse." There are no records of the first lady having been arrested in Fulton or Cobb counties in Georgia.
The claim appeared as a video (archived here) where it was published on Facebook on September 8 2021 under the title, "SH0CKED BIG UPDATE SEP 08, 2021 ! JILL BIDEN HAS BEEN ARRĘSŤED." It opened:
Well it's just. It's huge. About Joe Biden. Joe Biden's wife.
This is what the post looked like on Facebook at the time of writing:
(Source: Facebook screenshot taken on Mon Sep 13 19:54:16 2021 UTC)
The 12-minute video began with random photographs of President Biden and former Presidents Donald Trump and Barack Obama, along with other random elected officials and Biden family photos. None of the photos show Jill Biden being arrested. There is a generic looking newsperson on the lower right corner of the video but that person's mouth movements do not match the audio. There is a floating shark in the top left of the video. The voiceover reveals details about Jill Biden's purported arrest, claiming it happened at Tyler Perry's mansion in Atlanta and that she was "scheduled to be arraigned on charges of elder abuse."
Lead Stories searched Fulton County and Cobb County arrest records and did not find a record of Jill Biden being arrested:

The video was posted on Facebook on September 8, 2021, and it claimed she was "arrested on Friday evening." If Jill Biden had been arrested it would have made the national news, but it was not reported anywhere. A Google search by Lead Stories of "Jill Biden Arrested" did not yield any stories of her arrest.
A similar fact check was done by Check Your Fact, which debunked the claim in August 2021 that Jill Biden was arrested.
An article titled, "BREAKING: Jill Biden arrested for elderly abuse," was posted in September 2020 on Genesius Times, which claims it is"THE MOST RELIABLE SOURCE OF FAKE NEWS ON THE PLANET." This contained many of the false details that were repeated in the video.
There was a proliferation earlier in 2021 of similar videos with false claims about other prominent officials. Wild claims are made in the social media posts' caption. A still image opens the video. In the lower left- or right-hand corner of the video is a small looping video avatar of a newsperson talking, but the voice-over is not in sync with the avatar's mouth. In the upper left corner is an avatar of a walking elephant, swimming shark or walking dinosaur. The voice-over content often does not match the caption. The superimposed avatars and disjointed audio may be a way to circumvent copyright rules by which social media platforms automatically shut down stolen content. The videos run long enough to allow creators to monetize traffic and the URL in the social media caption encourages users to sign up for Facebook groups with purported political aims.