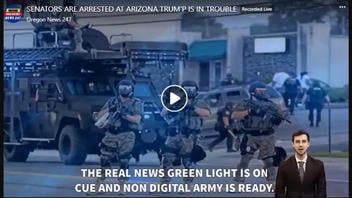 Were "senators" arrested at Arizona and does this mean that Trump is in trouble? No, that's not true: This nonsensical headline is clickbait intended to trick people into watching the video and joining the group promoted in the caption. One Arizona state senator, Tony Navarrete, was arrested on August 5, 2021, in connection with an investigation into suspected sexual conduct with a minor in 2019. He resigned on August 10, 2021; there does not appear to be any connection between that case and former President Donald Trump. There is also no connection between that case and the 12-minute-long video posted here. The video has a computer-generated voice reading random pieces of text and news cobbled together from an assortment of social media postings.
The robo-voiced video was broadcast as if it were a livestream on September 6, 2021, by the page "Oregon News 247" with this caption:
SENATORS ARE ARRESTED AT ARIZONA TRUM'P IS IN TROUBLE
SENATORS ARE ARRESTED AT ARIZONA TRUM'P IS IN TROUBLE
Group Discuss: https://www.facebook.com/groups/157454331004665
This is how the post looked on Facebook on September 8, 2021: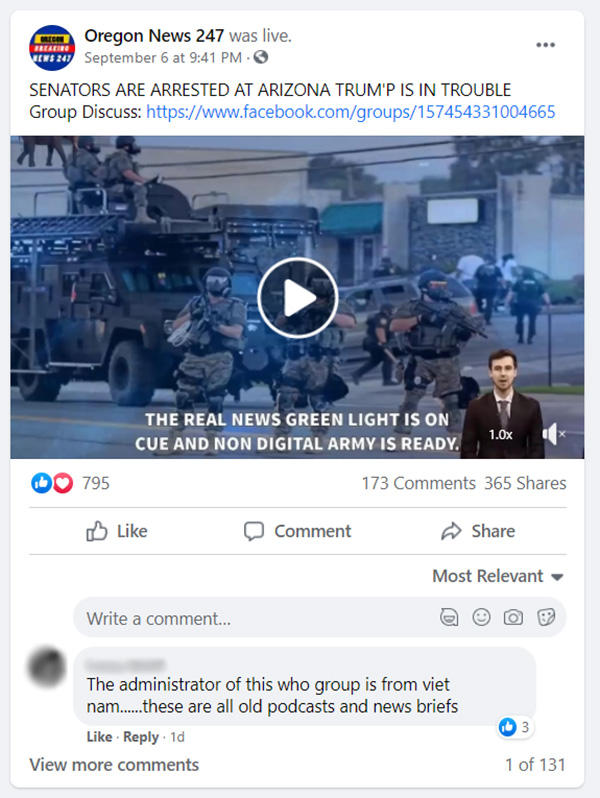 (Image source: Facebook screenshot taken on Thu Sep 09 00:56:35 2021 UTC)
The group that is promotionally linked in the caption of this post has been called "America Great" since August 13, 2021. When the group was created on August 30, 2011, it was named "House of Friendship Clan." There are 13 administrators for the group -- nine of them are pages with the "News 247" branding like Oregon News 247: Utah, Arizona, California, Arkansas, Michigan, Tennessee, Pennsylvania and Breaking. The two administrator profiles appear to be a Bulgarian woman and a Turkish woman.
(Image source: Facebook screenshot taken on Thu Sep 09 01:26:32 2021 UTC)
The still image featured for the first 2½ minutes of this robo-video is an August 2014 Associated Press photo from Ferguson, Missouri. In the lower right hand corner of the video is a small looping video avatar of a newsman talking, but the robo-voice is not in sync with the avatar. In the upper left corner is an avatar of a walking elephant. The script for the robo-voice consists of a random assortment of social media, QAnon posts and news items. The narration begins with an unusual list of events where each bullet point is audibly announced with the word "underscore." The word underscore is also spelled out in the captioning.
Examples of the social media posts where the text of the cobbled-together script originated are shown below. (This image will open large in a new window) The "underscore" part of the text may have originated from a Telegram channel post by QtheStormRider777. At one minute in, the narration says, "The Quantum computer is activated." This text can be found in an August 22, 2021, tweet promoting the Telegram channel Q_Warriors. At 1:13 in the video, the narration abruptly switches to say, "Ivanka Trump Joe Biden going to resign."

(Image source: Lead Stories collection of screenshots taken on Thu Sep 09 02:06:07 2021 UTC)
Several videos on YouTube (here and here) have that phrase as a title and also have the now-familiar design of a pseudo-narrator avatar in the corner of the video. These videos, like the "SENATORS ARE ARRESTED AT ARIZONA" video, do not have narration which supports the headline. The channel "Mim Beauty Tips," which posted the video pictured above, has uploaded 228 similar political clickbait videos in just the past month. Before pushing politics to an English-speaking audience, the channel posted clickbait beauty tips in the Bengali language.
Searches on both Facebook and YouTube found multiple copies of this video and others formulated in a similar fashion with almost identical titles. The similarities in design formula and network tactics make it hard to tell if there are several copycats or one sprawling and interconnected international network.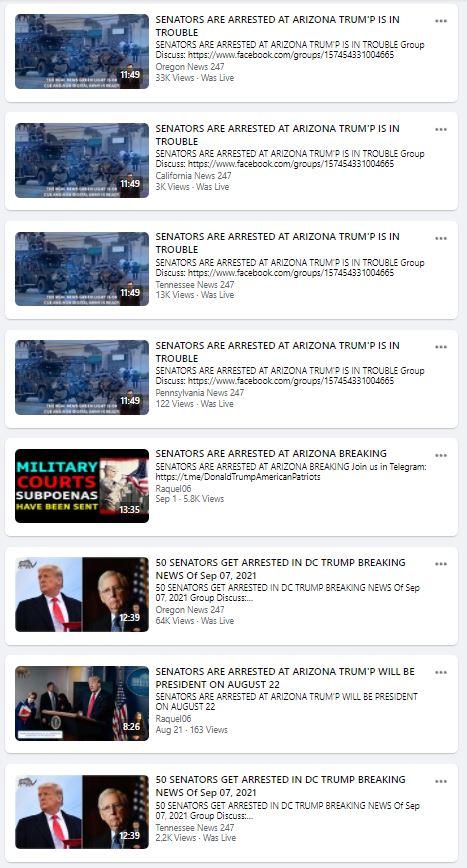 (Image source: screenshot of a portion of Facebook search results taken on Thu Sep 09 03:05:54 2021 UTC)