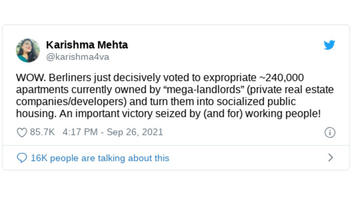 Did Berlin citizens cast a "decisive vote" on the expropriation of 240,000 privately owned apartments? No, that's only partially true: In a referendum, proponents of expropriating large real estate companies won by a large margin, but it's not legally binding for the newly elected parliament. Whether the socialization of apartments owned by landlords who each possess more than 3,000 apartments in the city each will ever become reality depends on many factors.
The claim originated in a tweet posted by @karishma4va on September 27, 2021 (archived here), which reads:
WOW. Berliners just decisively voted to expropriate ~240,000 apartments currently owned by 'mega-landlords' (private real estate companies/developers) and turn them into socialized public housing. An important victory seized by (and for) working people!
This is what the Twitter post looked like at the time of writing:
(Source: Twitter screenshot taken on Wed Sep 29 18:51:16 2021 UTC)
The tweet correctly states that a majority of voters voted yes in the September 26, 2021, referendum organized by local initiative Deutsche Wohnen & Co Enteignen (German for "Expropriate Deutsche Wohnen & Co") but falsely calls the outcome of the nonbinding referendum "decisive."
Preliminary results published on September 28, 2021, showed that 56.4% voted in favor of expropriating large real estate companies like Deutsche Wohnen and Vonovia, with 39% voting no on the referendum.
Voters did not vote on a legal bill, so the outcome is not legally binding. The wording on the ballot merely calls upon the Berlin government to "take all measures that are necessary to transfer real estate into common property." This does not mean that the city's government is obliged to pass legislation, but officials will at least have to explore the possibility by drafting a bill.
The initiative began in 2018 in response to an overheating housing market in Berlin, the German capital, which topped the list of fastest-growing housing markets in the world the same year. The nonbinding referendum's proposal would transfer more than 240,000 apartments from real estate companies that own more than 3,000 apartments into public property.
Fair compensation, which has to be paid in the case of expropriation, would range from €7 billion to €16 billion ($8.1 billion to $23.6 billion) according to Deutsche Wohnen & Co Enteignen; to €36 billion ($41.7 billion), the official market value of the apartments.