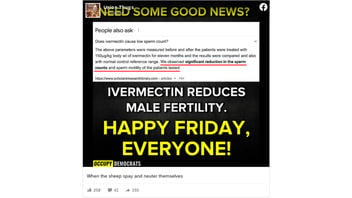 Does a Nigerian study done in 2011 show that men who took ivermectin as a treatment for onchocerciasis, or river blindness, were made sterile by the anti-parasitic drug? No, that's not true: The study, which only included 37 patients and no control group, did not conclude that the participants had been rendered sterile, but noted changes to sperm count and motility 11 months after treatment. The 85% figure this study quotes came from a 2002 report that two of the authors purportedly published.
The mention of the 2002 report does not say the ivermectin treatment caused infertility, but that patients treated in the recent past with ivermectin at the clinic who returned for other routine tests exhibited varying types and degrees of dysfunction in sperm count, motility and morphology.
Claims on social media around September 4, 2021, pointed to a .pdf file of a 2011 Nigerian study. One example is a post by the Facebook page Union Thugs on September 5, 2021, with the caption, "When the sheep spay and neuter themselves." The text inside the image reads:
NEED SOME GOOD NEWS?
People also ask :
Does ivermectin cause low sperm count?
The above parameters were measured before and after the patients were treated with 150ug/kg body wt of ivermectin for eleven months and the results were compared and also with normal control reference range. We observed significant reduction in the sperm counts and sperm motility of the patients tested

https://www.scholarsresearchlibrary.com > articles PDF

IVERMECTIN REDUCES
MALE FERTILITY.

HAPPY FRIDAY, EVERYONE!
OCCUPY DEMOCRATS
This is what the post looked like on Facebook at the time of writing:
(Source: Facebook screenshot taken on Fri Sep 10 17:05:31 2021 UTC)
The 2011 Nigerian study began with a group of 385 onchocerciasis patients. Only 37 of these patients were found to be suitable candidates for the study. This is a very small sample size and there was no control group to compare doing nothing with the impacts of taking the drug. Nine out of 10 of the original 385 patients were ruled out due to low sperm counts -- before the ivermectin treatment even started. This raises many questions. The conclusion of the 2011 study is that there is a need for caution and further research.
The introduction mentions a "recent report" where 85% percent of male patients at a specific treatment center were found to have varying degrees of sperm dysfunctions. This phrasing does not go so far as to say the men were sterile or infertile.
Chijioke and Ononkwo [5] observed that ivermectin is a safe and well-tolerated drug and that the incidence, but not the severity of adverse effects attributed to ivermectin therapy is related to the pre-treatment intensity of microfilariae in the skin.

However, a recent report showed that 85% of all male patients treated in a particular centre with ivermectin in the recent past who went to the laboratory for routine tests were discovered to have developed various forms, grades and degrees of sperm dysfunctions including, low sperm counts, poor sperm morphologies (two heads, Tiny heads Double tails absence of tail's, Albino sperm calls), azoospermia and poor sperm motility [6]. Several studies done on animals also showed similar findings [7, 8]. However, study on human on the effect of ivermectin therapy on male fertility is scanty. It is therefore the aim of this study to investigate the effect of ivermectin on the sperm functions of onchocerciasis patients.
The footnote for this "recent" report, "[6] Asika E.C. Okhiai O. Awemu G.A . Journal of Biomedical investigation; 2002: 3(1) 41-43," includes the names of two of the authors of the 2011 study, Asika E.C. and Okhiai O. The report is also not very recent; in 2011 it would already have been 9 years old. Lead Stories was unable to retrieve the referenced 2002 report, whose title is not noted, from the Journal of Biomedical Investigation. Curiously, it appears that the first volume of that journal was published in 2003, one year after the cited article was said to be published. Lead Stories reached out by email to African Journals Online and will update if the report is found and has any information relevant to this question.
The FDA has an information sheet for the ivermectin drug used to treat onchocerciasis, manufactured by Merck Sharp & Dohme BV, which goes by the brand name Stromectol. This sheet contains warnings about potential side effects from both the Mazzotti reaction (a reaction to the die-off of the parasites) and to the drug itself. As for the specific question of male fertility it says:
Ivermectin had no adverse effects on the fertility in rats in studies at repeated doses of up to 3 times the maximum recommended human dose of 200 mcg/kg (on a mg/m2/day basis).
The information sheet says that "Ivermectin should not be used during pregnancy since safety in pregnancy has not been established."
Ivermectin has been shown to be teratogenic in mice, rats, and rabbits when given in repeated doses of 0.2, 8.1, and 4.5 times the maximum recommended human dose, respectively (on a mg/m2/day basis).
Teratogenicity was characterized in the three species tested by cleft palate; clubbed forepaws were additionally observed in rabbits. These developmental effects were found only at or near doses that were maternotoxic to the pregnant female. Therefore, ivermectin does not appear to be selectively fetotoxic to the developing fetus.

There are, however, no adequate and well-controlled studies in pregnant women. Ivermectin should not be used during pregnancy since safety in pregnancy has not been established.
The FDA has published a fact sheet titled, "Why You Should Not Use Ivermectin to Treat or Prevent COVID-19"
Below is a collection of memes and screenshots found on Facebook on September 10, 2021, that repeat the unsupported claim that ivermectin sterilizes the majority (85%) of men who take it. Two of these screenshots feature an article that was originally published by wfla.com, which has since been removed from the website.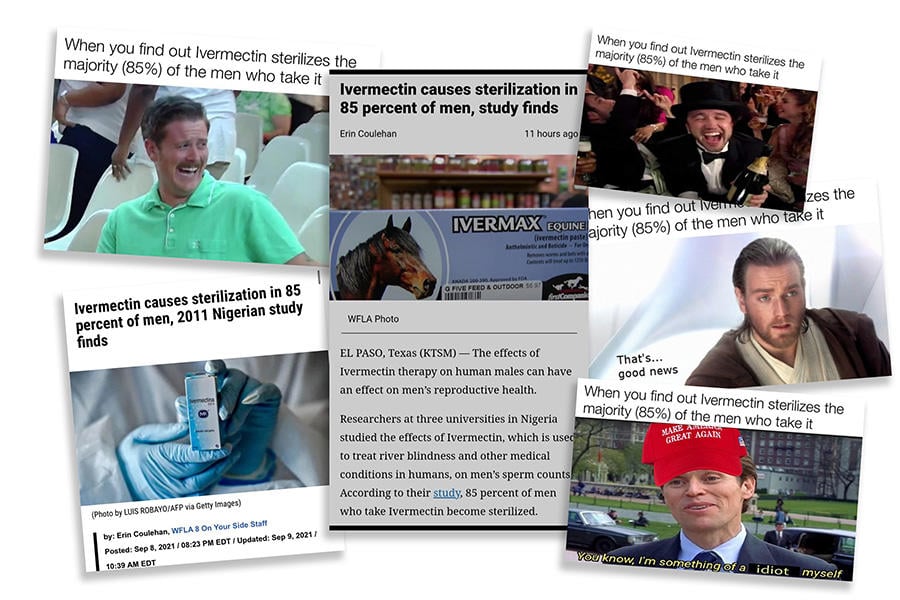 (Image source Lead Stories collection of Facebook Screenshots taken on Fri Sep 10 17:18:17 2021 UTC)