STORY UPDATED: check for updates below.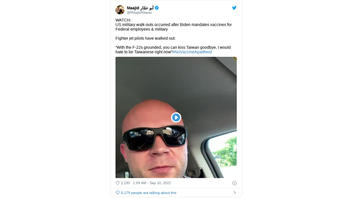 Did the Secretary of Defense send a text to all active military personnel telling them to get the COVID-19 vaccine by 10 a.m. or they would be court-martialed, and did 12 F-22 pilots walk off the job because of the text? No, that's not true: "The Secretary of Defense has never sent any kind of force-wide text message about anything, ever," the Department of Defense spokesperson told Lead Stories. The false claim was based on an article from a website known for fake news stories. Lead Stories previously debunked the claim that 27 active-duty U.S. Air Force pilots resigned over the Secretary of Defense's order that all active-duty and ready reserve military members get the COVID vaccine.
The claim appeared as a video (archived here) published on Twitter on September 10, 2021. It opens:
WATCH:
US military walk-outs occurred after Biden mandates vaccines for Federal employees & military
This is what the post looked like on Twitter at the time of writing:
(Source: Twitter screenshot taken on Fri Sep 10 19:55:30 2021 UTC)
Here is a screengrab of the two-minute video where the person is sitting in a car talking while wearing a grey shirt emblazoned with the word "ANTISTATE" and with an upside-down American flag, which traditionally means an "American in distress."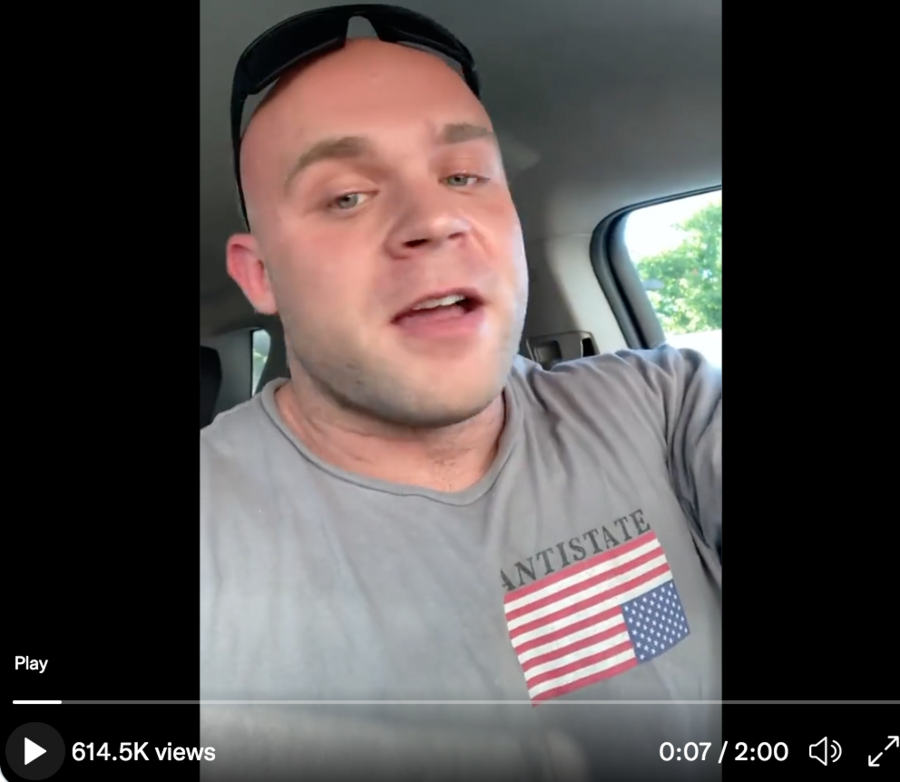 The man says, "the military is being compromised at a rapid rate," and warns that the "mandates" for the COVID-19 vaccine are destroying lives. "Your little cushy American life isn't going to be so cushy much longer." He shares information that he claims to have received from his father:
Maybe some people don't know this but my dad just let me know this. A text message went out last night from the Secretary of Defense to all the active military personnel saying you know by 10 am you have to go get the magic potion or you're going to be court-martialed. And so, as a result of that, 12 F-22 pilots, the most highly trained pilots in the world, walked off the job.
"The pilot's quitting as a result of the text message is also false, given that there was no text," the DoD spokesperson told Lead Stories via email on September 10, 2021. "The Secretary directed each service to tailor specific guidance to their service members. The USMC and Navy gave 90 days for active duty (120 for reserve) and the USAF is giving 60 for active and 90 for reserve. All those dates are as of 30 Aug for the deadline timeline. The Army has not officially announced their plan yet, though it should be any day now."
The false claim appears to be based on the Real Raw News story published September 1, 2021, with the headline, "27 U.S. Air Force Pilots Resign Over Covid-19 Vaccination Mandate."
Lead Stories previously reported there was no evidence to prove that this claim was true.

The "magic potion" is clearly a reference to the COVID vaccine. On August 24, 2021, Secretary of Defense Lloyd J. Austin ordered military troops to "immediately begin full vaccination" for COVID.
The order letter opened:
To defend this Nation, we need a healthy and ready force. After careful consultation with medical experts and military leadership, and with the support of the President, I have determined the mandatory vaccination against coronavirus disease 2019 (COVID-19) is necessary to protect the Force and defend the American people.

... The Secretaries of the Military Departments should impose ambitious timelines for implementation. Military Departments will report regularly on vaccination completion using established systems for other mandatory vaccine reporting.
Real Raw News has a long history of publishing false claims in mock news stories. The website for Real Raw News includes a disclaimer that warns readers not to take its content too seriously. Specifically, it says:
Information on this website is for informational and educational and entertainment purposes. This website contains humor, parody, and satire. We have included this disclaimer for our protection, on the advice on legal counsel.
2021-09-10T22:25:02Z

2021-09-10T22:25:02Z

Updated to include comment from the Department of Defense.