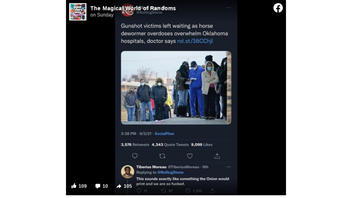 Did Oklahoma gunshot victims wind up having to wait to be seen at the hospital because there were too many people who had overdosed on the horse worming medication ivermectin? No, that's not true: Reports in various outlets painted a highly exaggerated picture of what Dr. Jason McElyea had described in an interview.
Further complicating the issue, when one hospital, Northeastern Health System - Sequoyah, issued a statement that the reports did not describe recent events at their hospital, people assumed that this meant that everything McElyea had said was fabricated -- but he works at several hospitals. One of those hospitals, INTEGRIS Grove Hospital, issued a statement that confirmed that their emergency rooms have seen a handful of patients who had taken ivermectin.
The claims originated from an interview by Oklahoma City news station kfor.com. That article was then the foundation for an article in Rolling Stone magazine on September 3, 2021, that was later updated with information from NHS Sequoyah and national poisoning statistics. Other reports and screenshots are now circulating on social media as seen in this Facebook post from The Magical World of Randoms on September 5, 2021. The post shows a screenshot of a tweet from Rolling Stone magazine that says:
Rolling Stone
@RollingStone
Gunshot victims left waiting as horse
dewormer overdoses overwhelm Oklahoma
hospitals, doctor says rol.st/38CChjl
This is what the post looked like on Facebook at the time of writing:
(Source: Facebook screenshot taken on Tue Sep 7 18:17:45 2021 UTC)
One confusing impression that comes from this screenshot of the Rolling Stone tweet is that this photo of people waiting on line in winter clothing are represented as if they are gunshot victims waiting on line for treatment at an emergency room. This was not the case. In the original article (archived here), this image was captioned with a clear description and date explaining what was pictured:
People wait in line to receive a COVID-19 vaccine at Ebenezer Baptist Church, Tuesday, Jan. 26, 2021, in Oklahoma City. (AP Photo/Sue Ogrocki)
After the Rolling Stone article was updated (archived here), the photo of people waiting on line to be vaccinated was changed to a photo of packages of ivermectin medication. The new headline was,
"One Hospital Denies Oklahoma Doctor's Story of Ivermectin Overdoses Causing ER Delays for Gunshot Victims." So screenshots of the original social card image are still circulating with a photo that was replaced.
The original September 1, 2021, kfor.com article is titled, "Patients overdosing on ivermectin backing up rural Oklahoma hospitals, ambulances." It includes video footage from a FaceTime interview with McElyea. The interview contains cuts and splicing and the interviewer's questions are not included in the finished video, so it is impossible to know what questions McElyea is responding to. Excerpts from his interview are also in the article.
On September 6, 2021, as the controversy about the claims in the kfor.com and RollingStone articles were heating up, kfor.com published several minutes of additional footage from the doctor's interview. In the following quote, McElyea cites ivermectin overdoses as an example of the cases that add to the backlog. At the start of the additional footage reel, he says:
The ERs are so backed up that gunshot victims were having a hard times getting to facilities where they could get definitive care to be treated ... getting backed up for hours just to get transportation to these facilities and some of the examples of patients that we are seeing that are causing a backlog are those such as people who are taking horse doses of ivermectin or other medications related to that.
In another portion of this footage at about 2:30 in, McElyea talks about rural residents familiar with ivermectin from caring for livestock and he segues to how ambulances stuck at a hospital might leave rural communities without ambulance service:
Something that kind of spins off from that is, here in these small towns where we have less resources, as things back up and there's no room for patients in the ER -- ambulance services start stacking up. I faced a phone call today from a small town that all of their ambulances are stuck at the hospital waiting for a bed to open so that they can take the patient in. And they don't have any -- that's it. And they are still getting 911 calls. And they have ambulances that are being taken out of service because the ER capacity has been exceeded and they're just waiting.
He does not claim that this ambulance backlog is happening because the ER is full of ivermectin overdose patients, he is explaining that emergency rooms at capacity also affect ambulance service. At the 3:46 mark there is a cut in the video between the comments about rural ambulance service and recommending that people not take ivermectin unless it has been prescribed by a doctor.
Northeastern Health System Sequoyah issued a statement on September 4, 2021, that appears in a Facebook post and a pop-up window on the homepage of the hospital's website. It reads:
Message from the administration of Northeastern Health System - Sequoyah:

Although Dr. Jason McElyea is not an employee of NHS Sequoyah, he is affiliated with a medical staffing group that provides coverage for our emergency room.

With that said, Dr. McElyea has not worked at our Sallisaw location in over 2 months.

NHS Sequoyah has not treated any patients due to complications related to taking ivermectin. This includes not treating any patients for ivermectin overdose.

All patients who have visited our emergency room have received medical attention as appropriate. Our hospital has not had to turn away any patients seeking emergency care.

We want to reassure our community that our staff is working hard to provide quality healthcare to all patients. We appreciate the opportunity to clarify this issue and as always, we value our community's support.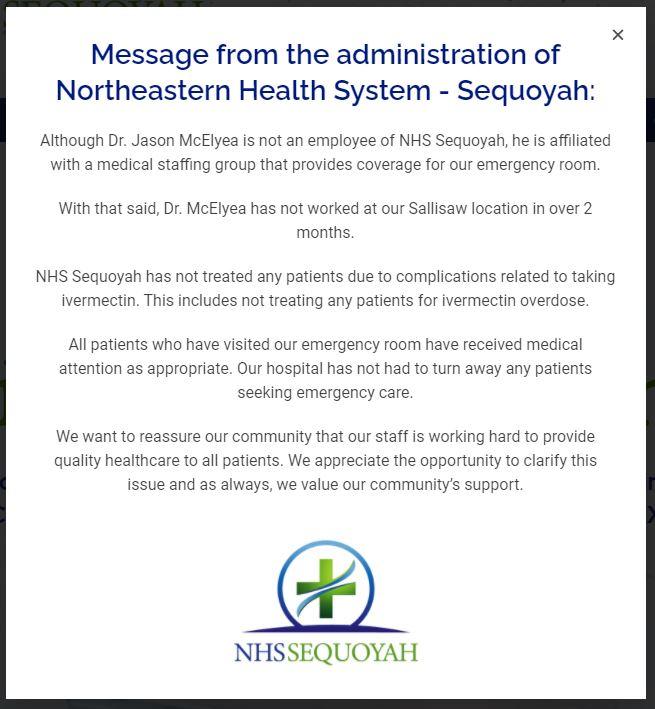 (Image source: Screenshot of statement as it appeared on nhssequoyah.com on Tue Sep 07 21:01:57 2021 UTC)
After this statement, many people thought this meant that McElyea had lied, but he has worked at several hospitals, as listed on topnpi.com.
The kfor.com and Rolling Stone magazine articles do not mention any hospitals by name. The kfor.com article refers to "eastern and southeastern Oklahoma hospitals"; Rolling Stone calls them "rural hospitals."
Lead Stories reached out by telephone on September 7, 2021, to INTEGRIS Grove Hospital. The hospital responded by email with a prepared statement that confirmed they have seen patients who had taken ivermectin.
Jason McElyea, D.O., is an employee of an agency that staffs many emergency departments throughout the United States. He has privileges at INTEGRIS Grove Hospital. He also works in several other emergency departments in rural Oklahoma.

There is a lot of media attention surrounding remarks reportedly made by Dr. McElyea. While we do not speak on his behalf, he has publicly said his comments were misconstrued and taken out of context.

What we can confirm is that we have seen a handful of ivermectin patients in our emergency rooms, to include INTEGRIS Grove Hospital. And while our hospitals are not filled with people who have taken ivermectin, such patients are adding to the congestion already caused by COVID-19 and other emergencies.
On September 6, 2021, newson6.com published an article with a broadcast video titled, "Oklahoma Doctor At Center Of Viral Ivermectin Story Says Report Is Wrong." The video features a brief clip of McElyea explaining that the original article had misquoted him. At about 0:55 into the video, McElyea says:
As the story ran, it sounded like all Oklahoma hospitals were filled with people who had overdosed on ivermectin, and that's not the case. The case is, we are seeing people who are (inaudible) ivermectin, or people who are taking full-strength cattle doses and coming in, and that's something that can be avoided.
The FDA has published an in-depth article -- linked in the tweet embedded below -- explaining that ivermectin is approved as a prescription medication in humans to treat parasites, lice and rosacea but not for treating COVID-19. Ivermectin formulated for animal use should never be ingested by humans and could be dangerous.
You are not a horse. You are not a cow. Seriously, y'all. Stop it. https://t.co/TWb75xYEY4

-- U.S. FDA (@US_FDA) August 21, 2021