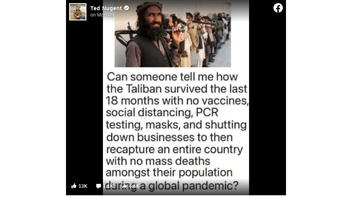 Did the Taliban survive from February 2020 through August 2021 with no vaccines, no masks or business shutdowns and capture Afghanistan with no mass deaths during the COVID-19 pandemic? No, that's not true: These claims were made without evidence, while independent reports by health experts and others actually working there show thousands died and that Afghanistan public officers fought the virus using vaccines, curfews, travel restrictions and other standard anti-viral measures.
The claim appeared in a September 6, 2021, Facebook post (archived here) on rock guitarist Ted Nugent's page under the title "Can someone tell me how the Taliban survived the last 18 months with no vaccines." It continued:
... social distancing, PCR testing, masks, and shutting down businesses to then recapture an entire country with no mass deaths amongst their population during a global pandemic?
This is what the post looked like on Facebook at the time of writing:
(Source: Facebook screenshot taken on Tue Sep 7 20:31:43 2021 UTC)
The claims were made or made up with no proof and no reference to publicly available evidence, while several independent sources of information describe almost the exact opposite happening in the real world: Afghanistan suffered thousands of COVID-19 deaths, the Taliban participated in vaccination programs and Afghanistan fought the spread of the virus through the same science-driven approach as the rest of the world.
Taliban leadership caught COVID, welcomed vaccine clinics, promoted mask-wearing.
Foreign Policy, a leading diplomacy publication, reported in May 2020 that several Taliban leaders contracted the virus and sought treatment.
And when the Taliban dropped its former resistance to international polio vaccination programs and welcomed COVID vaccine centers, the U.S. State Department tweeted out its appreciation:
We join the Afghan Ministry of Public Health in welcoming the Taliban's efforts to raise awareness against  #COVID19  and their offer of safe passage to health workers & international organizations working to prevent the spread of the virus. AGW
 https://t.co/ETyUl08ZWy

-- State_SCA (@State_SCA) April 10, 2020
And Al Jazeera, a network with in-country staff, reported in April of 2020 that the Taliban was seeking to build soft power during its insurgency by cooperating with public health campaigns that taught Afghans about the power of mask-wearing and hand washing to slow the spread.
Thousands of deaths, cases, tests
By June of 2021, Afghanistan's Ministry of Public Health had recorded more than 500,000 COVID tests, 96,000 cases and 3,842 deaths, according to a World Health Organization report.
The State Department, which had staff in Afghanistan until August 31, 2021, wrote in its latest update on U.S. Embassy operations in Afghanistan that the COVID outbreak was taxing the country's health care system, saying:
New cases and deaths from COVID-19 have risen sharply throughout Afghanistan. Hospitals are reporting shortages of supplies, oxygen, and beds for both COVID-19 and non-COVID-19 related patients. U.S. citizens have reported being denied admittance to hospitals due to lack of space.
Afghanistan did use curfews, lockdowns
The Central Intelligence Agency, (CIA), which had staff on the ground, reported pandemic control measures exacerbated economic distress in the nation of about 40 million people. On its World Factbook website, the CIA wrote:
... the food security situation worsened in recent months due to the impact of COVID‑19 as informal labor opportunities and remittances declined ... the food security of the vulnerable populations, including IDPs [internally displaced persons] and the urban poor, is likely to deteriorate as curfews and restrictions on movements to contain the COVID‑19 outbreak limit the employment opportunities for casual laborers (2021) ...

There is PCR testing in Afghanistan
At the time this fact check was written, several clinics advertised PCR testing for COVID, including DK German Medical Center in Kabul and the French Medical Institute for Mothers and Children, whose work on a public test clinic was written up on the website of the Aga Khan Foundation. The Aga Khan is the Shia Ismaili Muslim leader.