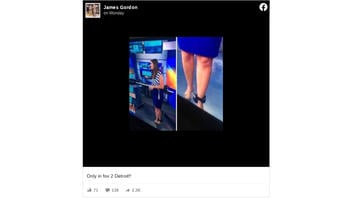 Does this photo show a Detroit broadcast meteorologist wearing an ankle monitor device parole officers install on convicts to track their whereabouts? No, that's not true: The broadcaster shown is Jaime Travers, of Fox2 St. Louis. A meme that has been recirculated since 2018 shows a meteorologist wearing a hands-free headset's transceiver/battery/antenna pack on her ankle. This post, with comments about criminal behavior, is another version of claims that have been debunked since 2015 by female journalists, who are the most frequent users of the ankle strap mount for the bulky devices, which are also worn on a waist belt or tucked into the pocket of a suit coat.
The claim appeared as a Facebook post (archived here) on September 6, 2021. It opens:
Only in fox 2 Detroit!!
This is what the Facebook post looked like on September 8, 2021:
(Source: Facebook screenshot taken on Thu Sep 9 00:37:57 2021 UTC)
The radio frequency and GPS electronic monitoring used by parole and probation officers is typically what most know as an ankle monitor.
Following is a Lead Stories montage of images of the two very different types of devices.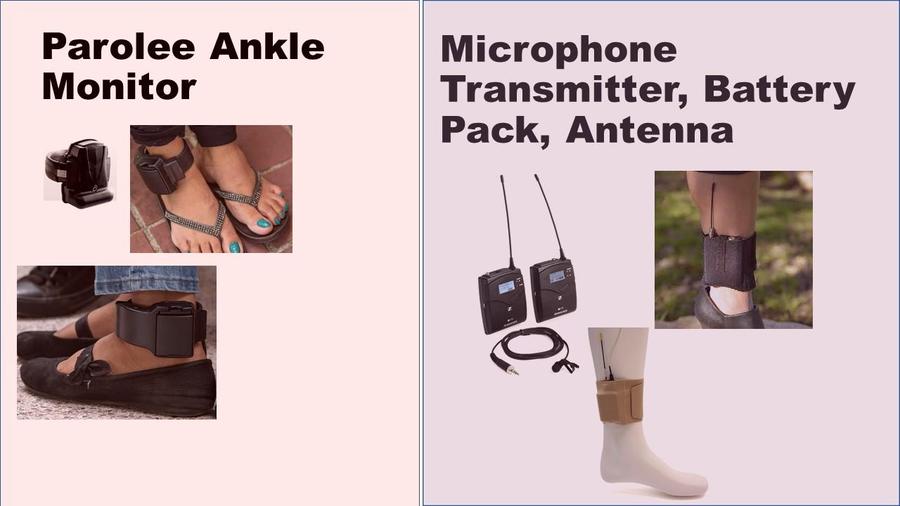 (Source: Lead Stories montage of screenshots from ankle monitor and lavalier microphone manufacturer web pages.)
A Google search using the keywords concerning this claim, "TV Meteorologist Wearing Ankle Monitor," reveals the possible origin of the meme in a Reddit post uploaded in 2018. This exact search also displays a Facebook post by 6abc meteorologist Cecily Tynan, who addressed this claim in 2015, writing:
I've been asked about the "ankle bracelet" in this photo hundreds of times.
What you see is a Velcro band holding my IFB box: a receiver that my earpiece cord plugs into so producers can talk to me without being heard through my microphone.
The IFB or interruptible foldback receiver Tynan mentions is a receiver of audio transmissions that connects to a soundboard for assistive listening within professional newscasting studios. This equipment is usually sold at specialty photography shops.
Using the above key terms, Lead Stories found WDRB-TV meteorologist Hannah Strong's tweet about how it looks in 2018 and KWES-TV anchor Jolina Okazaki's Facebook post busting this meme in 2019.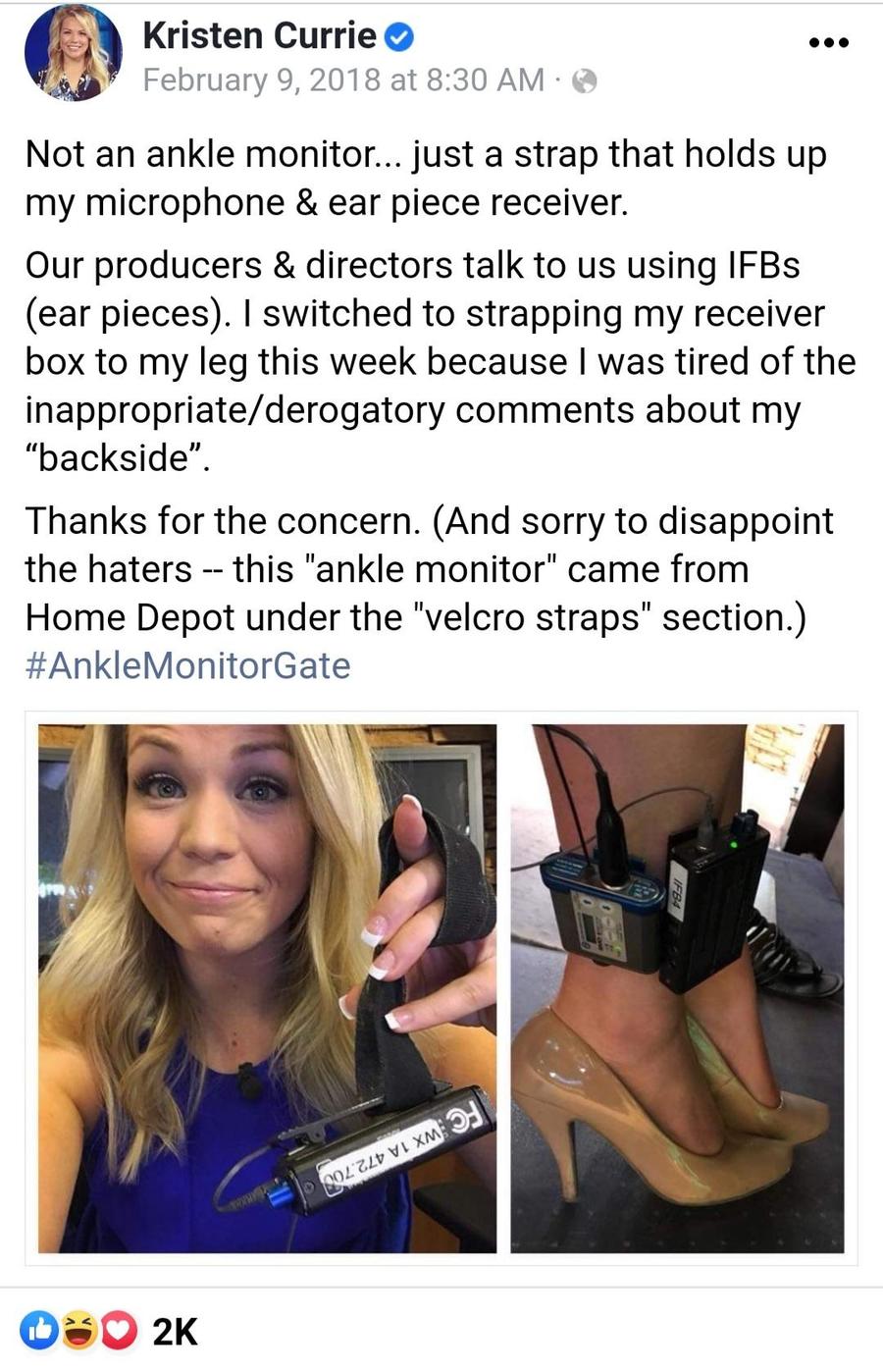 A Google search using the keywords "TV meteorologist IFB" also produced a 2021 article about a TV anchor who sells battery pack holders that make it more comfortable for women to keep their IFB devices on other body parts, like the ankle.
The comments underneath the Facebook post suggest and the Reddit post indicates that the meteorologist in the meme is based in St. Louis, not Detroit.
Lead Stories reached out to Fox 2 St. Louis to identify the journalist in the photo; this article will be updated as appropriate if a response is received. Here is the St. Louis station's bio of the meteorologist shown in the post.
Lead Stories has previously debunked claims about what people thought looked like ankle monitors on TV here and here.