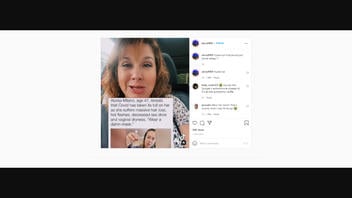 Did actress Alyssa Milano say that, along with hair loss, she had several symptoms consistent with menopause that COVID-19 caused? No, that's not true: Milano did make a video demonstrating her hair loss from COVID-19 but did not mention other symptoms.
The claim appeared in an October 27, 2021, Instagram post (archived here) of a TikTok video. The video included an image of a meme that read:
Alyssa Milano, age 47, reveals that Covid has taken its toll on her as she suffers massive hair loss, hot flashes, decreased sex drive and vaginal dryness. 'Wear a damn mask.'
The TikTok user in the video suggested that Milano was not experiencing the after-effects of COVID-19 but rather perimenopause -- the transitional phase before menopause -- which would cause the symptoms listed in the meme.
This is how the post looked on Instagram on October 29, 2021:
(Source: Instagram screenshot taken on Fri Oct 29 18:06:01 2021 UTC)
The meme and the claim seemed to stem from a video Milano posted to her Twitter account on August 9, 2020. In it, she discussed her hair loss and brushed her hair to demonstrate it. The accompanying text reads:
Thought I'd show you what #Covid19 does to your hair. Please take this seriously. #WearADamnMask #LongHauler pic.twitter.com/H0wCmzYswV

-- Alyssa Milano (@Alyssa_Milano) August 9, 2020
(Source: Twitter screenshot taken on Fri Oct 29 18:10:55 2021 UTC)
Hair loss has been reported as an aftereffect of COVID-19. Milano did not mention other symptoms or aftereffects of COVID-19 in the video.
Milano discovered that she had COVID-19 antibodies during health difficulties. An August 5, 2020, Instagram post on her page had an image of her on a ventilator and a caption that read:
This was me on April 2nd after being sick for 2 weeks. I had never been this kind of sick. Everything hurt. Loss of smell. It felt like an elephant was sitting on my chest. I couldn't breathe. I couldn't keep food in me. I lost 9 pounds in 2 weeks. I was confused. Low grade fever. And the headaches were horrible. I basically had every Covid symptom. At the very end of march I took two covid19 tests and both were negative. I also took a covid antibody test (the finger prick test) after I was feeling a bit better. NEGATIVE. After living the last 4 months with lingering symptoms like, vertigo, stomach abnormalities, irregular periods, heart palpitations, shortness of breath, zero short term memory, and general malaise, I went and got an antibody test from a blood draw (not the finger prick) from a lab. I am POSITIVE for covid antibodies. I had Covid19. I just want you to be aware that our testing system is flawed and we don't know the real numbers. I also want you to know, this illness is not a hoax. I thought I was dying. It felt like I was dying. I will be donating my plasma with hopes that I might save a life. Please take care of yourselves. Please wash your hands and wear a mask and social distance. I don't want anyone to feel the way I felt. Be well. I love you all (well, maybe not the trolls. Just the kind people.)❤️
(Source: Instagram screenshot taken on Fri Oct 29 18:25:17 2021 UTC)
The entertainment show "Extra" posted an interview with Milano to its YouTube channel on June 3, 2021. In it, Milano said that although she was feeling much better, she still had ringing in her ears, heart palpitations and occasional shortness of breath.
Lead Stories used Google search to look up the phrases "Alyssa Milano COVID-19 symptoms," "Alyssa Milano decreased sex drive," "Alyssa Milano vaginal dryness" and "Alyssa Milano hot flashes." None of the results supported the claim.