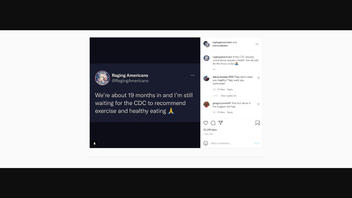 Has the Centers for Disease Control and Prevention (CDC) failed to recommend exercise and healthy eating as health measures during the COVID-19 pandemic? No, that's not true: Although the agency has not directly recommended those lifestyle choices as preventative measures against COVID, it has published numerous resources about building immunity against other infectious diseases and about the benefits of healthy eating and exercise overall.
The claim appeared in an Instagram post on October 26, 2021. It featured what appeared to be a screenshot with text that reads:
We're about 19 months in and I'm still waiting for the CDC to recommend exercise and healthy eating 🙏
This is how the post looked on October 28, 2021:
(Source: Instagram screenshot taken on Thu Oct 28 21:20:06 2021 UTC)
The CDC has promoted many preventative measures against COVID, including COVID vaccination for eligible individuals, mask-wearing and self-monitoring of health. Lead Stories did not find any resource from the CDC that specifically lists exercising and healthy eating as preventative measures against COVID. However, the CDC has published information about how physical activity and a healthy diet can make a difference in building immunity against other infectious diseases and in overall health. In an email to Lead Stories on October 28, 2021, a public affairs specialist for the CDC said:
The Centers for Disease Control and Prevention (CDC) is aware that eating a healthy diet is integral to good health and building an immune system that will facilitate the prevention of infectious diseases, including COVID-19. The CDC addresses the importance of strengthening the immune system on its webpage titled: Six Steps to Enhance Immunity. On the webpage, immunity is defined and strategies to enhance immunity, including eating a healthy diet, exercising, and getting sufficient rest, are described. While COVID-19 is not mentioned on this page, the webpage makes specific reference to how these strategies can help individuals prevent colds and the flu. The webpage also provides links that allow users to access more information about diet, including MyPlate Plan. Another link on the webpage: Healthy Eating for a Healthy Weight will connect the user with a CDC webpage that has COVID-19- specific links for food and nutrition assistance programs.
Perhaps the CDC's largest effort in promoting exercise and healthy eating is its Division of Nutrition, Physical Activity, and Obesity (DNPAO), which works to stop chronic diseases by promoting adequate physical activity and nutrition. According to the division's "About Us" page:
Poor nutrition and inadequate physical activity are significant risk factors for chronic diseases such as obesity, type 2 diabetes, heart disease, stroke, certain cancers, and depression. Chronic diseases can also lead to disabilities and premature deaths. In many cases, chronic diseases are more common in some groups than others.
Content attributed to the DNPAO appears in a resource titled "Obesity, Race/Ethnicity, and COVID-19" that includes information about how obesity -- which is sometimes related to behaviors such as a lack of sufficient exercise and healthy eating -- is tied to COVID-19 cases and deaths. According to the resource:
Adults with excess weight are at even greater risk during the COVID-19 pandemic:

Having obesity increases the risk of severe illness from COVID-19. People who are overweight may also be at increased risk.
Obesity is linked to impaired immune function.
Obesity decreases lung capacity and reserve and can make ventilation more difficult.
A study of COVID-19 cases suggests that risks of hospitalization, intensive care unit admission, invasive mechanical ventilation, and death are higher with increasing BMI.

The increased risk for hospitalization or death was particularly pronounced in those under age 65.

More than 900,000 adult COVID-19 hospitalizations occurred in the United States between the beginning of the pandemic and November 18, 2020. Models estimate that 271,800 (30.2%) of these hospitalizations were attributed to obesity.

Children diagnosed with obesity may suffer worse outcomes from COVID-19. In a study of COVID-19 cases in patients aged 18 years and younger, having obesity was associated with a 3.07 times higher risk of hospitalization and a 1.42 times higher risk of severe illness (intensive care unit admission, invasive mechanical ventilation, or death) when hospitalized.
Another example of CDC information that incorporates exercising and COVID is content attributed to DNPAO titled "How to Be Physically Active While Social Distancing." The resource opens:
Getting physical activity can be a challenge while staying at home. However, it's possible--and important--to be physically active while social distancing. Physical activity reduces blood pressure and anxiety and helps you sleep better. It can also help to improve mood and energy level.
The resource offers ideas for at-home exercise that are feasible for those who have to stay home because of the pandemic.
The World Health Organization has stated that there is no food nor dietary supplement that can prevent or cure COVID. However, a study published in the British Journal of Sports Medicine did suggest that promoting physical activity be incorporated into COVID public health messaging.
More resources about exercise and healthy eating from the CDC can be found throughout its website, including here, here and here.