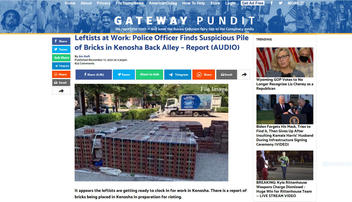 Did a Kenosha, Wisconsin, police officer find a suspicious pile of bricks in a back alley and were these bricks placed by leftists in preparation for rioting? No, that's not true: An audio recording of police officers speaking with their dispatcher is authentic, but there is no evidence that there was anything out of the ordinary about the bricks. Declaring there have been many attempts to spread disinformation, Kenosha police issued a statement that as of the date of their statement, there had been no credible threat to public safety.
The question about the suspicious stacks of bricks originated from a recording of police scanner audio. Reported first by starfirecodes.substack.com and then amplified by thegatewaypundit.com, this audio recording forms the foundation for the claims. The brief article published by thegatewaypundit.com on November 17, 2021, was embellished with groundless details, including photos of construction materials 970 miles away and more than 12 months earlier. The article is titled "Leftists at Work: Police Officer Finds Suspicious Pile of Bricks in Kenosha Back Alley (AUDIO)" (archived here) It opened:
It appears the leftists are getting ready to clock in for work in Kenosha. There is a report of bricks being placed in Kenosha in preparation for rioting.

Star Fire Codes reported there are already calls of suspicious activity coming through the police scanner. Kenosha officer checked a local alley way and verified there are "bricks everywhere" around 12 and 1 PM EST earlier today.
Users on social media only saw this title, description and thumbnail:
Lead Stories reached out by email to the public relations desk of the Kenosha Wisconsin Police Department to ask about the report from the Gateway Pundit, which included an audio recording of officers speaking with a dispatcher regarding stacks of bricks at two locations in Kenosha, the 28-square-mile city that is the site of the Kyle Rittenhouse trial. The public relations officer responded on November 18, 2021, with this statement, which was also posted to the department's Facebook account.
KPD is aware of numerous attempts by malicious actors to spread disinformation on various social media platforms. To date, there is no credible threat to public safety. For factual and accurate information please follow @kenoshapolice on Twitter and Kenosha Police Department on Facebook.
(Image source: Facebook screenshot taken on Thu Nov 18 18:53:39 2021 UTC)
The photo of bricks that illustrates the Gateway Pundit article, labeled as a file photo, first appeared online on June 1, 2020, at a time where there were many rumors about stacks of bricks being strategically placed, either to entice protestors to become destructive, or to facilitate rioting. A prior post with this photo was captioned that it shows the corner of Field St. and Ashland St. in Dallas, Texas, "this morning." The rumor that this pile of bricks had recently been planted at that location was shown to be baseless, as this same pile of bricks was shown at that location in a Google Maps Streetview months earlier, in February of 2020.
Lead Stories has published several articles debunking rumors about various piles of bricks. One 2020 rumor claimed that police in Boston were planting bricks amid the George Floyd death protests, another rumor said Acme brick company, Berkshire Hathaway and Bill Gates were supplying bricks to rioters and ANTIFA in June 2020, and the the brick stack rumors resurfaced on November 3, 2020 -- election day.