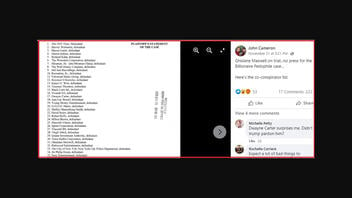 Was a new long list of Jeffrey Epstein "co-conspirators" just released? No, that's not true: The list that is claimed to be of "co-conspirators" is a list of 35 defendants in a lawsuit filed in 2020 by a woman claiming she was trafficked by Epstein and others. The court called the list of defendants "irrational" and dismissed the case in 2020.
The claim appeared in a Facebook post on November 21, 2021. It opens:
Ghislane Maxwell on trial...no press for the Billionaire Pedophile case...

Here's the co-conspirator list.
This is what the post looked like on Facebook at the time of writing:

(Source: Facebook screenshot Tues. Nov 23 8:19:26UTC)
The post makes several erroneous claims. "Ghislane" is a misspelling of "Ghislaine." While the post claims "No press for Billionaire Pedophile case," multiple news reports have aired and been published daily about Maxwell's trial including on Yahoo! News, the New York Times, Fox News and the Washington Post. Jury selection for Maxwell's trial began on November 15, 2021, with opening statements scheduled for November 29, 2021. As Lead Stories previously reported, there is not a conspiracy to cover up her case but cameras are not allowed in federal court.

The post also states, "Here's the co-conspirator list," which seems to imply it's from Maxwell's current case. The list of names cited is not a new list of "co-conspirators" in the case against Maxwell. This is a defendant list from a lawsuit filed in 2020 by Charlene Latham, whose lawsuits against Epstein's estates are separate and have nothing to do with the federal case against Maxwell. Here is a link to the lawsuit.
According to court documents, Latham claimed she was trafficked by Epstein and other famous people and companies. The long list of names includes Harvey Weinstein, Kanye West, Shawn Carter (Jay-Z) , Beyonce, David Bois and "the 1953 Trust," which is the estate of Jeffrey Epstein.
According to the court the lawsuit was not based in reality:
Plaintiff's claims rise to the level of the irrational, and there is no legal theory on which she can rely.
The case was dismissed on September 18, 2020.