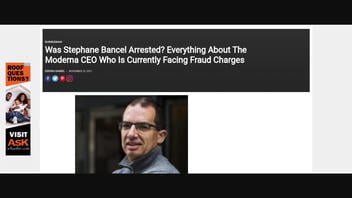 Was Stéphane Bancel, CEO of Moderna, arrested by the FBI on November 22, 2021? No, that's not true: There is no evidence to suggest that Bancel was arrested and the website where the claim originally appeared is a known fake news website.
The claim appeared in an article (archived here) published on November 22, 2021, by CelebSaga. One portion of the article read:
On November 22, 2021, Stephane has been caught by troopers at his house in Cambridge.

As per the recent post from State Crime Watch on Twitter, a founder of Moderna has been taken into custody by troopers on November 22, 2021. He was at his home in Cambridge, Massachusetts.

In addition to this, Bancel was charged with numerous counts of fraud with the COVID vaccine plus for alleged insider trading.
Ironically, the "State Crime Watch" hyperlink led to a fact check of the claim that explains why it is false.
This is how the article appeared on November 24, 2021: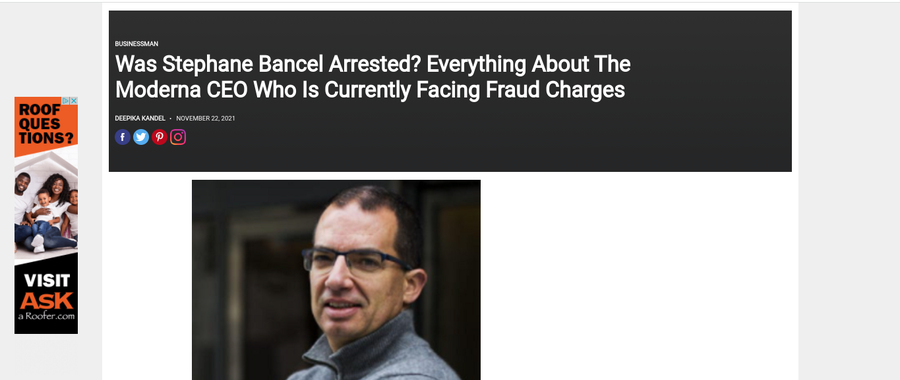 (Source: CelebSaga screenshot taken on Wed Nov 24 15:40 2021 UTC)
Although the claim appeared in this article, it originated on Conservative Beaver, a self-described conservative news website. The website now says it is out of operation as of November 23, 2021, as shown in the screenshot included below: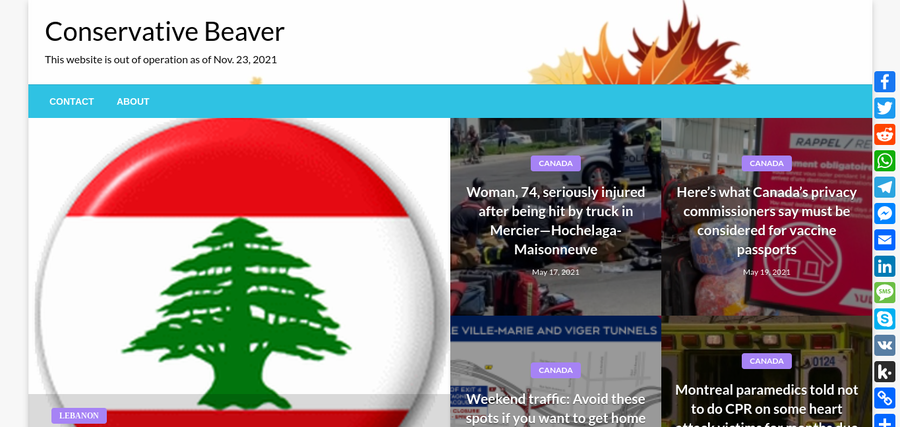 (Source: Conservative Beaver screenshot taken on Wed Nov 24 14:52 2021 UTC)
At the time of writing, the article is no longer on the website, but an archived version exists on the Internet Archive here. Conservative Beaver's "About" page read:
Disclaimer: Our stories mostly featured real events and were factually accurate, however some of our stories were satirical works of fiction and never meant to be taken seriously.
Both versions of the claim state that Bancel was arrested at his home in Cambridge. However, while Cambridge is the home of Moderna's global headquarters, Bancel does not live there: rather, he lives in Beacon Hill, a neighborhood in Boston. To double-check whether anything happened in Cambridge, Lead Stories reached out to the Cambridge Police Department. Jeremy Warnick, director of communications and media relations for the department, told us that he could only speak about the department's involvement and that the claim appears to be an "ugly rumor":
If that was true, it did not involve the Cambridge Police Department.
In an email to Lead Stories on November 24, 2021, a Moderna spokesperson said:
These claims are entirely false and inaccurate. No such event has occurred.
Lead Stories also reached out to the FBI about the claim and will update this story with any relevant response.
Lead Stories previously debunked a similar article from Conservative Beaver claiming that Albert Bourla, the chairman and CEO of Pfizer, was arrested.