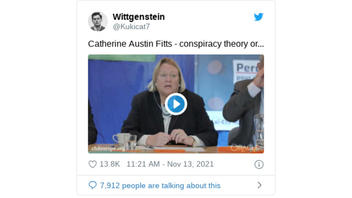 Are vaccine passports "part of a financial transaction control grid"? No, that's not true: There is no evidence that so-called "vaccine passports" -- proof that a person has received a COVID-19 vaccine -- are part of a sinister global plan to take over all financial transactions of every person on the planet. The person making the claim offered no proof and made the assertion at an event hosted by Robert F. Kennedy Jr. a well-known conspiracy theorist and anti-vaccine activist who has been banned from Instagram for spreading false information about COVID.
The claim appeared in a video (archived here) published on Twitter on November 13, 2021. It opened:
Catherine Austin Fitts - conspiracy theory or...
This is what the post looked like on Twitter at the time of writing:
(Source: Twitter screenshot taken on Fri Nov 19 20:22:33 2021 UTC)
Fitts made the claims at a press conference with Kennedy in Switzerland on November 12, 2021. She offered no proof that "vaccine passports" will be linked to financial institutions. Her claim echoes other debunked conspiracy theories that the COVID vaccines are part of nefarious efforts to control or track people. Fitts has appeared several times on Reiner Fuellich's Corona Committee, which recycles stale conspiracy theories that have been examined and debunked by multiple doctors and scientists with relevant expertise and by agencies with rigorous documentation, as Lead Stories previously reported here.
Here is a partial transcript of Fitts' two-minute 12-second speech. The vaccine passports section is in bold:
Plague laws, this is not the first time in history that plague laws have been used to centralize control. Control of transportation. Control of labor. Control of banking and bank accounts. Control of all the different kinds of capital that make up human civilization.

But the COVID laws are particularly draconian in the history of plague laws because not only do they control labor, transportation, banking but now with the advances in digital technology we're looking at complete control, through the banking system, of 100% of all assets ultimately.

So what, what happens here? For many many years most of us have grown up in a world in the Western democracies where we have a balance of power between the bankers and the people. The central bankers control monetary policy and the people vote for an electorate that controls fiscal policy. Now what we're watching with COVID laws all around the world is the central bankers moving in and exercising essentially a coup d'état where they take control of fiscal policy as well. And again, with the advances in digital technology vaccine passports will not be about health. Vaccine passports are part of a financial transaction control grid that will absolutely end human liberty in the West.
During her comments, Fitts gave no specifics nor did she offer any evidence to substantiate her claim that vaccine passports "are part of a financial transaction control grid that will absolutely end human liberty in the West."