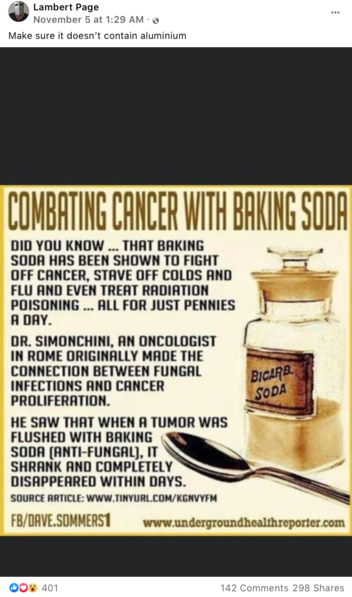 Does baking soda combat cancer? No, that's not true: While there are immunotherapy studies that explore how acidity may affect cancer cells, a National Cancer Institute (NCI) representative tells Lead Stories that baking soda "is not an approved treatment for any type of cancer." The medically prescribed form of baking soda, sodium bicarbonate, primarily treats digestion issues such as heartburn and upset stomach.
The claim appeared in a Facebook post (archived here) on November 5, 2021. The caption is "make sure it doesn't contain aluminium." It includes a graphic that says:
COMBATING CANCER WITH BAKING SODA

Did you know ... That baking soda has been shown to fight off cancer, stave off colds and flu and even treat radiation poisoning ... all for just pennies a day.
This is what the post looked like on Facebook on November 18, 2021: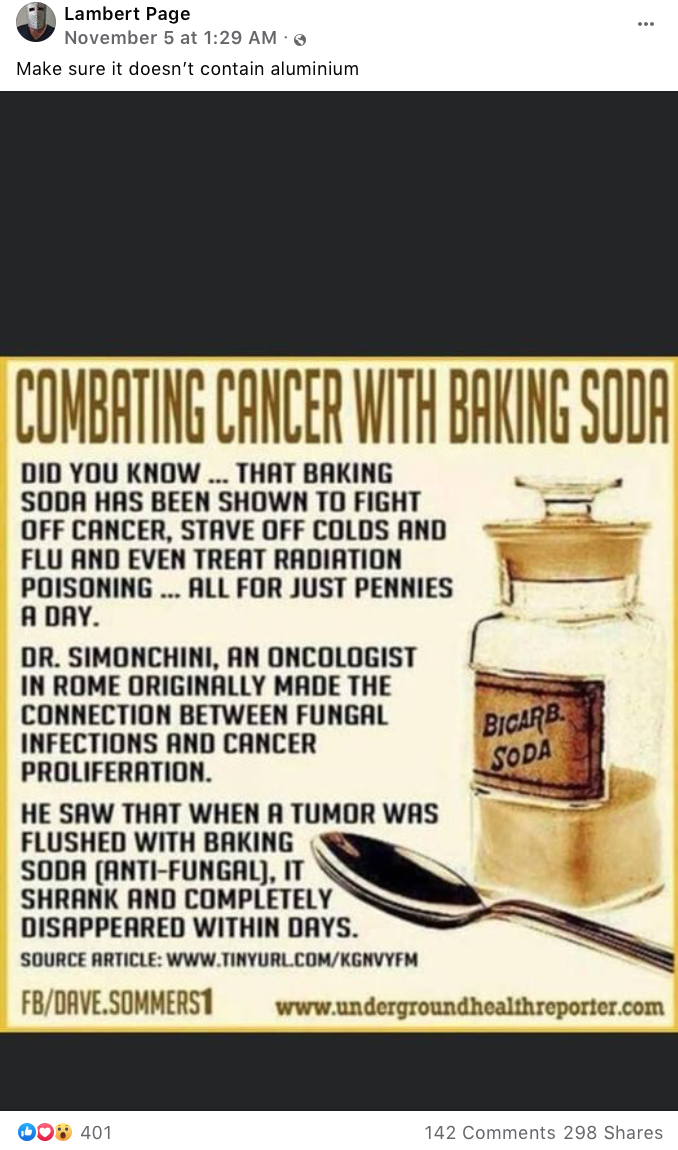 (Source: Facebook screenshot taken on Thu Nov 18 19:29:43 2021 UTC)
The post continues:
DR. SIMONCHINI, AN ONCOLOGIST IN ROME ORIGINALLY MADE THE CONNECTION BETWEEN FUNGAL INFECTIONS AND CANCER PROLIFERATION.

HE SAW THAT WHEN A TUMOR WAS FLUSHED WITH BAKING SODA (ANTI-FUNGAL), IT SHRANK AND COMPLETELY DISAPPEARED WITHIN DAYS.
While the post has several claims about the medical usage of baking soda, this fact check is limited to the claim of baking soda fighting off cancer.
A NCI representative said in an email to Lead Stories on November 17, 2021:
Baking soda is not an approved treatment for any type of cancer.
Although there are studies that hypothesize about how the use of baking soda could contribute to cancer therapy, there are still no cancer centers that approve the use of intravenous baking soda as an official treatment for any cancer.
Asked about a PubMed article that describes a review of clinical trials where sodium bicarbonate was administered to gauge effectiveness toward anti-cancer therapies, the NCI representative referred to the PubMed disclaimer that emphasizes it is a search tool for articles, not an endorsement of the articles' content.
The NCI representative also cited a separate article, "How to Find Cancer Resources You Can Trust." It is similar to this page from the American Cancer Society, "How to Interpret News About New Cancer Treatments."
To understand how the formal compound of baking soda is used in the medical field, a search using keywords "Sodium Bicarbonate" on the Memorial Sloan Kettering Cancer Center website turned up this medication description: Tablets are used to treat heartburn and upset stomach, whereas the injections treat acid levels in the blood and urine and replace bicarbonate in the body after severe diarrhea.
The Facebook post mentions a "Dr. Simonchini" and intravenous sodium bicarbonate cancer treatment. An extensive online search didn't find any results that confirmed the claim of baking soda successfully combating cancer.
A 2012 BBC News article said a former Italian oncologist named Tullio Simoncini was "struck off," or not allowed to continue practicing, for using sodium bicarbonate in place of chemotherapy. Articles by the Italian news agency ANSA in 2015 and 2018 said Tullio Simoncini was convicted of manslaughter in the death of a patient whose brain tumor was unsuccessfully treated with "bicarbonate of soda," or baking soda.