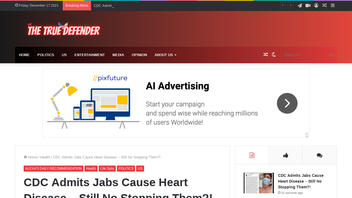 Did the Centers for Disease Control and Prevention (CDC) admit that COVID-19 vaccines cause more instances of carditis, or heart inflammation, than the agency has previously stated? No, that's not true: Such a claim pulls numbers from the Vaccine Adverse Event Reporting System (VAERS). Conditions reported to VAERS after a vaccination do not automatically prove a causal relationship between the condition and the vaccination.
The claim appeared in an article (archived here) titled "CDC Admits Jabs Cause Heart Disease - Still No Stopping Them?!" published on December 17, 2021, by The True Defender. The article opens by mentioning the incidents reported on the CDC's "Selected Adverse Events Reported after COVID-19 Vaccination" page (archived here). These infrequent events include instances of myocarditis and pericarditis, thrombosis with thrombocytopenia syndrome and Guillain-Barré Syndrome, However, the True Defender article suggests that the number of carditis cases are underreported and uses VAERS data to present higher carditis figures. The last lines of the article read:
'12,855 cases of heart disease following COVID-19 experimental shots for the past year, compared to 125 cases of heart disease following all FDA-approved vaccines for the past year.'

And the CDC calls this 'rare'?
Users on social media saw this title, description and thumbnail:
What kind of a trick is this?! Or do they think we're so dumb?! Join The True Defender Telegram Chanel Here: https://t.me/TheTrueDefender "The United States CDC updated their "Adverse Events" page on COVID-19 shots today where they admit that there are now 1,908 reported cases of myocarditis and pericarditis following COVID-19 shots among young people ...
An earlier part of the article states that the data used in the claim is from VAERS. VAERS is co-managed by the CDC and the Food and Drug Administration (FDA) to track adverse events following approved vaccinations. Although health professionals and vaccine manufacturers are required to report certain events to the database, any member of the public can add to the database as well. As a result, VAERS data do not prove that any vaccine is the direct cause of an adverse event. As the "Guide to Interpreting VAERS Data" explains:
When evaluating data from VAERS, it is important to note that for any reported event, no cause-and-effect relationship has been established. Reports of all possible associations between vaccines and adverse events (possible side effects) are filed in VAERS. Therefore, VAERS collects data on any adverse event following vaccination, be it coincidental or truly caused by a vaccine. The report of an adverse event to VAERS is not documentation that a vaccine caused the event.
On December 20, 2021, the CDC's COVID Data Tracker reported that more than 495 million COVID-19 vaccine doses were administered in the United States: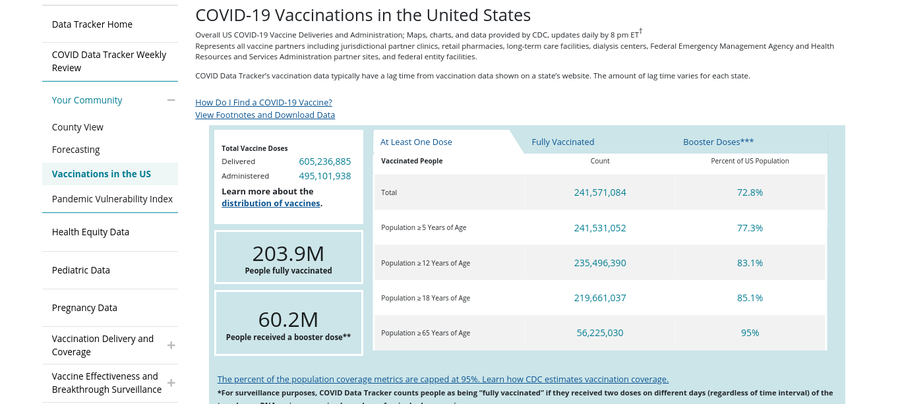 (Source: CDC screenshot taken on Mon Dec 20 17:00:31 2021 UTC)
Lead Stories did not find a resource from the CDC that explained its definition of "rare" as applied to adverse effects and the FDA prefers not to use specific terminology like "rare" to classify adverse events. However, guidelines from the Council for International Organizations of Medical Sciences (CIOMS) suggest that the classification of a "rare" adverse effect is an occurrence range greater than or equal to 0.01% and less than 0.1%. This definition has also been adopted by the World Health Organization, an organization the United States is a member country of. So, even if there were 12,855 confirmed instances of carditis linked to the more than 495 million COVID-19 vaccine doses administered, that would mean that only about 0.0026% of doses would be linked to the development of carditis. This percentage is much lower than the "rare" range described by CIOMS and would be considered "very rare."
The unusual adverse effects described by the CDC in its "Selected Adverse Events Reported after COVID-19 Vaccination" page, which is linked again here, are also mentioned in fact sheets published by the FDA about each approved COVID-19 vaccine. You can find the fact sheets for Comirnaty, also known as the Pfizer-BioNTech COVID-19 vaccine, here, the fact sheets for the Moderna COVID-19 vaccine here and the fact sheets for the Janssen COVID-19 vaccine here. The CDC has maintained that COVID-19 vaccinations are safe and effective overall.
Other Lead Stories fact checks related to VAERS can be found here.