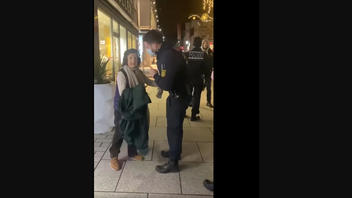 Did police in Germany detain an elderly woman because she could not present proof of vaccination? No, that's not true: Local police confirmed that an 80-year-old woman was detained in Göppingen, Germany on December 6, 2021, but not for that reason. The woman took part in an unregistered protest march and refused to show her ID to police, which is a misdemeanor in Germany. As a general rule, police in Germany do not check COVID-19 certificates.
The claim originated in a Facebook post (archived here) on December 9, 2021. It consisted of several short videos apparently showing police detaining an elderly woman while bystanders commented. The post reads:
German police detain harmless a elderly woman who didn't have her vaccine passport to show them.
This is chilling to watch.
This is what the post looked like on Facebook at the time of writing: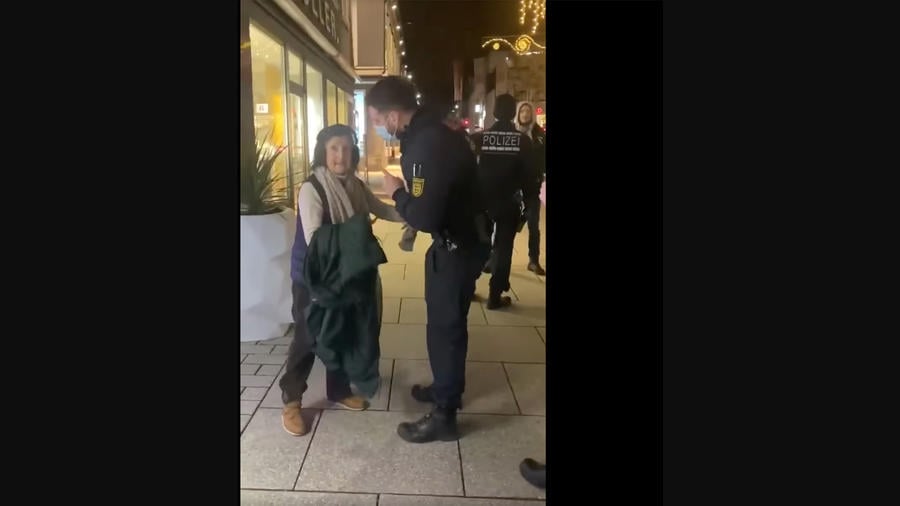 (Source: Facebook screenshot taken on Fri Dec 10 16:27:14 2021 UTC)
Based on statements made in the video, Lead Stories determined that it was taken in the town of Göppingen in the southern state of Baden-Württemberg on December 6, 2021. A spokesperson for local police headquarters in Ulm told us in an email on December 9, 2021, that the woman took part in a public event that had not been registered with the city administration. A few dozen people had gathered on December 6, 2021, for a "communal candle light walk." Police ruled the walk a public event since invitations were posted publicly on social media, which meant that the march would have required official registration with the city, and that the organizers had to ensure that COVID regulations were adhered to. After police identified a woman who had invited participants to the event and informed her of her duties, the organizer herself disbanded the march.
Shortly after, a group continued the march, which prompted police to ask for identification. Everyone in the group complied except for the 80-year-old woman seen in the video, which is why police detained her to verify her identity. In Germany, it is mandatory for citizens to have a photo ID, and, especially during public events, police can check personal documents. Refusing to show ID to authorities is a misdemeanor,.
At no point was the woman asked to show her vaccine passport. Police are not authorized to check proof of vaccination.
Germany has tightened COVID restrictions as of December 2, 2021, limiting the size of public events and temporarily introducing stricter rules for the unvaccinated. Access to non-essential businesses is currently limited to EU COVID certificate holders, but these are checked by business owners, not police or health authorities.